When you are visiting any website, you may run across an error named ERR_NETWORK_ACCESS_DENIED. Then, you are unable to browse anything on your browser. The good news is that this error is not hard to cope with. Just follow the guidance of this post on MiniTool Website, your problem will be solved easily.
ERR_NETWORK_ACCESS_DENIED Chrome
What will you do if your visit to Google Chrome is denied by the internet or other elements? This article mainly introduces to you some comprehensive tips and tricks when you receive an error message like Unable to access the network ERR_NETWORK_ACCESS_DENIED. Without further ado, let's dive right in.
How to Fix ERR_NETWORK_ACCESS_DENIED Windows 10?
Fix 1: Allow Google Chrome Through Windows Defender Firewall
Sometimes, your Google Chrome may be blocked by your antivirus software so you must check if it is in the whitelist of your Windows Defender Firewall.
Step 1. Open your Control Panel and go to System and Security > Windows Defender Firewall.
Step 2. Press Allow an app or feature through Windows Defender Firewall.
Step 3. Scroll down to find Google Chrome and make sure it is checked.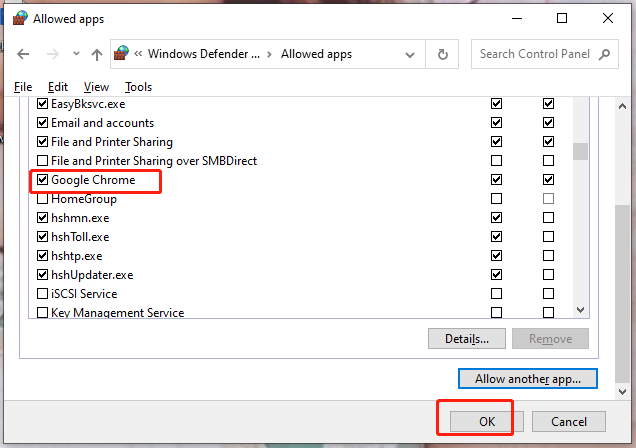 Step 4. Press OK to save the changes.
Fix 2: Clear Browsing History and Data
When you find any error like ERR NETWORK ACCESS DENIED, it is a good option to clear the browsing history and data. This operation will remain your customized settings intact, so please set your mind at rest to do that.
Step 1. Open Google Chrome and hit the three-dot icon to choose Settings in the context menu.
Step 2. In Privacy and security, hit Clearing browsing data, choose the Time range according to your needs and then hit Clear data.
Fix 3: Disable Proxy Servers
ERR_NETWORK_ACCESS_DENIED is also likely caused by Proxy Servers. To fix it, you had better turn off this feature.
Step 1. Press Win + S to evoke the search bar and type internet options and hit Enter.
Step 2. In the Connections tab, press LAN settings under Local Area Network (LAN) settings.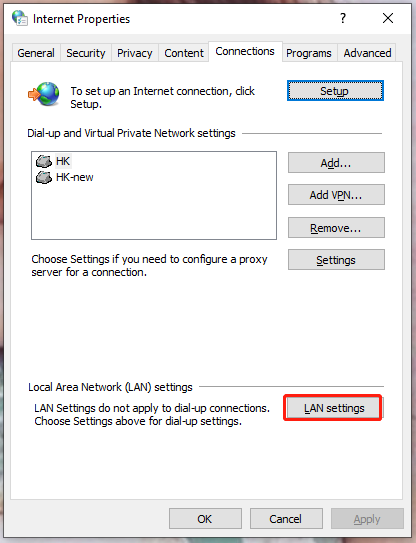 Step 3. Untick Use a proxy server for your LAN if it is ticked. If it is not ticked, please try the next solution.
Fix 4: Run Internet Connection Troubleshooter
Chances are that the error appears when there are some issues with your internet connection. You can rely on the inbuilt Internet Connection Troubleshooter to fix that:
Step 1. Press Win + I at the same time to open Windows Settings.
Step 2. In the settings menu, scroll down to find Update & Security and press it.
Step 3. Go to Troubleshoot > Additional troubleshooters.
Step 4. Hit Internet Connections and then click on Run the troubleshooter.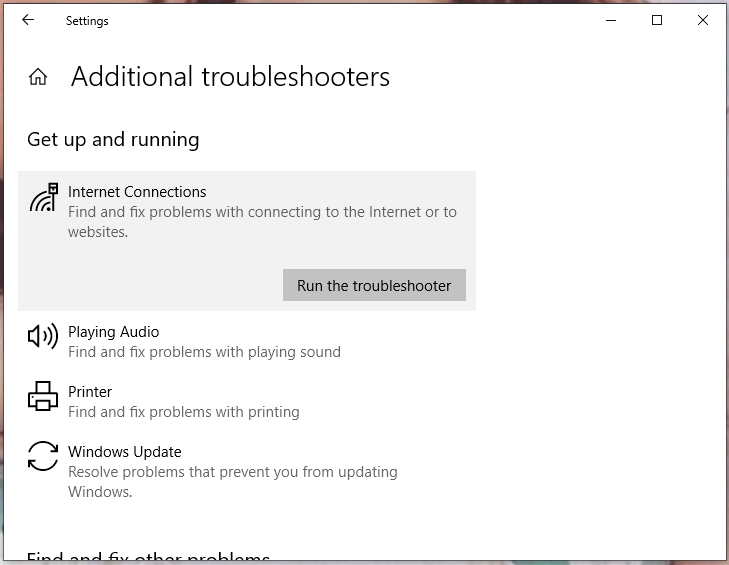 Fix 5: Reset Google Chrome
If all the methods above don't work for you, the last resort to address ERR_NETWORK_ACCESS_DENIED is to reset your Google Chrome to its default settings.
Step 1. Open your browser and go to its Settings.
Step 2. Hit Reset and clean up from the left pane and then choose Restore settings to their original defaults.
Step 3. In the confirmation window, hit Reset settings.