In the process of daily office work, we will inevitably have a lot of data that needs to be recorded temporarily or for a long time. But when you need to record a lot of notes, paper notebooks are not particularly convenient, so many people choose an online notebook like OneNote to record their notes.
When you open OneNote and intend to use it, you may encounter the error code 0xE0000641. Please continue reading below to learn why this error occurs and how to fix the error that OneNote cannot create a new notebook.
Reasons for Error Code 0xE0000641 in OneNote
Several common reasons for the error 0xE0000641 in OneNote are listed here:
When you log into OneNote with a newly created Microsoft account and create the first notebook, error 0xE0000641 in OneNote may occur.
Installation of pirated OneNote software is one of the most common reasons.
Too many files stored on OneDrive caused the account to be frozen, resulting in the error 0xE0000641.
Updating OneNote may also cause this error.
How to Fix the Error 0xE0000641 in OneNote
After learning the common reasons for the error 0xE0000641 in OneNote, how to fix it has become a more important topic. This article introduces four ways worth trying.
Solution 1: Enable WebClient Service
The WebClient service allows applications to access documents on the Internet. Please follow the steps below to activate this service:
Step 1: Press the Windows + R key combination, and type services.msc in the pop-up window and press Enter on your keyboard.
Step 2: Pull down the scroll bar on the right side of the page to find WebClient and right-click to select Start.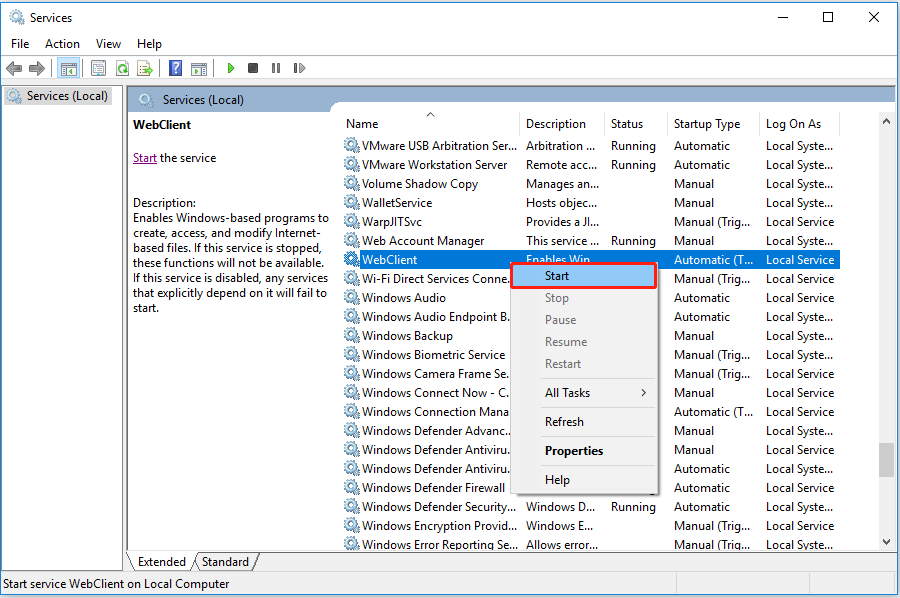 Step 3: Wait for the start process to finish.
Solution 2: Enable Microsoft ISCSI Initiator Service
Disabling Microsoft ISCSI Initiator Service may also cause error 0xE0000641 in OneNote. Here are some major steps to start this service:
Step 1: Enter compmgmt.msc in the search box to open Computer Management.
Step 2: Double-click Services and Applications and then Services from left menu bar.
Step 3: Slide the mouse or scroll bar to find Microsoft iSCSI Initiator Service.
Step 4: Click the Start button on the left side of the window.
Solution 3: Free up OneDrive Storage Space
As mentioned above, the files stored on OneDrive exceed the limit may also cause OneNote error 0xe0000641. In this case, deleting some files on OneDrive may help solve the problem.
You need to find the OneDrive folder in the file explorer or directly input OneDrive in the search box to enter the folder to delete unnecessary files.
Solution 4: Reinstall OneNote
If none of the above three methods work, you may need to uninstall OneNote and re-download and reinstall it. Please click here to go to the official website to download OneNote.
For specific uninstallation and re-download installation steps, please refer to: OneNote for Windows 10/11 Download, Install, Reinstall
Bottom Line
This guide talks about the common reasons and solutions for error 0xE0000641 in OneNote. I hope it will help users who encounter this problem to solve the error. If you find other reasons and solutions about this error, please feel free to click the comment button below to leave a message.