Many people want to improve their Internet connection via Ethernet cables. An Ethernet cable can run faster and more consistently than wireless Wi-Fi. Many advantages you can enjoy with Ethernet. Therefore, what should you do when Ethernet works but not Wi-Fi? This article on MiniTool Website tells you the answers.
Why Does Ethernet Works but Not Wi-Fi?
To resolve the trouble when you have an Ethernet connection but no Internet access, you need to know what triggers the issue. The reasons are changeable and there are some suspectable culprits listed below:
Brocken or damaged Ethernet cable.
Your router or modem might be the culprit.
Your Ethernet network is disabled.
Some technical glitches and bugs happen.
How to Resolve the Wi-Fi Not Working but Ethernet Is Issue?
Fix 1: Check If the Ethernet Adapter Is Enabled
First of all, you can check if you have enabled your Ethernet adapter. If yes, you can disable it and then re-enable it to see if the issue can be resolved.
Step 1: Click on the Computer icon in the right bottom corner and then choose Network & Internet settings.
Step 2: Go to Ethernet from the left panel and click on Change adapter options from the right panel.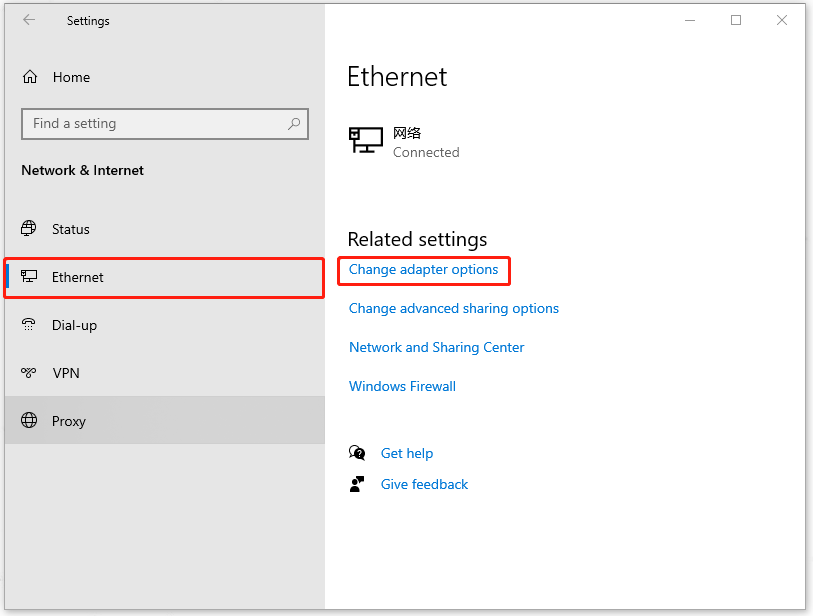 Step 3: Here you can check if your Ethernet adapter is connected. Then you can right-click on your Ethernet network and choose to disable and enable it.
Fix 2: Check If the Cable Is Broken or Damaged
When you are struggling with Wi-Fi not working but Ethernet is, your Ethernet cable might get accidentally broken or damaged. You'd better check the cable situation first. If there are any broken traces, you can change the cable with another one and see if the second cable works.
Fix 3: Restart Your Router
Apart from the above methods, if you still find Ethernet Connection good but Wi-Fi not working, your router may have some glitches here. You can try to fix it by restarting your router.
Step 1: Unplug all hardware from your router and modem.
Step 2: After 30 seconds, plug in the modem and power on it.
Step 3: Wait about 60 seconds until your modem has successfully authenticated with your ISP.
Step 4: Plug in the router and power on it. The booting process may cost 2 minutes.
When your router and modem reboot successfully, you can check if the issue has gone.
Fix 4: Factory Reset Your Router
If you have tried the above methods and none of them are useful when you have an Ethernet connection but no Internet access, you can factory reset your router.
You may check for a tiny hidden hole in the router's backside and hold it down for about ten to twenty seconds with a needle. Then you may wait some time for the router to fully reset and power back on.
After the router's default factory settings have been restored, you can reconfigure your router and update your Wi-Fi devices to use the same customized Wi-Fi settings.
If you still cannot connect seamlessly, check for any firmware upgrade for your router or contact your ISP (Internet Service Provider) and seek their help.
Bottom Line:
This article has enumerated a series of methods to help you fix the Internet connection issue when you find your Ethernet works but not Wi-Fi. The methods are simple and hope your issue can be resolved.