Summary
The new announcement of plans for Windows 10 19H2 shows that 19H2 is more likely to be a service-style update. Is every H2 release as a service-pack a feature trend? Is it a good thing or a bad thing? Perhaps, you can find the answers in this post.
Windows 10 19H2 Will Be Released as a Service-Pack
After being delayed, Microsoft finally released its plan for Windows 10 19H2 at the very beginning of July.
The announcement shows that this release is very important because this update is unlike the previous feature updates of Windows 10. You can even say that it is not a feature update at all. For the first time, Microsoft makes a H2 update like a service-style update that mainly focuses on the quality improvements to Windows 19H1, but not a new Windows 10 version.
It is a thing that is worth talking about. Many users think two feature updates a year is too much and it is difficult for Microsoft to keep up with the pace. So, these users prefer to such a tick-tock update cycle: one update contains some big new features and improvements, while the other one is a small update to improve the performance of the previous one.
Now, Windows 10 19H1 and 19H2 are precisely what they have been asking for: 19H1 is a feature update and 19H2 is more like a small updates without so many new features.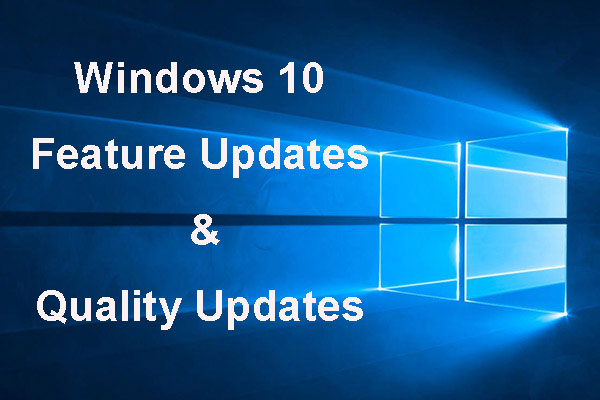 Windows 10 updates have two types and they are feature updates and quality updates. Now, you can read this post to get their main differences.
Possible Trend – Every H2 Release Will be a Service-Pack
Currently, Microsoft has not confirmed whether Windows 10 19H1 and 191H2 are the future tends of Windows 10 update. But, this trend is likely to happen.
Merits of Every H2 Release as a Service-Pack
19H2 will release some smaller service-style improvements based on the previous Windows 10 19H1 this year. There is really no harm. Even, this trend is good for consumers, enterprises and Microsoft's reputation.
For most of you, the updating process will be much quicker from the H1 releases to the H2 releases of a given year because a servicing update must be much faster than a slower OS update.
More importantly, the H2 releases' support can last longer: up to 30 months for enterprises. That is, most businesses prefer to skip H1 updates and install H2 releases directly if it is possible.
In theory, the H2 release will be more polished and this will largely improve the chance of users updating to it when it is available. It can also encourage users to keep their Windows staying up to date.
So, you will say this will influence the use of H1. The fact is it is not a bad thing. If you want to use the new features, you can free update to the H1 releases, while, if you want to use Windows 10 with more stable and improved feature at that year, you can use the H2 releases. If you are still using the old versions, you will be forced to update to the latest one when the current version runs out of support.
Windows Update not working issue has different situations. Now, we summarize several effective solutions which can help you solve it easily.
If you persist to wait for H2 update, it is also not a bad thing. You still want to stay up to date. You can also get the new features in that years when H2 is released and these new features are more naked. It's a win-win for both Microsoft and users
Till now, Microsoft has not confirmed every H2 release as a service-pack is a feature trend. It is just a prediction. What do you think about it? You can share your options with us in the comment.