The ctfmon.exe, or CTF Loader, opens on the startup of the Windows operating system and it is running in the background. This service may be unfamiliar to the ordinary Windows users. Yet, it's possible to run into CTF Loader issue on any computer, so I decide to provide some useful solutions for fixing the issue.
CTF Loader Issues
Have you ever seen the CTF (be short for Collaborative Translation Framework) Loader on your computer? Your answer may be no, but it may appear in the task manager without letting you know.
What Is CTF Loader
What is a Windows CTF Loader exactly? The CTF Loader (or ctfmon.exe) is part of MS Office and its Alternative User Input. Windows 10 CTF Loader is a process running on your PC to monitor the active windows and offer text support for the following services:
Foreign languages
Handwriting and speech recognition
Other alternative user input options you can find in the Microsoft Office software
The ctfmon.exe process doesn't take a lot of resources, but it tends to cause problems sometimes. The CTF Loader issue occurs now and then on a Windows computer (for instance: ctfmon.exe stopped working).
This post tells you how to recover lost Microsoft Office Word document.
Why Does ctfmon.exe Error Appear
When encountering the Windows CTF Loader error, you must be curious about the causes for it. Here, I'll answer this for you. Actually, there are mainly four reasons that are responsible for the appearance of the CTF Loader error message:
Install the Microsoft Office in an improper way.
Windows update files conflict with the CTF Loader.
Errors are found in inputs or language packs.
There are malware and virus hidden in the system.
Read this page to find solutions if you find some files are deleted by virus attack:
How to Fix CTF Loader on Windows 10
As I have mentioned in the previous part, a series of CTF Loader problems will be caused due to certain reasons. Do you want to fix the annoying problem? Do you know how to fix ctfmon.exe related problems? Here, I will show you 3 useful ways to work this out.
Disable CTF Loader on Windows 10
Indeed, you are able to improve the performance by disabling the service for the moment.
Right click on This PC icon on the desktop.
Choose Manage from the context menu.
Select Services and Applications from the left-hand panel of Computer Management.
Double click on Services option from the right-hand panel.
Scroll down to find Touch Keyboard and Handwriting Panel Service.
Right click on it and choose Properties.
Select Disabled after Startup type.
Click on the Stop button under Service status.
Click on the OK button at the bottom to confirm.
Delete the Executable Files
If you are always bothered by the CTF Loader problems, you can choose to delete all the ctfmon.exe files to fix it.
Open Local Disk C: in File Explorer.
Expand Windows folder here.
Find System32 (32-bit systems) or SysWOW64 folder (64-bit systems) and click to open it.
Type exe into the search box.
Right click on all the related files found and listed by system.
Choose Delete to remove them all.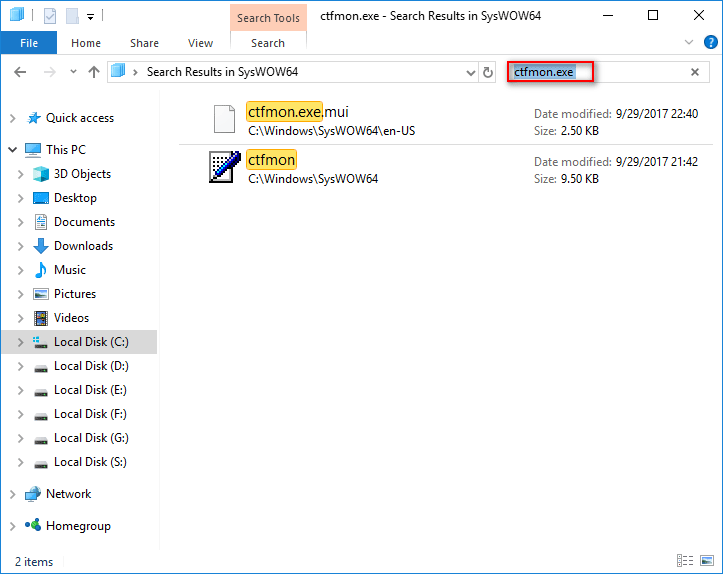 Use Task Scheduler to Control CTF Loader
Another way to fix the problem is to schedule the service not to run at login.
Press Windows Key + R button to open Run window.
Type msc into the textbox after Open.
Click on the OK button to run Windows 10 Task Scheduler.
Expand Task Schedule Library, Microsoft and Windows folder in order.
Select TextServicesFramework on the left side.
Select MsCtfMonitor option in the middle.
Select Disable on the right side.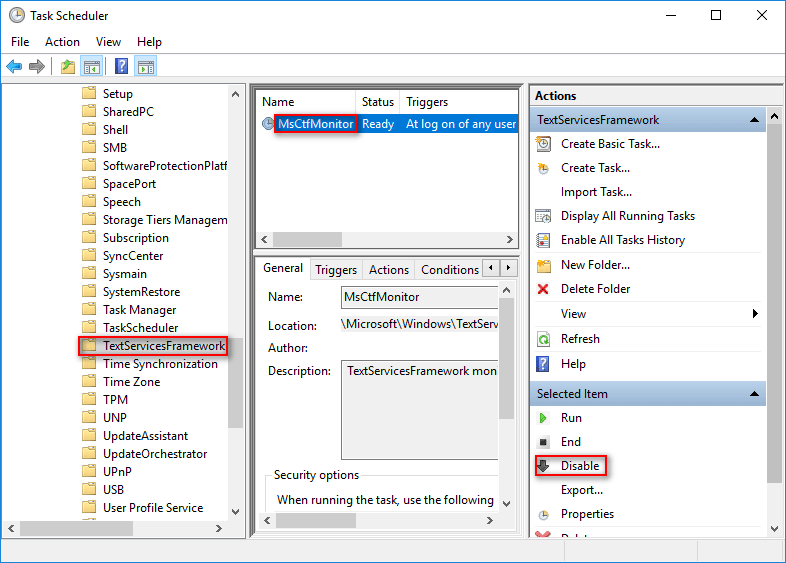 In addition to the methods introduced here, you can also try to fix the CTF Loader issues by following ways:
Scan for malware & virus.
Restore your computer.
Update the system.
…