Ultimate Guide On How To Recover A Word Document
With the wide spread of Microsoft Office, we are used to saving personal information, business data and study materials in Word documents, Excel files and PowerPoint files. Those files are easily seen in computer hard drive, external hard drive, USB flash drive, and so on. However, if you didn't back up a Word document before it is lost, the data stored in it could be risky.
In fact, unexpected file loss is a common problem that lots of people are facing with or have ever met. Some of them struggle to know how to recover a Word document and others try every means to recreate a new document with almost same content. What we'll focus on in the following content is how to recover lost information in a Word document.
We plan to introduce two wonderful solutions to help users recover lost Word document without trouble. One is seeking help from a professional Word recovery program – MiniTool Power Data Recovery and the other is recovering data by using the built-in AutoSave feature of Microsoft Word. We'll show those 2 ways in detail in the next part; and after that, we'll introduce more specific information about Microsoft Word.
How to Recover a Word Document with Software
As you know, everyone makes mistakes: you may possibly delete a useful Word document carelessly; besides, the computer may be attacked by virus and it will then damage your hard drive and destroy your files (including Word document) saved here.
No matter your Word document is lost due to mistaken deletion, virus attack or any other reasons, our suggestion would be the same – choosing the professional Word recovery program called MiniTool Power Data Recovery.
After all, it is very possible that you don't have an automatically saved version at hand when the original Word document is missing. So at this time, the AutoSave function is not going to help you recover from previously saved document.
3 Steps to Recover Lost Word Document Quickly
Step 1: install MiniTool Power Data Recovery to computer and then launch it to see the main interface. Now, you are supposed to choose one from five function modules displayed here in order to start recovering missing Word document.
Some tips on choosing a suitable module:
If only your Word document is deleted by accident, and there's no damage brought to the target partition, you should just select "Undelete Recovery".
If your document is included in a partition which is lost from computer now due to some reasons, you need to choose "Lost Partition Recovery", absolutely.
If you want to recover corrupt Word document from a partition damaged by virus or other reasons (the partition couldn't be opened or become RAW), "Damaged Partition Recovery" module would be your best choice.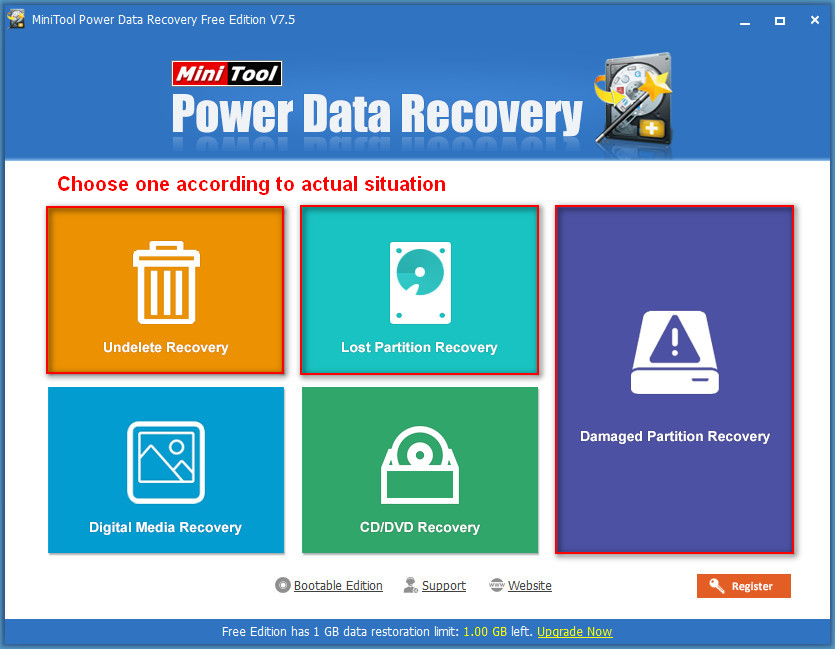 Step 2: select the target partition/disk to scan by clicking on "Scan" button (in "Undelete Recovery") or "Full Scan" button (in other modules).
You can choose to search for only Word files by:
Clicking on "Settings" button from lower left corner;
Unchecking all file systems;
Checking only "Office WORD Document" & "Office2007 Word Document" under "Document" option and unchecking all other file types;
Clicking on "OK" to confirm changes.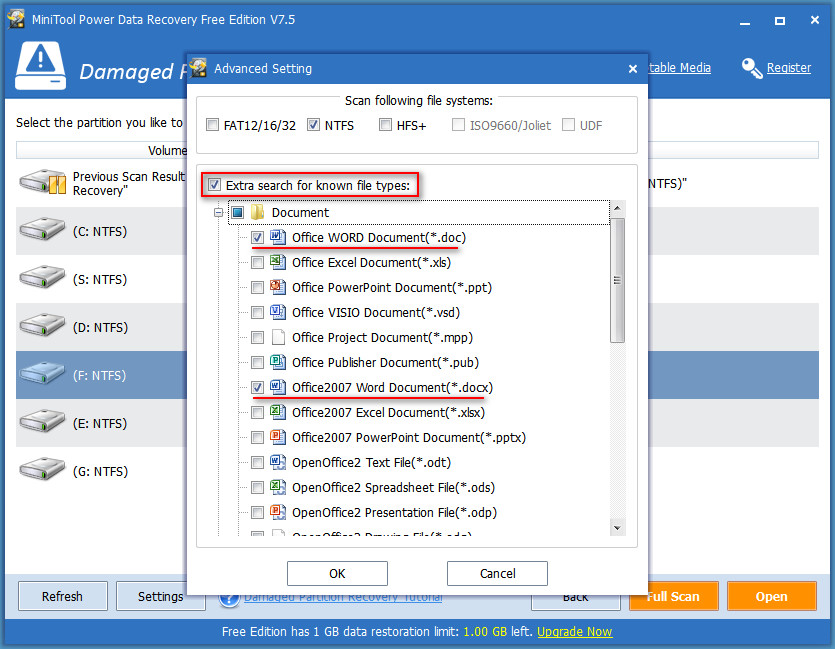 Step 3: check all the Word documents you want to recover by clicking on "Save" button & choosing a storage path afterwards.
(To break the limit of 1GB free recovery, you may as well buy a personal license here with discount)
Top Recommendation
When your Word document is hidden by virus, you should read How To Recover Files Hidden By A Virus Easier & Faster and then use the methods mentioned in it to show hidden document files.
How to Recover a Word Document with AutoSave
Definitely, the built-in AutoSave function in Word can also be used to help people recover lost data. Here, we'll show you how to recover a saved over Word document and how to recover an unsaved document respectively.
Recover a Word Document That Was Saved Over
To recover a Word document that was saved over, you need to rely on following tips:
Click "File" button in the upper left corner.
At this time, you'll see "Info" is chosen by default and three options are provided – "Permissions", "Prepare for Sharing" and "Versions". All automatically saved versions of current Word document are displayed in order according to saving time.
Now, you need to click the certain version to open it in a new window, in which you can choose to "Compare" it with current version or just "Restore" it.
Certainly, you can also go to find the automatically saved versions in computer by resorting to the "AutoRecover file location" and then double click on the certain version to open and restore it.
Recover a Word Document That Is Not Saved
The situation seems getting worse if you close a document, in which many changes have been made, without saving. This is because you could not find the previous automatically saved versions by clicking "File" -> "Info". How can we solve this problem?
Well, you can still go to "AutoRecover file location" to check and recover the needed version.
If you can't remember or don't know the exact file location for AutoSaved Word document versions, you can go to see it as we said before:
Open any Word document on your computer
Click "File", "Options" and "Save" to find out.
After that, go to the certain folder and start to search for the desired Word document version. Generally, the AutoSaved Word document files will be stored in computer with a name formed by your original file name, "Unsaved" and some special symbols and numbers (see picture below). Besides, this file is read-only and saved as an ASD file.
When you finally find your needed document, just double click it to open in Microsoft Office Word. Now, you're given the choices of "Compare" and "Restore"; just click "Restore" to recover the unsaved Word document version and then it will replace the current version of that document.
More Information about AutoSave Function of Microsoft Word
Luckily, there's a built-in AutoSave function Microsoft Word which enables us to recover Word document easily from the automatically saved versions or unsaved file. Believing this function is very useful, we'd like to tell you more about it.
Note
: since Microsoft Word 2010 is widely used, we'll take it as an example to show you more details in the following content.
Introduction to AutoSave
The AutoSave function of Microsoft Office software, including Word 2010 is enabled by default. And the default time interval is set as 10 minutes (of course, you can change it by choosing an integer from 1 to 120).
The timer will be initialized every time when new modification has been made to document after the completion of the last auto-save/manual saving. And when the specified time interval is reached, another new version will be generated.
If you choose to manually save current changes by pressing "Save" button, the timer will be cleared and stop working until new changes are made to document after the manual saving. This is easy to understand.
How to Find AutoSave Function
Click "File" -> "Options" -> "Save" in order and this "Word Options" window will burst into your eyes. Here you can see both "Save AutoRecover information every _ minutes" and "Keep the last autosaved version if I close without saving" are checked by default, as we have mentioned above.
Note
: if you find your Word document with very important information stored in is missing, you should react immediately by following the suggestions we gave in previous part to retrieve Word document all by yourself, without paying.
Outstanding Features of Microsoft Office Word 2010
Feature 1 – create documents with amazing visual impact
Word 2010 offers us a range of new and improved tools that allow them to design documents like an expert and highlight important content very easily.
Whether you know it or not, the impressive formatting effects (such as gradient fills and images) can be added directly to the text. You can apply image effects (such as shadow, bump, light and image) and perform formatting settings to text in order to seamlessly blend it with your image. All those can be operated quickly and easily just through a few clicks of the mouse.
You're able to create a new SmartArt graphics to build your impressive charts within just several minutes. With the newly added photos editing tool in Word 2010, you can insert, crop and add picture effects without the help of third-party photo editing software.





You're also able to choose from the many customizable Office themes to adjust colors, fonts, and graphics formatting effects in Word document. The same Office themes could also be applied for Microsoft PowerPoint and Excel 2010 to easily impart consistency and professional look for all documents.
Feature 2 – save time & simplify work
Firstly, improved search and navigation experience has been added to Word 2010 to help us find information more conveniently than before. Graphics, tables, footnotes and annotations can all be used to find target content. The improved navigation pane provides us a visual representation of the document, making it possible for quickly browsing, sorting and searching the desired content.
Then, you can easily cross the barriers of different languages when using Word 2010. We mean, after all, it can translate words, phrases or documents for you. In this way, you're endowed with the ability to set different languages for the on-screen instructions, help content and display content. It gets better that you'll even be able to send the entire document to the site for parallel translation.
In addition, you can insert screenshots to capture visual icon, and then incorporate it into your work. When you decide to reuse the screenshots cross documents, you're allowed to see its appearance before placing the added content to target location with assistance from Paste Preview function.
Want to know the best part? Word 2010 simplifies the way you use functions; the new Microsoft Office Backstage view replaces the traditional file menu, so document saving, sharing, printing and publishing could be done after a few clicks of mouse; the improved function area enables you to quickly access the frequently used commands and create custom tabs.
Feature 3 – enhance teamwork effectively
Word 2010 redefines the way people deal with a document together. With co-authoring function, you can share your ideas with others while editing documents.
For enterprises and organizations, the integration with Office Communicator does them a big favor – they could easily find whether the certain person, who is editing the document together with them, is available or not. And also, they could start a session easily without even leaving Word.
Feature 4 – access information from various locations
It's possible that you don't have a computer at hand when you burst of creativity, or come across project and work emergencies. Fortunately, you can now use Web or Smartphone to access previous Word document and then complete your work at the time and place needed.
Microsoft Word Web App is a perfect online companion of Microsoft Word. As long as you publish the document online, you're able to access, view and edit these documents anywhere through your computer or Windows Mobile-based Smartphone.
Bottom Line
Word document missing seems to be inevitable and non-ignorable. Almost all users have ever been stuck in Word document loss issues. What a pity! But the loss of important Word document is actually not the end of the world; on the contrary, you can still cheer up and choose suitable ways to try to find it back.
In summary, both MiniTool Power Data Recovery software and the built-in AutoSave function can be your lifesaver. They can help you regain lost document in most of the case. What you should do is choosing the proper method according to your actual situation, and then follow the instructions we give above to complete recovery work easily and rapidly.
Related Articles