Some people find that the Internet Explorer disappeared from their Windows 10 computer. This post tries to help you fix the Internet Explorer 11 missing from Windows 10 error with several solutions.
How to Fix Internet Explorer Missing from Windows 10
Way 1. Check Internet Explorer from Start Menu
At the very beginning, you should check from Windows Start menu to see if it contains Internet Explorer.
You can click Start menu, and scroll down to find Windows Accessories to click it. You should find the Internet Explorer is under Windows Accessories category. If it's not there, try the fixes below.
Way 2. Turn on Internet Explorer 11 from Windows Features
You can access Windows Features that is usually used to enable or disable applications on your Windows computer. You can enable your computer to run Internet Explorer 11 in Windows Features dialog. You can also disable and enable IE 11 again to refresh it.
You can click Start, type Windows Features in the search box, and open the Windows Features dialog.
Find Internet Explorer 11 in Windows Features window, and uncheck it. Click OK.
Then you can run Windows Features again, and check Internet Explorer 11 again, and click OK and restart your computer.
Way 3. Relocate iexplorer.exe
If Internet Explorer is missing in Windows 10 and you can't find it from Start menu or Windows Features, you can create a shortcut for iexplorer.exe, and paste it to the correct directory. This will bring Internet Explorer back to its original place.
You can right-click the blank space of desktop screen and click New -> Shortcut to open Create Shortcut Window.
Next you can type %programfiles%\internet explorer\iexplore.exe in Create Shortcut window, and continue to type a name like IE for the shortcut. Click Finish to create a shortcut for Internet Explorer in Windows 10.
Then you can press Windows + R, copy and paste %ProgramData%\Microsoft\Windows\Start Menu\Programs\Accessories in Run window, and hit Enter to open Accessories window.
At last, you can copy and paste the Internet Explorer shortcut to the Accessories directory path. Now you should be able to find Internet Explorer in Windows Accessories.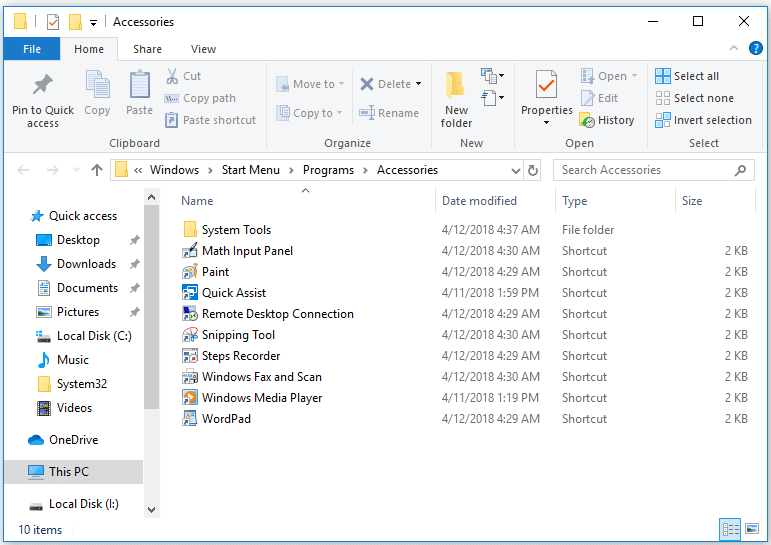 How to Open Internet Explorer 11 in Windows 10
Way 1. Click Start -> Windows Accessories -> Internet Explorer.
Way 2. Click Start or the Cortana search box or press Windows key, type Internet Explorer, and click Internet Explorer application from the list to open it.
Way 3. Press Windows + R, type iexplore in Run window, and hit Enter.
To quickly access Internet Explorer next time, you can pin it to taskbar. You can right-click Internet Explorer application after you locate it in Start menu, and select Pin to taskbar.
Bottom Line
This post provide 3 ways to help you fix Internet Explorer missing/disappeared Windows 10 problem, and also gives 3 ways for how to easily open Internet Explorer 11 in Windows 10.