Have you ever encountered a situation where when you working with your keyboard, it types multiple letters at one time? How to fix keyboard types multiple letters on your computer?
MiniTool
will work you through full guidance to fix the problem.
When a keyboard types multiple letters, it not only lags on your work but also makes you annoyed. Actually, this is a very common problem that most of you have met before. Here I'd like to show you a real case:
I am having a problem with my keyboard where it is repeating the E key when I type it. I type once and it gives ee. I've tried Auto Hotkey but it is missing some of the keystrokes. Is there an alternative that would do the same? I know Windows has a built-in function for that, but it prevents ALL keys from repeating, so when I keep backspace pressed it won't work. Thanks. - SaimonSaeen

answers.microsoft
How to Stop a Keyboard from Typing Multiple Letter
Method 1: Clean the Keyboard
If you have used this keyboard for a long time, the keyboard might accumulate dust or maybe food scraps, which will prevent it from working normally. Therefore, you can clean your keyboard first to see if this method can resolve the problem. If not, please go on to the rest methods.
Method 2: Restart the Computer
Another easiest and most convenient method to restart your computer. Restarting can fix most temporary issues of your computer and it also resolves some problems caused by hardware and attachment devices, such as a keyboard.
Method 3: Update the Keyboard Driver
An outdated driver is also responsible for improper performance. You can go to check the keyboard driver and update it if necessary.
Step 1: Press Win + X and choose Device Manager from the WinX menu.
Step 2: Expand the Keyboards option, then right-click on the keyboard device.
Step 3: Choose Update Driver from the context menu.
Step 4: Choose Search automatically for drivers in the popup window.
Your computer will search and install the latest driver for your computer. You can check whether a keyboard types extra letter issue is resolved.
Method 4: Run Different Troubleshooters
Here are two troubleshooters you can try to fix the issue.
>>Run the Keyboard Troubleshooter
Step 1: Press Win + I to open the Windows Settings.
Step 2: Navigate to Update & Security > Troubleshoot, then click on Additional troubleshooters from the right pane.
Step 3: Scroll down to find and click on the Keyboard option.
Step 4: Click on Run the troubleshooter.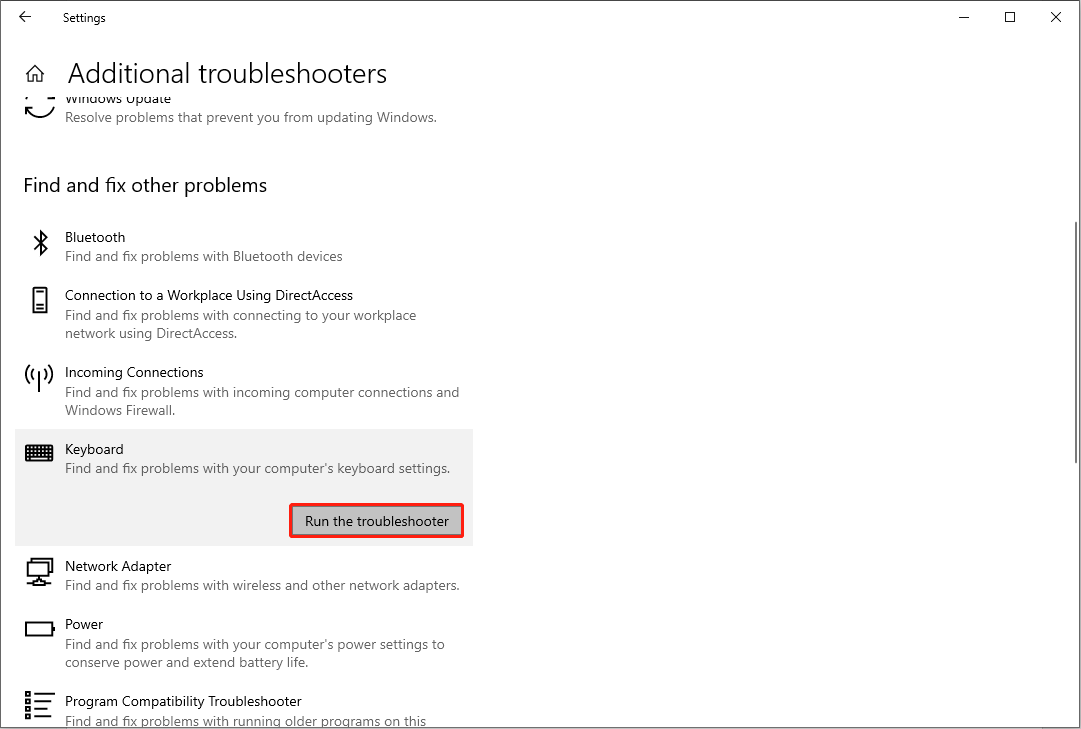 >>Run the Hardware and Devices Troubleshooter
Step 1: Press Win + R to open the Run window.
Step 2: Type cmd into the text box and press Shift + Ctrl + Enter to run Command Prompt as administrator.
Step 3: Type msdt.exe -id DeviceDiagnostic and hit Enter to execute the command line.
Step 4: Click on Next to detect the problems.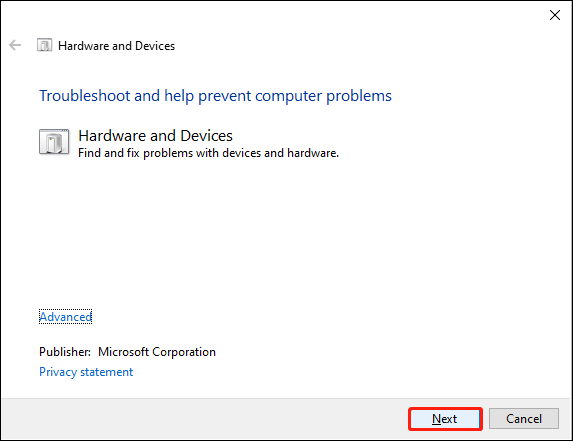 Method 5: Perform a Virus Scan
Sometimes, the abnormal performance might be caused by virus attacks or malicious applications. You can perform a virus scan to check whether this is the cause.
Step 1: Press Win + I to open Windows Settings.
Step 2: Select Update & Security > Windows Security.
Step 3: Choose Virus & threat protection from the right pane.
Step 4: Click on Scan options to choose a scan option that suits your situation.
Step 5: Click Scan now to start the process.
Bonus Tip
How to find your lost or deleted files? In addition to restoring from Recycle Bin, you can also try some professional data recovery software. Here I want to recommend MiniTool Power Data Recovery to you. This free file recovery software is used by millions of people around the world and enjoys a great reputation.
You can use this software to recover deleted files, missing pictures, lost videos, and other types of files. Besides, with its powerful features, the scan effectiveness and recovery accuracy are largely improved. You can try the free edition first to make a deep scan and restore up to 1GB of files for free.
MiniTool Power Data Recovery FreeClick to Download100%Clean & Safe
Bottom Line
This post provides you with five methods to fix a keyboard types multiple letters problem. Hope one of them can help you timely. Besides, if you have any questions about MiniTool software, please contact us via [email protected].