You need to add the Google account to your phone especially when you get a new one. However, problems may occur to prevent you from finishing this. Many people said they receive the There was a problem communicating with Google servers error message while adding the account. This article on MiniTool shows you how to fix the error in different ways.
Google account is offered by Google company to help users view and manage their user information: activity, security options, privacy preferences, etc. Users must create a Google account if they don't have one; otherwise, they can't get into the various Google apps: such as Chrome, YouTube, Google Maps, and Gmail.
Couldn't Sign in There Was a Problem Communicating with Google Servers
You'll need to sign into your Google account on a mobile phone in order to access and use the apps on it. This step is essential especially when you change a new account or get a new phone. However, a lot of users reported the same issue – they can't sign into Google account on Android phone. A Couldn't sign in prompt window shows up and says:
There was a problem communicating with Google servers.
Try again later.
How To Fix Google Search Not Working On Android/Chrome?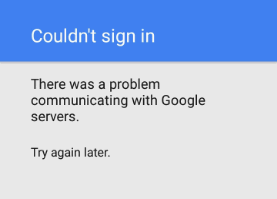 Why does this error appear? How to fix problem communicating with Google servers? Please find your answers here.
Possible Causes for There Was a Problem Communicating with Google Servers
You may want to know what happens when the system tells you that you couldn't sign in there was a problem communicating with Google servers. Lots of factors could lead to this problem and the top 3 reasons are:
Cache corruption: the cache files stored on your phone may be corrupted somehow so as to make the apps and features misbehave. In this case, you need to clear the cache to try to fix the problem.
2-step verification: if you enabled the 2-step verification feature, others can't sign into your account through other devices. This is a secure feature, but it will cause problem sometimes. When you add your account to another app, you will fail. You must go to the account settings and disable 2-step verification.
Host files issue: if the content of the host files has error, you'll also run into the problem communicating with Google servers. In this case, you should try to solve the problem by trying to update the files.
Useful Solutions to Fix the Problem
The following methods can be used to fix There was a problem communicating with Google servers on Android device. (How to deal with Could not communicate with your Google Home error?)
Solution 1: Check Connectivity
You should first go to check the connectivity and the network connection. You can try to enable the flight mode, wait for a while, and disable the mode.
Solution 2: Check Date and Time
Open Settings -> select Date and Time -> check whether the date and the time are set correctly. You may Use Network Service Provider Time.
Solution 3: Remove & Re-add the Account
You can also try to fix the issue by removing the Google account that has been added to your phone and adding the account again.
Solution 4: Clear Cache
Open the Apps tray and select Settings.
Choose Apps.
Look for the Google Account Manager.
Click on the CLEAR DATA button.
Click CLEAR CACHE.
Wait for the process to finish.
Also, you need to repeat these steps to clear cache of Google Play Store, Google Play Services, and Google Services framework.
Solution 5: Disable 2-step Verification
Open Settings.
Select Google and then Google Account.
Choose Security.
Go to the Signing in to Google section.
Select 2-Step Verification.
Sign in with your account.
Turn off the 2-Step Verification.
Solution 6: Reinstall the Google Play Services App
Open a browser on your device.
Type apkmirror.com into the address bar and hit Enter.
Search for the Google Play services.
Select the top result (the latest version of Google Play services).
Click Update or Download the correct Google Play Service file for your Android phone.
Try to add your Google account again afterwards.
Solution 7: Update Host Files (for Rooted Devices)
Open a browser.
Type apkmirror.com and hit Enter.
Search for ES File Explorer.
Download the latest version of ES File Explorer if needed.
Open it.
Click on the Settings menu in the top left corner.
Choose Tools.
Turn on Root Explorer.
Select Local and then Device.
Open the System folder and then the etc folder.
Click on the hosts file.
Select Text.
Click ES note editor.
Clear all the content and type 127.0.0.1 localhost.
Click on the back button and then click Yes to confirm.
Try to add your Google account again from Settings.
If all the above solutions failed, you can also try to fix the problem by performing a factory reset.