Summary
Windows 10 is a cross platform and device application OS, and it's also said to be the last stand-alone version of Microsoft Windows release. A lot of users have upgraded their system to Windows 10. To custom Windows 10 input, they try to install language pack; yet, some errors occur during the process.
As you know, Windows 10 is the newest generation of operating system developed by Microsoft Corporation and it will be the last one. Microsoft will not release any new operating systems. Instead, it will continue to offer updates for Windows 10.
You can control your Windows 10 anytime. If you'd like to custom its input method, you may download and install proper language packs. By doing so, you are able to view things in your native language:
Apps
Menus
Settings
Dialog boxes
Websites
…
Run into Windows 10 Language Pack Error: 0x800f081e
A lot of users reported that they met Windows 10 language pack error while using Time & Language feature in Windows Settings.
The error appears when they are downloading and installing the pack.
The language pack feature works well and then fails suddenly.
So how did the language pack error 0x800f081e arise? Let's keep reading to know.
Come across error 0x80004005 during Windows update?
Possible Causes for Windows 10 Language Pack Issue
Like many other errors that occurred on Windows 10, the language pack error can be caused by many reasons. Here, I summarized 5 types of the most possible causes for you.
Cause 1: security reasons.
If your computer is attacked by any virus, malware or ransomware, the antivirus program will start to block relevant files. So the installation/update tends to cause the problem.
Cause 2: country/region settings.
If the country/region setting on your computer is incorrect, the 0x800f081e language pack error may be caused.
Cause 3: internet connection.
If the internet connection of your computer is not stable, all operations that need to be finished via network will be influenced. The language pack installation is no exception.
Cause 4: system files corrupt.
If you have changed or erased the critical system files, any updates and language packs will be blocked from installing.
How To Recover Corrupted Files Efficiently To Minimize Losses?
Cause 5: compatibility issue.
Windows 10 language pack error will also appear when the version of language pack you have got is wrong for your Windows version.
How Do I Fix Language Pack Error 0x800f081e
In this part, I will introduce mainly 2 methods to help you fix the language pack issue.
Method 1: Disable Antivirus Program
As your security software, the antivirus problem will interfere with the language pack installation/update process. To prevent this, you should:
Disable all the antivirus programs running on your computer.
Turn off Windows Firewall.
Finish the language pack installation and update.
Re-enable the antivirus program.
Method 2: Install Local Experience Packs & Change Country/Region Setting
How to install Windows local experience packs:
Go to Microsoft Store.
Select the suitable and applicable pack.
Click on the Get button in the corresponding Local Experience Pack page.
Choose your Microsoft account and enter the correct password to sign in.
How to change language preferences:
Click on the Start button in the lower left corner.
Click on the Settings option from the pop-up window.
Select Time & Language (Speech, region, date) from the Settings window.
Shift to Region & language from Date & time in the left pane.
Choose the correct Country or region.
Then, select the proper language from the Windows display language menu (or choose to Add a language).
Click on the Set as default button.
Restart computer to let changes take effect.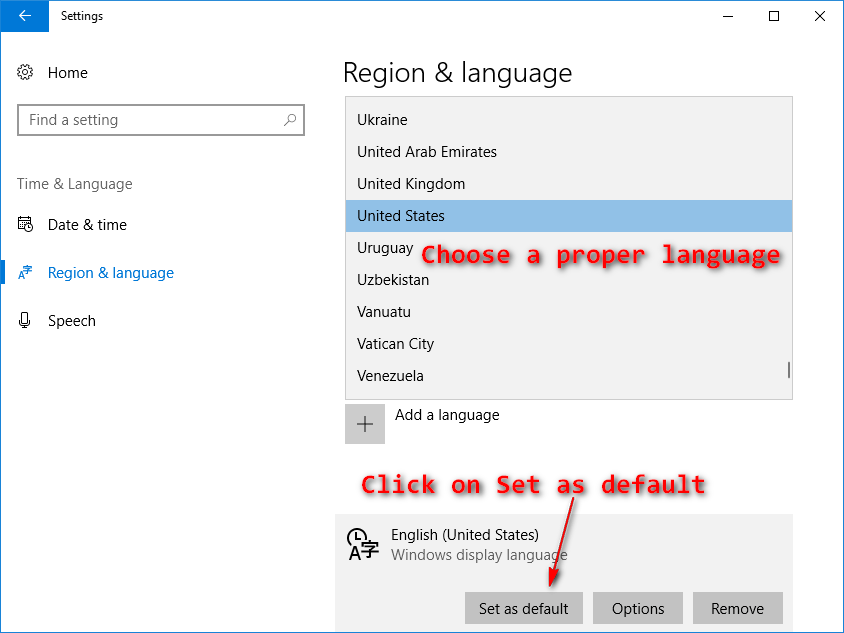 Click here if you'd like to know how to recover files after Windows Update.