What can't I launch Genshin Impact in Windows 11/10? How do I fix Genshin Impact not launching on PC? If you ask these two questions, go to find answers from this post. MiniTool Solution will show you much information about this issue, as well as multiple fixes.
Genshin Impact Not Launching Windows 10/11
As an action role-playing game, Genshin Impact was first published in 2020 by Chinese developer miHoYo. To play this game, you can download and install it on your PC, PS, or mobile phone. Although it is popular, it still has some issues like other games. Sometimes Genshin Impact keeps crashing/stuttering/freezing; sometimes you encounter error code 4201/4206/4308/8006, etc.
Today, we will focus on another common issue – Genshin Impact not loading/launching/opening. This happens when trying to run the Genshin Impact launcher.
Why is this game not working? The common reasons may include the old graphics card driver, a lack of admin permissions, a conflict of services or apps, and more. But don't worry and you can easily get rid of your issue after trying the methods below.
How to Fix Genshin Impact Not Launching Windows 11/10
Make Sure Your PC Meets Minimum Requirements
This is the first thing you should consider. If your PC cannot meet the minimum requirements of Genshin Impact, it won't launch in Windows 10/11.
See the minimum specifications:
System: Windows 7 SP1 64-bit, Windows 8.1 64-bit, or Windows 10 64-bit
CPU: Intel Core i5 or equivalent
Memory: 8GB RAM
Graphics card: NVIDIA® GeForce® GT 1030 and higher
DirectX version: 11
Storage: At least 30GB of space
Tip: Genshin Impact is not available for Windows 11. If you play this game on a Windows 11 PC, there may be compatibility issues.
Go to check your PC specification and see if it can meet these requirements. 
Run Genshin Impact with Admin Permissions
You need to run this game as an administrator to gain some necessary permissions. Follow the steps below:
Step 1: In the installation directory of this game, right-click on the exe file and choose Properties.
Step 2: Go to the Compatibility tab and check the box of Run this program as an administrator.
Step 3: Click Apply and OK.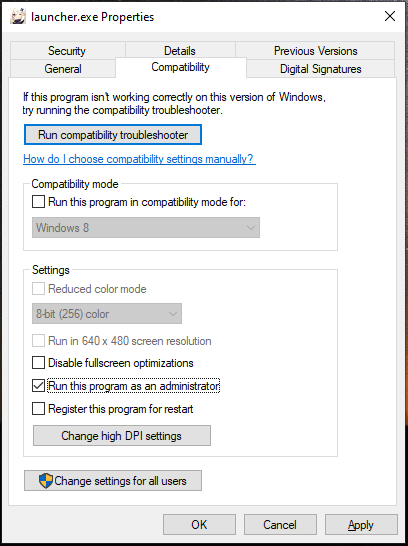 Update Your Graphics Card Driver
If there is an old video card driver, compatibility issues may appear. As a result, Genshin Impact not launching/loading happens in Windows 10. So, you should keep the driver updated.
To do this work, you can go to Device Manager, right-click the driver and choose Update driver. Or, you can go to the website of your vendor, download a driver and install it on your PC. 
Perform a Clean Boot
Genshin Impact not launching can be caused by conflicts with services or programs in the background. You can perform a clean boot to examine what's causing the issue.
Step 1: Type in system configuration in the search box and click the result.
Step 2: Under the Services tab, tick the box of Hide all Microsoft services and click Disable all.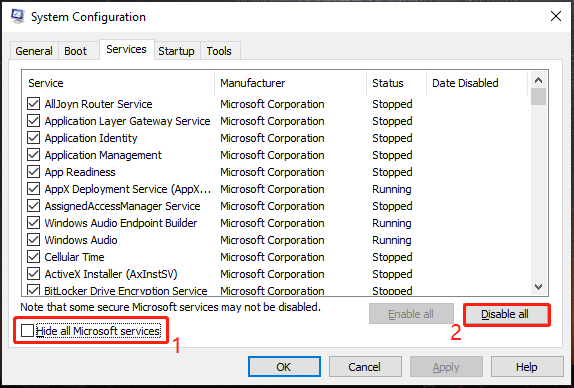 Step 3: Go to Startup and click Open Task Manager.
Step 4: Disable each enabled item.
Install the Latest DirectX and Visual C++ Redistributable Files
If this game fails to load or launch and you run into specific errors like MSVCP140.dll cannot be found or 0xc000007b, you can try to install the latest DirectX and Visual C++ files.
Step 1: Go to download DirectX End-User Runtime Web Installer from the Microsoft website.
Step 2: Double-click the dxwebsetup.exe and follow the on-screen prompts to install it.
Step 3: Go to download the latest Microsoft Visual C++ Redistributable file.
Step 4: Run the exe file and finish the installation.
Repair Game Files
If game files are corrupt, you may encounter the issue of Genshin Impact not launching on PC. Try to repair these files by following steps the below.
Step 1: Run the Genshin Impact launcher in Windows 10.
Step 2: Click the gear icon to enable the settings interface.
Step 3: Click Repair Now in the Repair Game Files section.
Other Tips for Genshin Impact Not Launching Windows 10
In addition, there are some other ways you can try:
Switch to the dedicated GPU: Go to Settings > System > Display > Graphics settings. Click Browse to find the executable file of Genshin Impact, click Add, and click Options. Choose High performance and click Save.
Allow Genshin Impact through Firewall: Open Windows Defender Firewall in Control Panel, click Allow an app or feature through Windows Defender Firewall > Change settings, find the exe file of this game and tick the boxes of Private and Public.
Run system file checker
Uninstall FACEIT Anti-Cheat
After trying all these solutions, you should play Genshin Impact properly. Take action!