Google Chrome black screen is a common problem in Windows 10/8/7. If you are having this issue now, don't worry. Here is the right place you come and you can get solutions from this post offered by MiniTool. Just try them to easily get rid of the trouble.
Chrome Goes Black
Google Chrome is one of the best web browsers in the world but it can have some issues, for example, Google freezes Windows 10, Chrome ReCAPTCHA not working, etc. Additionally, many users recently reported another issue: Google Chrome black screen.
When opening this web browser, it goes black. Sometimes it turns black suddenly without any error message or warning while browsing or Chrome keeps going black.
If you are also bothered by it, you may ask "why is my Google Chrome black". It is caused by browser extensions, flags, the incompatibility with the system, etc. Take it easy and it can be easily fixed as long as you follow these solutions below.
How to Fix Google Chrome Black Screen in Windows 10
Method 1: Disable Extensions
Some extensions may not be fully compatible with your version of Chrome or they may be buggy. If you add them, Chrome goes screen. If the black screen issue is not permanent, you can fix it by disabling certain extensions.
Step 1: In Chrome, click the menu and choose More tools > Extensions.
Step 2: All the extensions are listed here. Just disable all of them by clicking the switch.
Step 3: Restart Chrome to see if the black screen is solved.
Method 2: Disable Chrome Flags
In Chrome, you can use advanced and experimental features or so-called flags. The problem of Google black screen can be caused by the activation of some of these features. To fix it, you can disable Chrome flags.
Step 1: Type chrome://flags/ to the address bar and press Enter.
Step 2: Ensure GPU compositing on all pages, Threaded compositing, and Do SHOW Presents with GD are disabled.
Step 3: Re-launch the browser and see if your issue is fixed.
Method 3: Disable Hardware Acceleration
According to users, disabling hardware acceleration is helpful to fix Google Chrome black screen.
Step 1: In Windows 10, right-click the icon of Chrome to choose Properties.
Step 2: Under the Shortcuts tab, add –disable-gpu to the Target section, as shown in the following figure.
Note: There's a space after chrome.exe.
Step 3: After saving the change, open Chrome and go to Settings > Advanced and don't choose Use hardware acceleration when available.
Method 4: Run Google Chrome in Compatibility Mode
If there is a compatibility problem with the system, Google Chrome keeps black or it goes black when opening. Enabling Compatibility mode can be useful to fix this issue.
Step 1: Right-click Google Chrome to choose Properties.
Step 2: Go to the Compatibility tab, check the box of Run this program in compatibility mode for and choose an operating system like Windows 8.
Step 3: Click OK to save the change and restart Chrome to check if your issue is solved.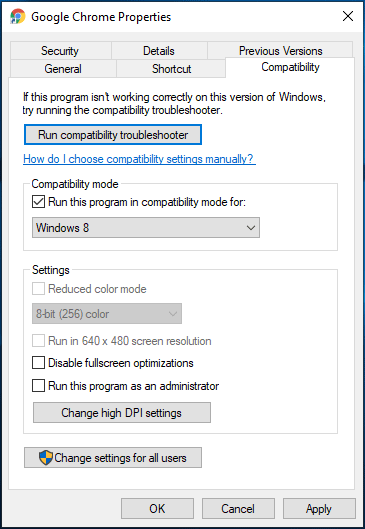 Method 5: Resize Chrome
In addition to these solutions, some users recommend resizing Chrome to fix the black screen. To do this, click and hold the title bar of Google Chrome to resize it. After that, restore this browser to its original size to see if the issue is resolved.
Note that this is just a temporary issue. If you encounter Google Chrome black screen next time, you need to resize it again.
Final Words
Is your Google Chrome black in Windows 10? Now, you should try these solutions above to get rid of this issue. In addition to these ways, you can choose to restore the browser to default settings or reinstall Chrome. Just have a try based on your actual situations.