GPU crashing is not new but do you know what to do if that happens? In this post on MiniTool Website, we will provide you with 8 feasible solutions for you when encountering GPU crashing. Without further ado, let's dive into it.
Why Does My GPU Keep Crashing?
GPU is of vital importance to a computer especially when gaming. Are your GPU crashing during load? It must be a frustrating experience when GPU stops working all of a sudden. When your GPU is crashing, the potential causes are:
Outdated graphics driver
Outdated DirectX
Incompatible in-game settings
Faulty power supply
Overheating
Overclocking
Old GPU
Don't worry, we will show you easy and effective solutions for you on how to fix GPU crashing issues in this post.
How to Fix GPU Crashing PC?
Fix 1: Update GPU Driver
Outdated GPU drivers can be harmful to the performance and stability of the system and they can cause GPU crashing. Make sure your GPU driver is always up-to-date so that better stability and consistency will be added.
Step 1. Type Device Manager in the search bar and hit Enter.
Step 2. Expand Display adapters to show your graphics card.
Step 3. Right-click on it to choose Update driver > Search automatically for drivers and then follow the instructions on the screen to download & install GPU driver automatically.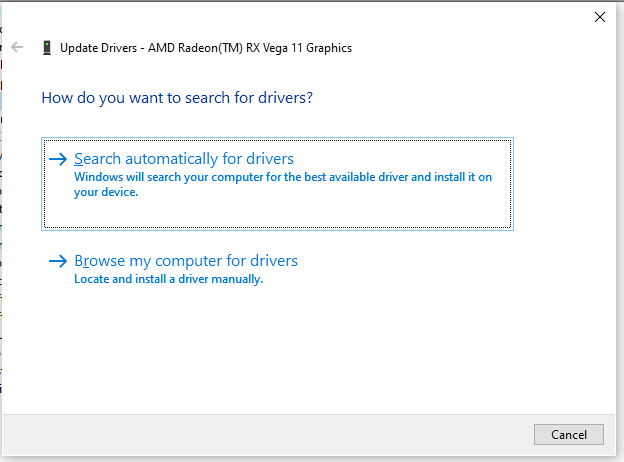 Fix 2: Remove Entire Driver
If you have replaced your GPU recently, the new GPU might not work fine with the existing graphics card driver. This will also trigger GPU crashing. To do this, you need to remove the driver altogether and reboot your computer.  
Fix 3: Check for Overheating
If the temperature of your computer's internal components is too high, GPU crashing will also appear. You can put your computer in a cooler place and disable all the background applications.
At the same time, if your PC is full of dust or the airflow is restricted, your GPU fans will have problems getting cool air to disperse the immense heat from the memory and GPU core.
Fix 4: Update DirectX
DirectX is a suite of components in Windows that can render, display, and calculate 3D images, textures, and anything graphics related. Most games rely on it to run properly. If you are running the outdated version of DirectX, you can try to update it.
Move 1: Check Your DirectX Version
Step 1. Type dxdiag in the search bar and hit Enter to open DirectX Diagnostic Tool.
Step 2. In the System tab, check out your DirectX Version. If it is outdated, you can continue the following steps.
Move 2: Update DirectX
Since there is no stand-alone package for DirectX in Windows 10, you are only allowed to update it via Windows Update.
Step 1. Press Win + I to open Windows Settings.
Step 2. Go to Update & Security > Windows Update > Check for updates. Follow the on-screen instructions and Windows Update will download & install the latest DirectX for you.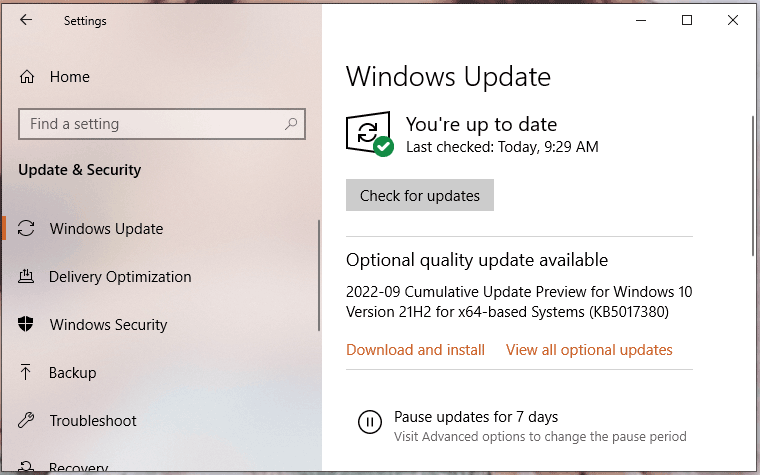 Fix 5: Change In-Game Settings
If GPU crashing happens when playing certain games, you should have a look at the in-game settings because they might be the culprit of GPU crashes. Some GPUs don't play nice with certain settings such as VSync, Antialiasing and more, so you had better disable them,
Fix 6: Stop Overclocking
Overclocking can help to gain slight FPS increases but it can also lead to all kinds of crashes like GPU keeps crashing. You need to set your GPU's core and memory clock speeds to the default values and remove any boost clock that locks your GPU at a specific frequency during all times.
Fix 7: Change a PSU
A defective PSU (Power Supply Unit) can also cause GPU failure. Even if your computer can still boot up, your GPU will start drawing its max power when opening up a graphically intense game or application. In this case, you can change your PSU into a different one.
Fix 8: Change a New GPU
Like any other hardware components, the parts of GPU like VRAM or capacitors will become damaged with time because GPU is subject to a very high temperature. Therefore, if your GPU are running for quite a long time, it's time to buy a new one.
Other related posts:
# How to Fix Low GPU Usage? Here Are 11 Feasible Ways!
# Is 100% GPU Usage Bad or Good? How to Fix 100% GPU When Idle?