Do you experience graphics issues such as screen tearing, flickering, shimmering, freezing or black issues when playing Halo Infinite on your Windows PC? If so, follow this troubleshooting guide on MiniTool Website, and your issue will be fixed.
Halo Infinite PC Screen Tearing
Halo Infinite is one of the most popular action shooter video games which is available for Windows and Xbox consoles. Like any other video game, you may also encounter some graphic glitches when playing this game and screen tearing, flickering, freezing or black screen issue is one of them.
If you are annoyed by the same problem, it is highly recommended to try the solutions mentioned in this guide one by one until your problem gets fixed.
How to Fix Halo Infinite Screen Tearing on Windows 10/11?
Fix 1: Turn on V-Sync
To avoid graphic glitches such as Halo infinite screen flickering, tearing, or black screen, you can try enabling Vertical Sync.
For NVIDIA graphics card:
Step 1. Launch NVIDIA Control Panel.
Step 2. Go to 3D Settings > Manage 3D Settings > Program Settings.
Step 3. Press Add and select Halo Infinite from the program list.
Step 4. Scroll down to find Vertical sync and turn it on.
Step 5. Restart your computer to apply the changes.
For AMD graphics card:
Step 1. Open AMD Radeon Software and go to Settings.
Step 2. Hit Graphics > Wait for Vertical Refresh > set the value of Wait for Vertical Refresh to Always on.
Step 3. Reboot your computer.
Fix 2: Set High Performance
If you are running the Balanced mode, you may also encounter Halo Infinite screen tearing. In this case, setting the High-Performance mode might work for you. To do so:
Step 1. Click Start and open Control Panel.
Step 2. Hit Hardware and Sound and Power Options.
Step 3. Check High performance and then restart your computer.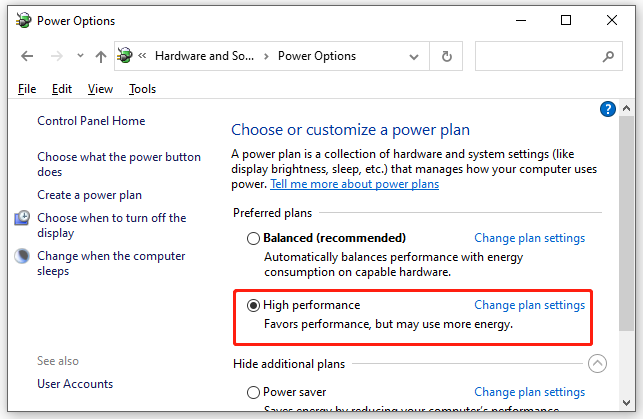 Fix 3: Lower In-Game Graphics Settings
It is reported by most players that lowering the in-game graphics settings helps them to get rid of Halo Infinite screen tearing and flickering issues. You can consider turning off some of the display settings for the game like shadow effect, anti-aliasing, texture details and so on.
Fix 4: Update Graphics Drivers
It is of vital importance to keep GPU drivers up-to-date in video games. Follow the steps below to check for available updates:
Step 1. Right-click on Start to open Quick Link Menu.
Step 2. Choose Device Manager and expand Display adapters to choose Update driver > Search automatically for drivers. If the system detects an update available, it will automatically download & install the update for you.
Fix 5: Verify Integrity of Game Files
Sometimes, the game files will be missing or corrupted due to some reasons, leading to screen tearing Halo Infinite. Therefore, you should make sure that your game files are intact.
Step 1. Launch the Steam client and go to Library.
Step 2. Scroll down to find Halo Infinite and right-click it to choose Properties.
Step 3. Under the LOCAL FILES tab, hit VERIFY INTEGRITY OF GAME FILES and then wait for the process to complete.
Fix 6: Set High Priority
To make your game works better, you can allocate more resources to it by setting the game priority in the higher segment. Here's how to do it:
Step 1. Right-click on the taskbar to choose Task Manager.
Step 2. Under the Details tab, right-click the Halo Infinite game task to choose Set priority to High.