War Thunder has gained widespread popularity among vehicular combat video game players all over the world. However, it is reported that this game crashes frequently when gaming. In this post on MiniTool Website, we will show you some easy fixes on how to address War Thunder crashing issues.  
Why Does War Thunder Keep Crashing?
Crashes are pretty common in online games. Game crashes can be blamed not only on the game itself but also on your computer hardware and other external factors. If you find War Thunder keeps crashing, you can take the following troubleshooting measures to fix this issue.
How To Fix War Thunder Crashing on Windows 10/11?
Fix 1: Check for System Requirements
First, make sure that your computer meets the minimum system requirements of War Thunder.
OS: Windows 7 SP1/8/10
DirectX: Version 11
Memory: 4 GB RAM
Storage: 39 GB available space
Processor: Dual-Core 2.2 GHz
Network: Broadband Internet connection (20 Mbps)
Graphics: Intel HD Graphics 5100 / AMD Radeon 77XX / NVIDIA GeForce GTX 660
Here's how to check your hardware information:
Step 1. Press Win + R to open the Run dialog.
Step 2. Type dxdiag and hit Enter to open DirectX Diagnostic Tool.
Step 3. Under the System tab, check your Operating System, Processor, Memory and DirectX Version.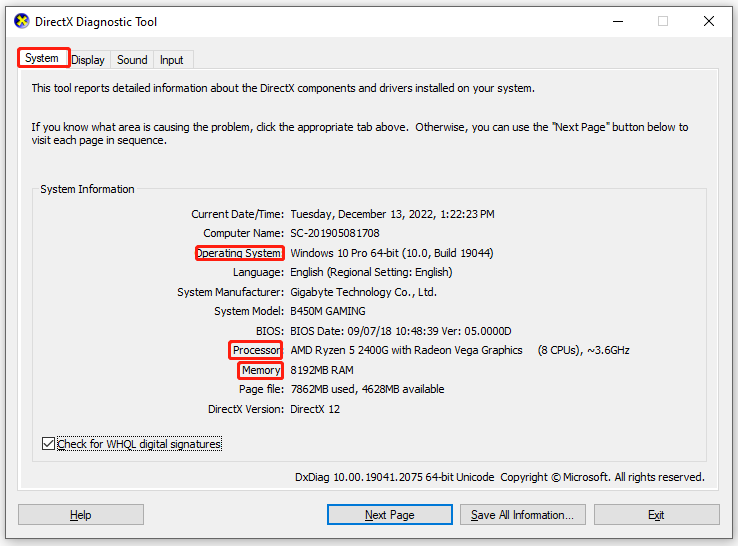 Step 4. Then, go to the Display tab to the graphics card's detail.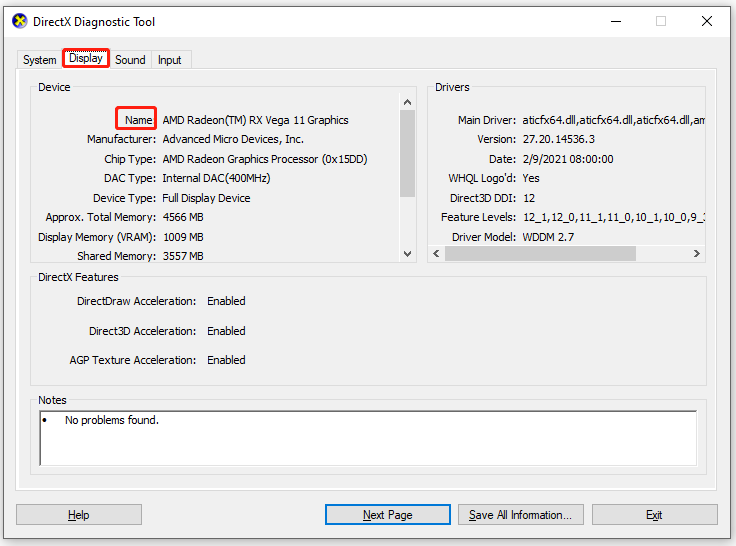 Fix 2: Relaunch the Game
When you experience issues like games crashing, black screen, or not launching, you may choose to relaunch the game. However, you may only close the user interface and some game-related services might be still running in the backend without your knowledge. Follow the steps below to relaunch the game correctly:
Step 1. Press Win + X to open the quick menu and choose Task Manager.
Step 2. In Processes, find War Thunder and Steam Client and right-click on them to choose End task.
Step 3. Launch Steam and open the game from the Steam Client.
Fix 3: Verify the Integrity of Game Files
If a certain game file is corrupted or missing, you will also suffer from War Thunder crashing. Luckily, you can verify the integrity of game files from the Steam client.
Step 1. Launch Steam and go to Library.
Step 2. In the game library, look for War Thunder and right-click on it to choose Properties.
Step 3. Under the Local Files tab, hit Verify Integrity of Game Files.
Fix 4: Install the Latest Patch
War Thunder is not a one hundred percent perfect game and the developers release some patches regularly to fix some glitches in the game. Therefore, you should go to War Thunder official website to see if there is a new patch available and download it in time.
Fix 5: Update Graphics Driver
Like other video games, it is important to keep your GPU driver up to date. If you don't update it for a long time, it will also lead to War Thunder crashing.
Step 1. Type device manager in the search bar and hit Enter.
Step 2. Expand Display adapters and you can see your graphics card.
Step 3. Right-click it to choose Update driver > Search automatically for drivers.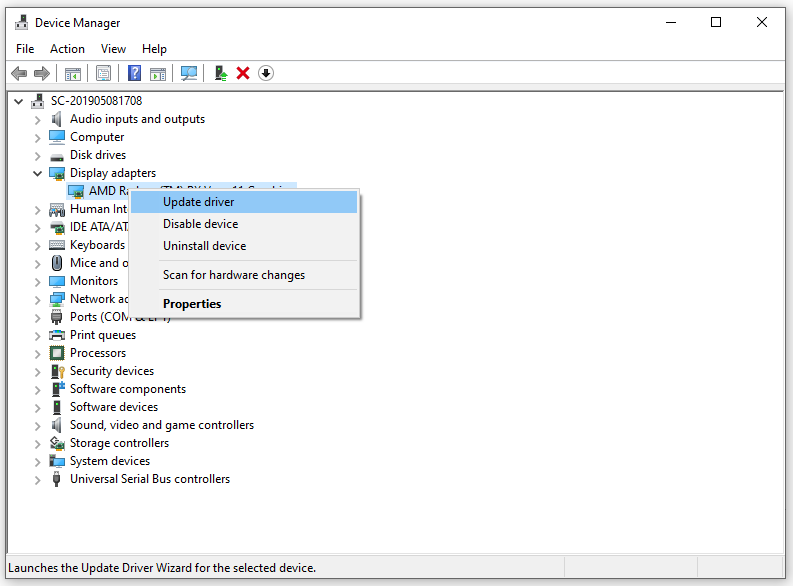 Fix 6: Perform A Clean Boot
Some apps and services may start automatically when the operating system boots up and they may use lots of internet connection & system resources. In this condition, War Thunder crashing when joining game appears. You can perform a clean boot to exclude the interference of third-party programs. To do so:
Step 1. Press Win + R to launch the Run box.
Step 2. Type msconfig and hit Enter to open System Configuration.
Step 3. Under the Services tab, tick Hide all Microsoft > hit Disable all > Apply & OK.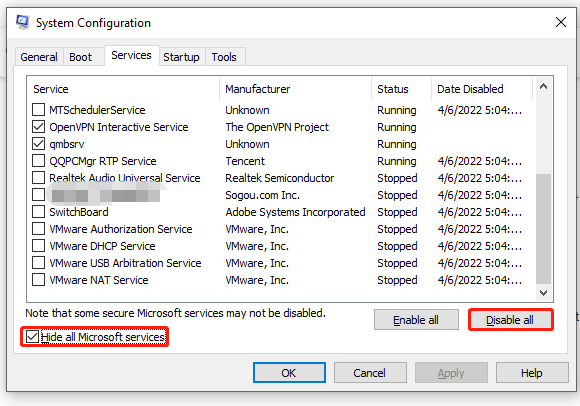 Step 4. Go to the Startup tab, and press Open Task Manager.
Step 5. In Task Manager, go to the Startup tab.
Step 6. Select the tasks that have a higher startup impact and choose Disable to turn them off from the startup process.
Step 7. Reboot your computer.
Fix 7: Reinstall the Game
If War Thunder still keeps crashing, you can consider reinstalling the game from scratch. This process might be pretty troublesome but it is proven fruitful for other players.
Step 1. Launch the Steam client and find War Thunder in Library.
Step 2. Right-click on it to choose Manage > Uninstall.
Step 3. After the game is uninstalled, reboot your computer and then launch Steam to install War Thunder again.