Summary :
Hard drive missing after Windows 11 update is a common issue and it is reported by many users in forums. If you also run into this issue, how can you fix it to use your PC properly? Take it easy and you can find some useful solutions from this post given by MiniTool.
Hard Drive Disappeared from Disk Management Windows 11 after Update
To experience the new operating system – Windows 11, some of you choose to install it on your PC so that you can enjoy the new user interface, settings, features, etc. You know, all the time, Windows update issues always happen unexpectedly, making you frustrating.
Of course, Windows 11 is not an exception. For example, you can have compatibility issues found between Oracle VirtualBox and Windows 11, Snipping Tool is not working after windows 11 update, Windows 11 causes performance issues on computers using AMD processors, and more.
Recently, another problem is reported by some users in Forums. After Windows 11 update, the hard drive disappears. Sometimes you can only see C drive in File Explorer. This may be caused by multiple reasons and the common causes are corrupted system files, problematic Windows updates, hardware issues, outdated/corrupt drivers, and more.
Fortunately, you can easily get rid of this trouble if you try these troubleshooting tips below.
Fixes for Hard Drive Missing after Windows 11 Update
Check Disk Connection (External Hard Drive)
The first thing you can do is to check if there is a loose connection to the hard drive. Perhaps your external hard drive is missing due to this reason. The best way is to disconnect the disk from the port, blow air on it to remove dust and then reconnect it. If this won't work, try another USB port to have a check.
Uninstall Recent Windows Update
If you meet the issue of hard drive disappeared Windows 11 after installing updates, you can try to uninstall them to check if this can fix the problem.
Step 1: Launch Windows 11 Settings via the Win + X menu.
Step 2: Click Windows Update > Update history > Uninstall updates.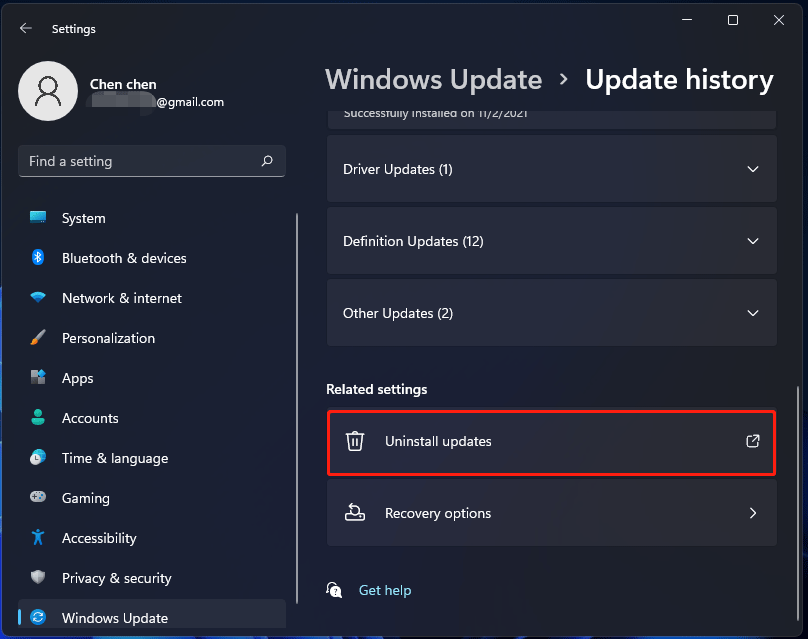 Step 3: In the pop-up window, right-click on the recently installed update and choose Uninstall. Confirm the operation.
After the uninstallation, see if the hard drive goes back on the PC. If yes, this means there is a bug in the recent update and you should wait until Microsoft release another update for it.
Update or Reinstall Disk Driver
If there is an outdated or corrupt disk driver, the issue of hard drive missing after Windows 11 update may appear. Besides, if the driver is not compatible with the current Windows version, your drive may also get disappeared. To fix this problem, update or reinstall the driver.
Step 1: Right-click on the Start button and choose Device Manager.
Step 2: Expand Disk drivers, right-click on the driver and choose Update driver.
Step 3: Choose the first option to let Windows update the disk driver automatically.
If this cannot work to fix your issue, right-click on the disk driver and choose Uninstall device. Then, reboot your computer and Windows will reinstall it.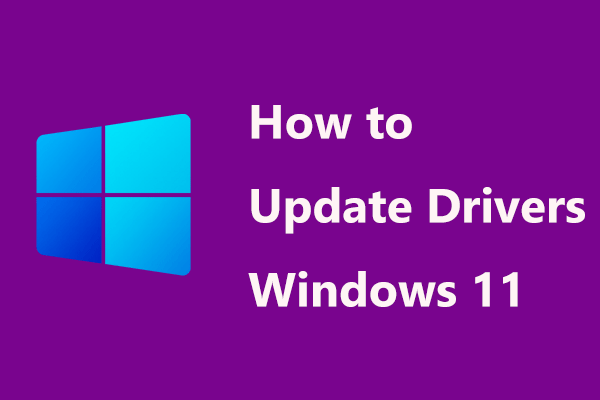 How to update drivers in Windows 11 to fix some errors or improve PC performance? This post gives you some efficient methods for driver update.
Run an SFC Scan
To fix hard drive missing after Windows 11 update, you can try to perform an SFC scan since there may be corrupt system files.
Step 1: Launch Command Prompt as an administrator in Windows 11.
Step 2: Type sfc /scannow and press Enter. Then, Windows will scan the system for system file corruption and fix them.
Assign Drive Letter
If you can find your hard drive in Disk Management but cannot see it in File Explorer, perhaps the drive doesn't have a drive letter. So, assign one for it.
Step 1: Right-click on the Start button and choose Disk Management.
Step 2: Right-click on the target drive and choose Change Drive Letter and Paths.
Step 3: Click Add and then assign a driver.
Step 4: Click OK.
Other Tips to Fix Hard Drive Disappeared Windows 11
In addition, there are some other ways you can try to fix your issue:
Format the drive: if the drive becomes RAW, it is also missing in File Explorer. You can try to recover data from this drive and format it. Here is a related article - Top 3 Ways to Convert RAW to NTFS in Windows 7/8/10 with Ease.
Change Power Management settings of your external drive: go to Device Manager, click View > Show hidden devices, expand Universal Serial Bus controllers, right-click on USB Root Hub, choose Properties, check the box of Allow the computer to turn off the device to save power under the Power Management tab.