When using an HDMI cable to connect your computer to a monitor or TV, you may find there is no sound. How can you fix HDMI sound not working? Don't worry and MiniTool Solution offers some possible solutions here. Just try them to easily get rid of the error.
Sound Not Playing Through HDMI
HDMI, short for High-Definition Multimedia Interface, is a dedicated audio or video interface to transmit compressed or uncompressed digital audio data or uncompressed video data from HDMI-compliant devices like a display controller to a compatible computer monitor, digital TV, video projector, etc.
However, many users reported that their HDMI connection can show the video but no sound exists. The reasons for HDMI sound not working are various. The problem could be the HDMI cable, your PC, your monitor, or TV; there is an incompatible or wrong driver; or even you choose the wrong playback device, etc.
Next, you should take measures to get rid of the issue and we will show you some solutions to HDMI no sound.
Fixes for HDMI Audio Not Working
Check Your Hardware Devices
If there are broken hardware devices, sound not coming through HDMI occurs. Thus, check if all the hardware devices can work properly before moving on to other methods.
Check if it is the problem with the cable by using another cable.
Try different ports if your computer has multiple HDMI output ports to check if the port works fine.
Ensure the speaker volume of the monitor is not turned down or muted. Then, connect the monitor to another computer to check if it works properly.
Make Your HDMI the Default Playback Device
If the HDMI device is not set as the default device, there is no sound from HDMI output. Thus, you need to make it the default playback device by following these steps.
Step 1: Press Win + R, input mmsys.cpl and click OK.
Step 2: Under the Playback tab, choose your HDMI device and click Set Default.
Tip: If your HDMI device is not displayed here, right-click the blank area, ensure these two options are checked – Show Disabled Devices and Show Disconnected Devices. Also, if there is a disabled HDMI audio device, right-click it and choose Enable.
Update the Sound Driver
HDMI audio not working can be caused by the corrupted or old sound driver, so to fix this issue, you can choose to update the sound driver.
The best way to get the driver is to go to your manufacturer's website, search for the most recent correct sound driver, and download it to your computer. Then, install it and HDMI no sound can be fixed easily.
Use Sound Troubleshooter
Windows has many built-in troubleshooters to fix some problems and one of them is the sound troubleshooter that can test your current sound hardware with the software components. If it finds any issue, it can fix it.
Step 1: In Windows 10, navigate to Start > Settings > Update & Security > Troubleshoot.
Step 2: Find Playing Audio and choose Run the troubleshooter.
Step 3: Follow the on-screen guide to finish the fix if it detects some issues.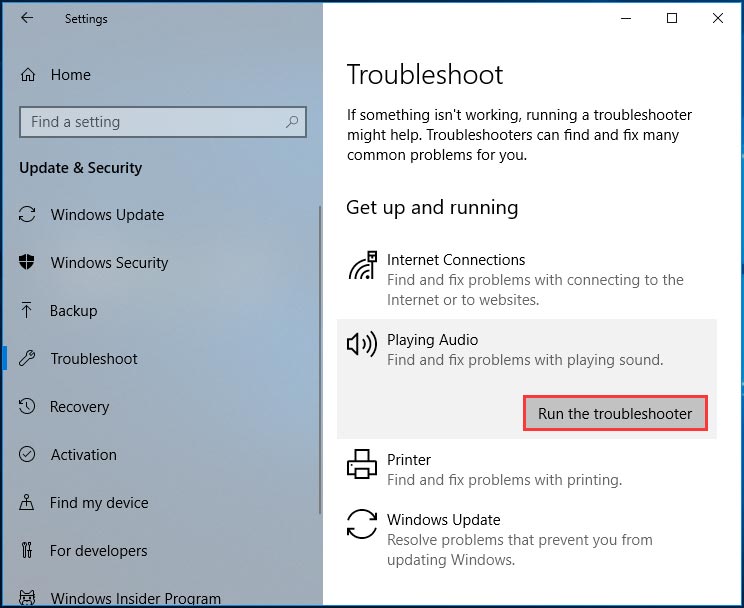 The End
Is sound not playing through HDMI when connecting your computer to a TV or monitor? After trying these solutions, you can easily and effectively get rid of HDMI sound not working.