If you want to know more information about HEIC files on Windows, read this post. It will show you some benefits of HEIC files. In addition, it will show you the way to view HEIC files and the way to convert HEIC files to JPEG. Get the information from the MiniTool website.
HEIC is a file format for storing a collection of images which can be one or more images. It stores images in High-Efficiency image format containing metadata that is used to describe each image. HEIC file extension is ".heic". You may also see .HEIF which is the same as ".heic". 
The HEIC storage format can compress the images while saving them, so it becomes very popular. MPEG first introduced the support of this storage format. 
If you transfer data from an iPhone or iPad to a PC or laptop, then you can see a lot of HEIC format files, and most of them are image files.
Some Benefits of HEIC Files
With very low usage of processor, you can encrypt and decrypt HEIC files immediately. Besides, HEIC files can load faster and take up less space on the local storage or on the server, because the HEIC storage format can compress the size of the image. 
JPEG file format can't support any file format other than still images. However, HEIC storage format can help you save single or multiple images just like a GIF file does. With this format, you can also easily finish image editing such as crop, rotation, etc. 
Read more: How to Make GIF Video in 2019 (for Free)
There are some other benefits of HEIC files.
Support Transparency
Support 4K and 3D
Support 16-bit Color VS JPG's 8-bit
Save Image Edits
Save Image with the Thumbnail and Other Properties of It
Save Multiple Photos in One File (Suitable for Live Photos and Bursts)
About Half the Size of a JPEG File with the Same Quality
How to View HEIC Files on Windows
If you want to open HEIC file on Windows, you need to download a third party application software to open HEIC files on your Windows device because Windows can't support HEIC file extension. 
There are a number of programs that can open this file extension, and you can download the one you want to do this work. Here, take CopyTrans as an example. 
Step 1: Enter into the official of CopyTrans.  
Step 2: Click the Download button and choose an accessible location to save the download file.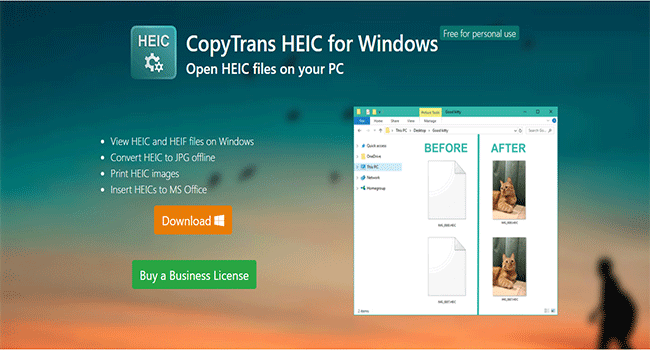 Step 3: Right-click the download file and choose Run as administrator. Then follow the installation instructions to finish installing it. 
Step 4: Right-click a HEIC file and choose Properties. In the General tab, change Open with: to Copy Trans software. After finishing this step, the preferences are set to run with CopyTrans. 
Step 5: Restart the computer. Check if your files can be recognized properly. 
If you can't set preferences for all of your HEIC files, set the preferences manually with the Settings app by the following steps. 
Step 1: Type file type in the search bar and click Choose a default app for each type of file. 
Step 2: In the Choose default apps by file type window, choose the .heic file format and change the default application to the CopyTrans application. 
Step 3: Restart the computer and check if you can successfully access the HEIC files.
How to Convert HEIC Files to JPEG
There are also tools available to help you convert HEIC files to JPEG format. In order to do this work, you also need the help of a third party application. Take heictojpg website as an example.
Step 1: Enter into the official website of heictojpg.  
Step 2: Choose or drop your photos into the rectangular box. 
Step 3: Wait for a moment, download your images with the JPEG format safely and choose an accessible location to save them. 
Bottom Line
To sum up, this post has shown you some advantages of HEIC files on Windows. Meanwhile, it also teaches you how to open these HEIC files and how to convert HEIC files to PEG format. If you also want to do these jobs, follow the instructions above.