Counter-Strike: Global Offensive must bring you much fun during your leisure time. However, issues such as high ping CSGO are pretty common. See this guide on MiniTool Website to get fixes for it!
Why Do I Have High Ping in CSGO?
Ping means the round-trip time for data sent from your computer to reach a central server and for the response to go back. Usually, if your ping time is below 30 ms, you can play your game rather smoothly. Recently, quite a few players complain that they receive high ping in CSGO. The potential cause of high ping CSGO can be:
Slow and unstable internet connection
Corrupted or incomplete game files
Too many resource-hogging programs running in the backend.
Interference of antivirus software
Corrupted DNS cache and data
Luckily, you can find some useful solutions in this guide if you are in the same boat.
How to Fix CSGO Lag & High Ping Issues on Windows 10/11?
Fix 1: Check the Internet Connection
First, you should make sure that your internet is stable and fast. If you are using a Wi-Fi connection, you can restart your router and modem to see if there are any improvements. Usually, an Ethernet connection is more favourable because it is more stable and can help avoid packet loss. If you experience CSGO high ping with good internet, please move to the next solutions.
Fix 2: Disable Bandwidth & Resource Hogging Programs
Some background applications may eat up much bandwidth and other resources hence leading to high ping CSGO. To fix this issue, you had better turn them off.
Step 1. Type run in the search box and hit Enter to open the Run box.
Step 2. Type resmon and hit Enter to launch Resource Monitor.
Step 3. Under the Network tab, find the network hogging programs and right-click them one by one to choose End task.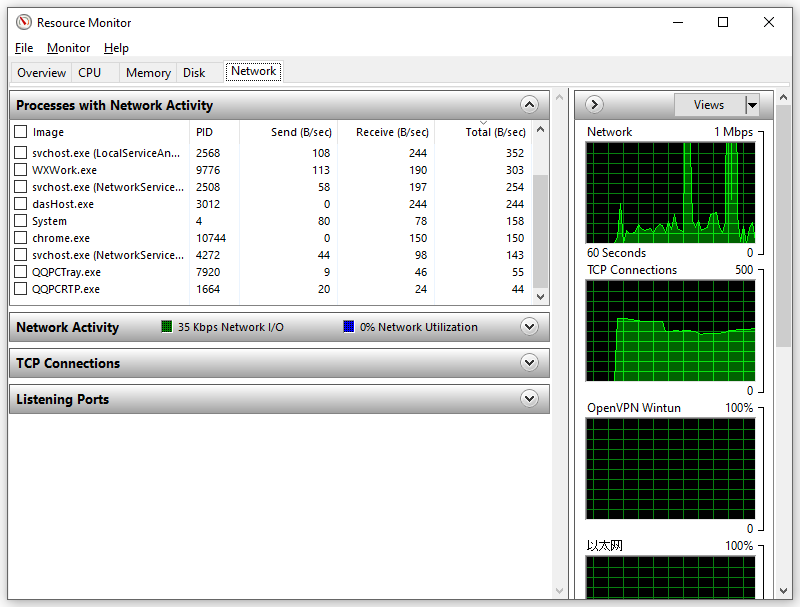 Fix 3: Verify the Integrity of Game Files
Another quick fix for issues in Steam games is to verify the integrity of game files. In case your game files are missing or corrupted, you can follow the steps below:
Step 1. Open the Steam client and go to Library.
Step 2. In the game library, find Counter-Strike: Global Offensive and right-click on it to choose Properties.
Step 3. Under the LOCAL FILES tab, press VERIFY INTEGRITY OF GAME FILES to start the validating process.
Fix 4: Disable Antivirus Software Temporarily
Antivirus software can help you to prevent the attack of viruses and malware. However, sometimes they are so over-protective that they might block some legitimate traffic and programs. As a result, you had better disable your antivirus when gaming.  
Step 1. Click on the gear icon to go to Windows Settings.
Step 2. Go to Update & Security > Windows Security > Virus & threat protection.
Step 3. Click on Manage Settings and then toggle off Real-time protection.
Fix 5: Flush Your DNS
If your packet loss ratio is pretty high, you can choose to flush your DNS. Here's how to do it:
Step 1. Type cmd in the search bar to locate Command Prompt and right-click on it to choose Run as administrator.
Step 2. In the command window, run the following two commands one by one:
ipconfig /renew
ipconfig /flushdns
Fix 6: Change DNS Server
Switching your DNS server to Google Public DNS address is also helpful to fix CSGO high ping.
Step 1. Go to Windows Settings > Network & Internet Connection > Ethernet > Change adapter options.
Step 2. Right-click on the network you are using and choose Properties.
Step 2. Under the Networking tab, double-click on Internet Protocol Version 4 (TCP/IPv4).
Step 3. Under the General tab, tick Obtain an IP address automatically and Use the following DNS server addresses. Then, enter 8.8.8.8 for Preferred DNS server and enter 8.8.4.4 for Alternative DNS server.
Step 4. Click OK to save the changes.
Fix 7: Reinstall the Game
If high ping in CSGO with good internet is still there, you can try to reinstall the game to see if that brings any improvements. This process is pretty simple but it will take some time, please be patient.