Wonder how to delete Facebook account if you don't want to use Facebook anymore? Check the 3 simple steps below. It's advised you download your Facebook data to make a copy of your data before deleting your Facebook account. For more computer tips & tricks and free tools, you can visit MiniTool Software official website.
How to Delete Your Facebook Account Permanently
Step 1. Go to Facebook website and log in to your Facebook account. Click the down-arrow menu icon at the top-right corner, select Settings & Privacy and Settings to open Facebook Settings page.
Step 2. Next, click Your Facebook Information in the left column. Then click Deactivation and Deletion in the right panel.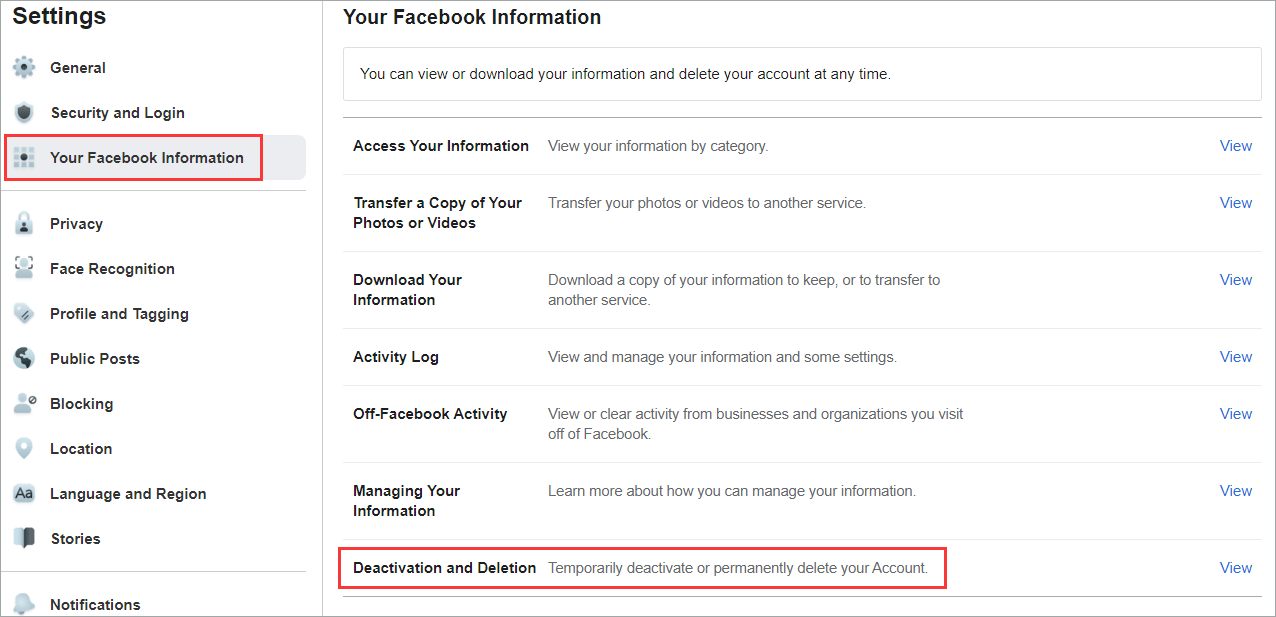 Step 3. Click Delete Account on the next page and click Continue to Account Deletion button.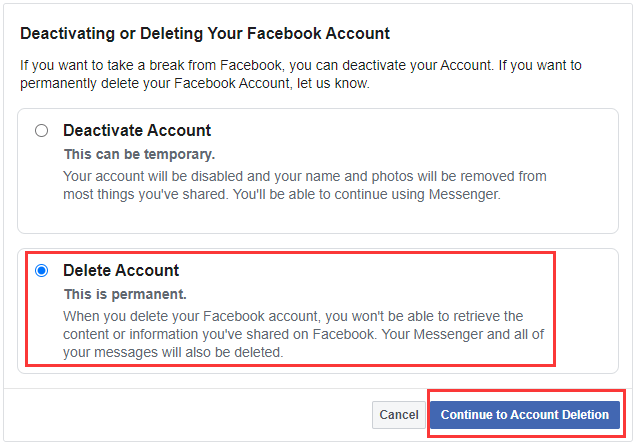 In the pop-up warning window, if you decide to delete the account, click Delete Account. Alternatively, you can click Download Info to download your information on Facebook or click Deactivate Account to temporarily deactivate Facebook instead.
Enter your password to confirm it is your account. Click Continue to permanently delete your Facebook account.
Note: Once you submit the account deletion request, you have 30 days to recover the deleted Facebook account if you regret it. After 30 days, your Facebook account along with all your data and information will be permanently deleted. You can't retrieve them anymore.
How to Cancel Your Account Deletion:
If you regret in 30 days after the deletion, you can log into your Facebook account again and click Cancel Deletion to get back your Facebook account.
How to Delete Facebook Account on Phone
Open Facebook app on your mobile phone. Log into your account.
Tap the three-line icon. Tap Settings & Privacy, Settings, Your Facebook Information, Deactivation and Deletion.
Tap Delete Account and tap Continue to Account Deletion. Follow the instructions to delete Facebook account permanently.
Download Your Facebook Data Information before Account Deletion
If you want to download and save your Facebook information and data like photos and videos before deleting your Facebook account, you can check below for how to download Facebook data to your computer.
Log into your Facebook account in your browser.
Click the down-arrow icon at the upper-right corner. Click Settings & Privacy and click Settings.
Click Your Facebook Information and click Download Your Information.
Select the types of information you want to download in the list under Your Information.
Click the down-arrow icon to select the date range, the format, the media quality to download the content.
After the selection, click Create File button to create an archive file for your Facebook data.
After the copy file is created, it is available for download for a few days. You can access Download Your Information page again. Click Available Copies and click the Download button next to your file to download the file. Then you can go to delete your Facebook account.
Conclusion
For how to delete Facebook account permanently, you can follow the detailed steps above. You can also follow the steps to download and back up your Facebook data before permanent account deletion.
FYI, if you mistakenly deleted a file or lost some important files on your computer, you can use MiniTool Power Data Recovery to easily recover them. MiniTool Power Data Recovery helps you recover any deleted/lost files from Windows computer, memory card, SD card, USB flash drive, external hard drive, SSD, and more in a few clicks.