Summary :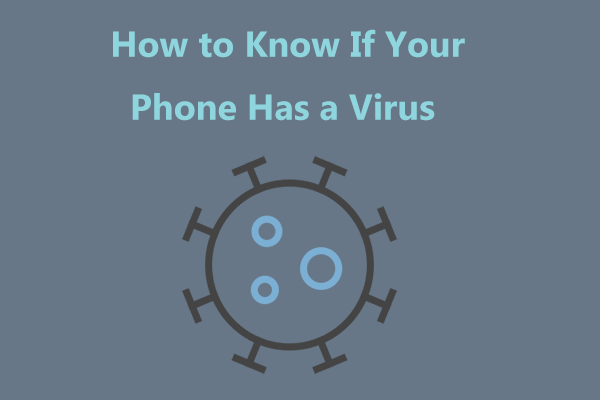 It's important to know how to check for viruses on your phone since someone can attack your device to steal your data or track you. Well then, how to know if your phone has a virus? Refer to this post from MiniTool to know some signs, as well as how to get rid of viruses on phone.
Viruses and malware always exist anywhere. Before ransomware and hacks become everyday issues, viruses have invaded the computer. Today, smartphones and tablets are vulnerable as regular computers. Attackers will steal your data, break into online banking and even transfer your money.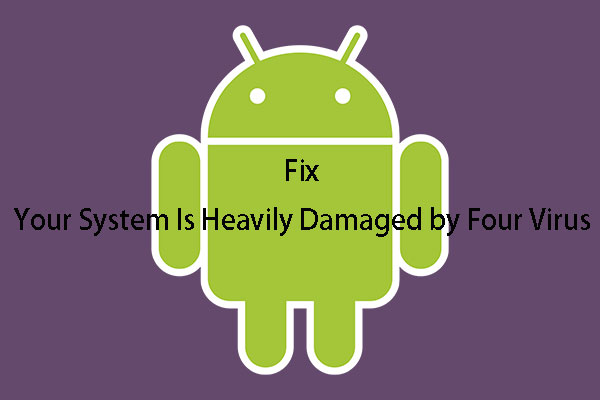 When browsing the webpage on a mobile phone, you may receive "Your system is heavily damaged by Four virus". The methods in this post can help you.
However, the most dangerous situation is that your device has been infected but you don't know. Well then, how to tell if your phone has viruses? Go to find the answer from the following section.
How to Know If Your Phone Has a Virus?
Some signs indicate your phone may be infected by viruses and let's go to see them.
Abnormal Data Consumption
If the phone has a virus, the malicious program may attempt to run a mass of tasks in the background to communicate with the internet. Go to check how much data your apps are consuming, especially notice those apps that use more than you expect.
App Crashes
If your phone apps keep crashing (this situation has never happened before), the reason may be viruses. Most viruses can modify the regular operations, leading to crashes.
Increased Popups
Many websites pop up ads. But if pop-up ads (especially for products or services that seem to be suspicious) become more common and annoying, perhaps the phone has a virus. These popups always let your phone sicker.
Unexplained Charges
Your phone may get a message that shows an unusual charge. The phone may be infected with some forms of Trojans that can drive up your phone bill with in-app purchases and via charging premium accounts for SMS. And hackers can charge a fee.
Battery Drain
The phone battery may drain faster than usual if viruses run in the background when using the phone as normal. Besides, malicious programs can make the device completely exhausted.
Unnecessary Apps
Some malicious applications may be downloaded automatically without your consent. Trojans even can attach themselves to some legitimate programs to cause further damage to your phone. Besides, if you see a familiar app but you don't remember downloading it, it may be a malicious program and you should go to check if it is genuine.
In addition to these symptoms, there are some other signs to indicate your phone has a virus, for example, contacts receiving strange messages, poor performance, overheating, spam mail, and more. Once the phone is attacked by viruses, how to remove them? Try the methods below.
How to Get Rid of Viruses on Phone?
Clear the cache of your browse.
Find the suspicious apps and uninstall them.
Download an antivirus program to scan for the system and remove viruses.
Restore the PC to its factory settings.
In this post, we will show you how to check your Android device for viruses/malware and how to remove viruses/malware from Android.
How to Protect Phone from Viruses?
Keep the system up-to-date.
Only download verified apps.
Install antivirus software.
Monitor texts and don't tap on suspicious messages & attachments.
Use secure Wi-Fi.
Don't jailbreak your phone.
Final Words
How to know if your phone has a virus? How to get rid of viruses on phone? How to protect the PC from viruses? After reading this post, you know the answer. Take action to keep your phone safe!