Sometimes you need to find out what RAM type you have installed on your computer so that you can purchase a compatible module when upgrading the memory. Here comes a question from you: how do I know what DDR my RAM is? In this post from MiniTool, you can find the answer and easily check the RAM type.
RAM Type
As for RAM, you may think the more is the better. Although much RAM means that your system can run well, the amount of the RAM isn't the only factor you need to consider when you purchase a memory module. The data transfer speed and type of RAM can also affect efficiency.
When it comes to the memory type, DRAM memory and SRAM memory are two common types of RAM. Among them, DRAM, short for dynamic random-access memory, is the most common type of PC RAM and is widely used. It can be used for data or program code required by a computer processor to run.
Double Data Rate SDRAM, also known as DDR SDRAM, is a type of DRAM memory. It has different iterations, including DDR2 SDRAM, DDR3 SDRAM, and DDR4 SDRAM. When reading here, you may ask: how do I know what DDR my RAM is? Now, you can get the answer from the following part.
How to Check RAM Type DDR3 or DDR4 in Windows 10
Knowing what kind of RAM you have is very simple and you can follow these two ways below.
Use Task Manager
How to check what RAM I have via Task Manager? You may ask. The steps are easy and just follow the guide.
Step 1: Launch Task Manager by right-clicking the toolbar on the bottom of the computer screen and choose Task Manager.
Step 2: Go to the Performance tab, click Memory and you can know how many GB of the RAM, the speed (1600MHz), slots, form factor. Besides, you can know what DDR your RAM is. From the following screenshot, we know the type is DDR3.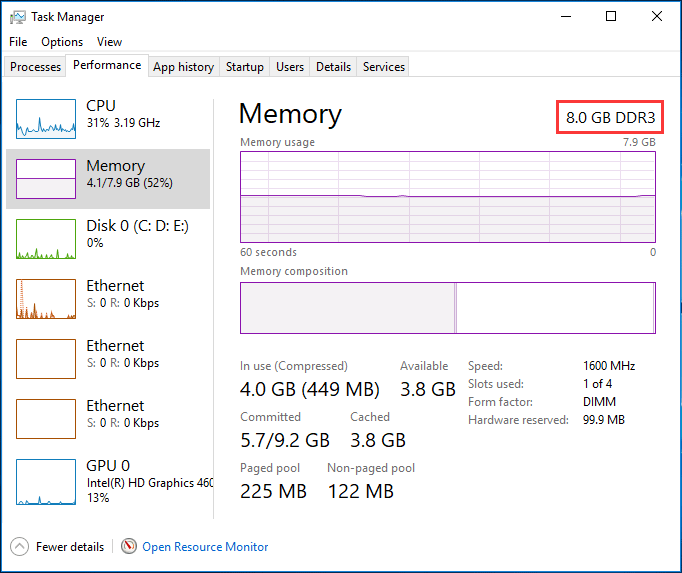 Run CPU-Z
In addition to using Task Manager, you can use a professional RAM checker tool for PC to check RAM type. CPU-Z is such a tool. And you can free download and use it in Windows 10.
Want to know the answer to the question "how to check what RAM I have"? Follow these steps below.
Step 1: Go to download CPU-Z via the link.
Step 2: After finishing installing this tool, launch it, and go to the Memory tab to get the detailed RAM specifications of your PC. CPU-Z lists your RAM type like DDR3. Besides, its size, NB frequency, number of operating channels, DRAM frequency, and more information are also displayed.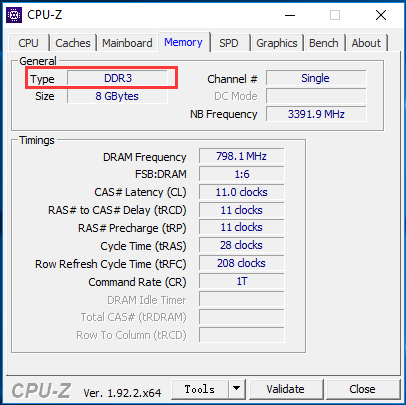 Final Words
How do I know what DDR my RAM is? If you ask this question and want to know the answer, this post is helpful for you. It focuses on how to check RAM type in Windows 10. Just follow the mentioned ways to easily find what RAM you have.