Windows 10 is the most secure version of Windows since its release but it is also under threats of adware and other programs that may wreak havoc. How to remove adware from Windows 10? After reading this guide on the MiniTool website, you know what you should do for adware removal.
Necessary to Remove Adware or Malware from Windows 10
Adware is an application and when you run a program, unwanted advertisements automatically appear. Sometimes when a pop-up appears, you see ads made by the adware. This is annoying since endless pop-ups can be generated.
Besides, this can cause security risks since some malicious programs are bundled with it. Some other threats related to it including viruses, worms, Trojans, spyware, etc. also appear. They may steal and delete data and monitor your activities.
Also, if your computer is infected with adware, the performance may be slowed down. When downloading additional ads, a massive volume of data is consumed.
Thus, it is necessary to remove them from your computer. The following is about how to remove malware from Windows 10.
How to Remove Adware from Windows 10
Use AdwCleaner to Remove Adware
On the Internet, many adware removal tools can be used to scan the key locations in your computer for known adware and delete them. Here, we recommend using Malwarebytes AdwCleaner.
It is simple to use and effective to remove bloatware, adware, unwanted toolbars, and other potentially unwanted programs (PUPs).
Just download this adware removal tool for Windows 10 and install it on your computer. Then, launch it and start the scan. Later, the program can list installed adware and other apps. You can click the Clean button to remove them.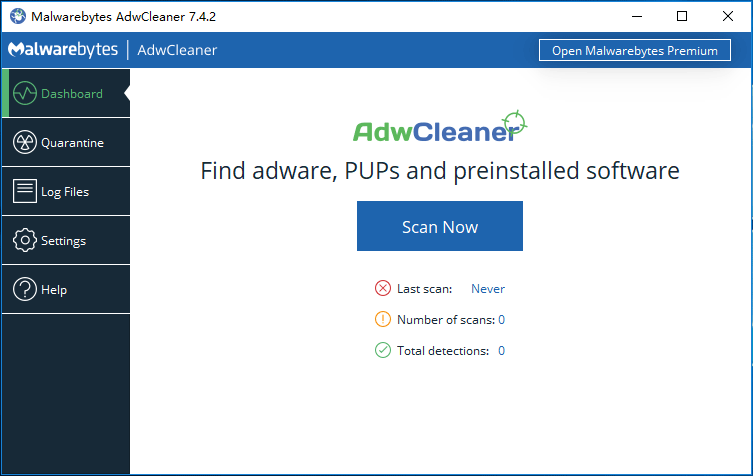 Uninstall Adware Manually
If you still see some intrusive ads or pop-ups, you can check if your PC has installed some unwanted programs. If yes, uninstall them.
Step 1: In Windows 10, open Control Panel (view by category) and click the Uninstall a program link under the Programs section.
Step 2: Look for the installer you don't recognize, right-click it and choose Uninstall.
Clean Your Browser
Adware may also infect your browser, so you need to clean your browser to remove it. How to remove adware from Chrome? See the guide.
Clean up Your PC in Browser
Step 1: Click the three-dot menu and choose Settings.
Step 2: Click Advanced and go to Clean up your computer > Find.
Tip: You can also choose to restore your browser to its original settings.
Check for Add-ons or Extensions
Step 1: Go to the three-dot menu and choose More tools > Extensions.
Step 2: Check if there are any unrecognizable extensions. If yes, click Remove to delete it.
Disable Startup Services and Programs
This is helpful to disable adware and rogue programs. Follow the steps:
Step 1: Open the Run window, type msconfig, and click OK.
Step 2: Under the Services tab, check the box of Hide all Microsoft services.
Step 3: Uncheck all the services that you don't recognize and click Apply.
Step 4: Go to the Startup tab to open Task Manager, choose the unrecognized item, and click Disable.
The End
How to remove adware from Windows 10? Just follow the above methods and you can easily perform the task. We hope they are useful to you.