When you're encountering some problems you can't fix, resetting PC worth a try. It is proved to be very useful in repairing computer (solving system issues). This post provided by
MiniTool Solution
will introduce 3 ways to help people reset their HP laptop. You should follow these methods and steps carefully to avoid mistakes.
Reset HP Laptop in 3 Different Ways
Reset PC means to clear information and configuration on your computer. This is very helpful in fixing problems when your computer isn't working well. If you want to reset HP laptop in order to solve various system issues, but don't know how, you should follow the guide provided in the following content.
Tip: Please get a data recovery tool at hand if you're worrying about the valuable data saved on your HP laptop.
MiniTool Power Data Recovery TrialClick to Download100%Clean & Safe
Factory Reset HP Laptop
Factory reset is a useful method for restoring any electronic devices to the original state (factory settings). How to factory reset HP laptop? It depends.
If you can log into HP normally, please use the Settings to factory reset HP laptop.
If you can't access HP laptop, you should complete the reset through Windows Recovery Environment.
Reset HP Laptop via Windows Settings
How to reset HP laptop by using Settings:
Press Windows + I to open the Settings app.
Scroll down to the bottom to select Update & Security.
Choose Recovery option in the left sidebar.
Look for the Reset this PC section under Recovery in the right pane.
Click on the Get started button under Reset this PC.
Windows will be restarted to the Choose an option window.
You may select Keep my files -> click Next -> click Reset.
You can also select Remove everything -> choose from Only the drive where Windows is installed and All drives -> choose from Just remove my files and Remove files and clean the drive -> click Reset.
Wait for the process to complete.
Can you recover files from computer after factory reset?
Perform a System Reset through Windows Recovery Environment
How to reset HP laptop in Windows Recovery Environment:
Remove all external devices including USB drives and printers from the HP laptop.
Turn on your computer and press the F11 key immediately and repeatedly.
Release the key until you see the Choose an option window.
Select Troubleshoot and then click Reset this PC.
Choose from Cloud download and Local reinstall. (Optional)
Choose from Keep my files and Remove everything.
Then, follow the on-screen instructions to reset HP laptop to factory settings.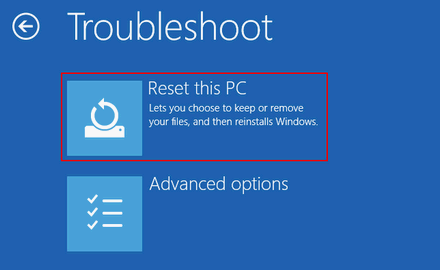 What Is HP Boot Menu, How To Access Boot Menu Or BIOS?
Hard Reset HP Laptop
What is hard reset?
A hard reset, also known as power reset, refers to the action of clearing all information from the computer's memory. If you are encountering one of these problems: Windows not responding, a blank display, software freezing, keyboard stops responding, or other external devices locking up, you should try the power reset/hard reset.
Does a hard reset erase everything on HP laptop? Of course, not; it only removes the memory data, which means your personal data will keep intact.
How to hard reset HP laptop?
Steps to reset laptop with a removable battery:
Make sure all the peripheral devices (including USB drive, external display, printer, and even power supply) are disconnected or removed.
Power down your HP laptop.
Turn it over & look for the battery compartment cover.
Remove the screws with the screwdriver to take off the cover.
Take out the battery gently.
Press & hold the Power button for at least 15 seconds to drain residual electrical charge.
Insert the battery correctly -> put back the cover -> tighten the screws.
Press the Power button to reboot HP laptop.
Select Start Windows Normally & hit Enter if you see a startup menu.
Reconnect the peripheral devices to HP laptop one by one after successful startup.
The steps to reset laptop with a non-removable/sealed battery are basically the same expect that you don't need to take off the cover, take out the battery, re-insert the battery, and put back the cover. Meanwhile, the laptop repair & recovery steps are similar.
Tip: You can reset most laptops by pressing & holding the Power button for a few seconds. If this didn't work, you should search your model online to check out what else button to press.