In order to view the content contained in a Word document intuitively, you can convert it to an image. In this way, you can access the file on a device without Microsoft Word and edit it for use conveniently. But the question is how to save a Word document as a JPEG (or other types of images). MiniTool offers this post to help you with that.
Though Word is used widely among users, there are still some people who don't install Microsoft Office on their computer. If you want to share your Word document with them, you'd better first convert Word Doc to JPG and then send the image to them. However, the problem is most users don't know how to save a Word document as a JPEG. This article will show you the steps to convert Word to JPEG by different ways.
Note: Your Word or image files can get lost easily due to different reasons, so you'd better prepare a powerful data recovery tool so that you can recover them at once when necessary.
MiniTool Power Data Recovery TrialClick to Download100%Clean & Safe
Save Word Doc as JPEG on Windows 10
Word document is used widely and frequently to help users keep personal and business information. You should keep it in a safe place.
How To Recover Unsaved Word Document (2021) – Ultimate Guide.
Use Snip & Sketch Tool
If you're using Windows 10, you can resort to the built-in Snip & Sketch tool (the new Windows snipping tool) for Word to JPEG.
Note: This method is only useful to save a single document page as JPEG.
Click on the Windows Start button in the lower left corner.
Scroll down to find Snip & Sketch. Then, click it.
Open your document that you want to convert to JPEG.
Click on the New button at the top left of the Snip & Sketch to Snip now.
You can also click on the down arrow to choose from Snip now, Snip in 3 seconds, and Snip in 10 seconds.
The Rectangular Clip option will be selected by default. You can also shift to Freeform Clip or Fullscreen Clip.
The crosshairs will appear on your screen. Please use it to select your Word document.
Please click on the Save as button at the top right section. You can also press Ctrl + S.
Give it a new name if you like and select JPG/JPEG from the drop down menu of Save as type.
Click on the Save button and then you'll get an image file.
You can also press Windows + Shift + S to open this screenshot snipping overlay menu directly.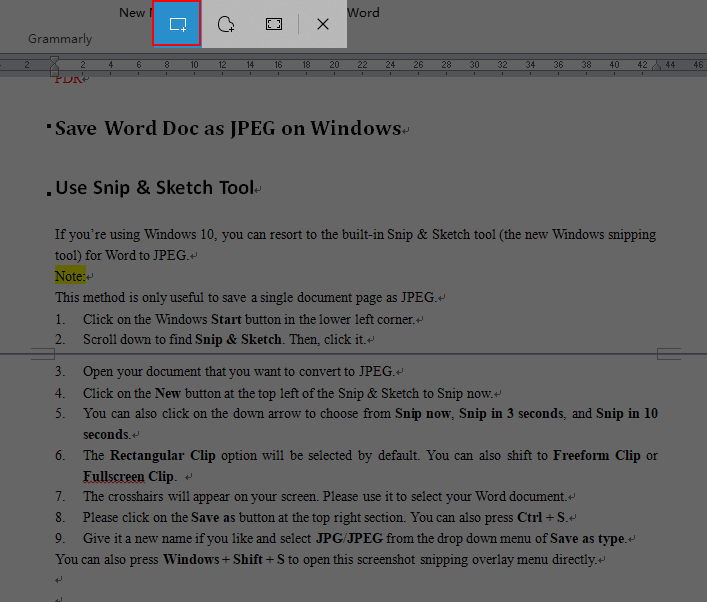 Of course, you can use other third-party snipping tools to take screenshot of your Word document content.
Use PDF to JPEG Converter
Microsoft Word can't help you change DOC to JPG, but it can help you convert DOC to PDF.
Open the target Word Doc file.
Select File from the top menu bar.
Choose Save As from the left sidebar.
Click Browse on the right side.
Specify a location to save the file.
Give the file a new name (optional).
Choose PDF from the drop-down menu of Save as type.
Click Save.
Then, you should use the free PDF to JPEG converter to change PDF file to JPEG.
Go to the Microsoft Store.
Click on the Search icon at the top right and type PDF to JPEG.
Press Enter and select the PDF to JPEG Free converter.
Click Get and follow the instructions to install it on your PC.
Open the converter and click Select File at the top.
Choose the PDF file and click Open.
Click Select Folder.
Specify a location to store the new file and click Select Folder to confirm.
Click Convert at the top and wait.
Use PowerPoint
How to save a Word document as a picture using PowerPoint:
Open the Word document.
Open PowerPoint and create a new blank presentation.
Press Ctrl + A to select all the content in Word.
Press Ctrl + C to copy.
Click on a text box in PowerPoint and press Ctrl + V to paste.
Remove other text and image boxes if there are any.
Click File and select Save As.
Type a name and select JPEG from the drop down menu of Save as type.
Click Save.
[2021 Update] Fixes For Microsoft Word Has Stopped Working On PC.
Besides, you can resort to the third-party file conversion software or the online converter for converting Word to JPEG.
Change DOC to JPG on Mac
How to convert Word to JPG on Mac? you can also save the document as PDF first. Then, convert PDF to JPEG by using Preview.
Open Word document.
Save Word Doc to PDF.
Open the PDF file with Preview.
Export to JPEG in Preview.
Also, you can use the third-party file conversion software or the online converter.