Why Is My Word Document Black?
By default, the background of your Microsoft Word is white. We believe that this white background is commonly accepted by many users. One day, when you open your Word document, you suddenly find that your Word becomes black with white text like this: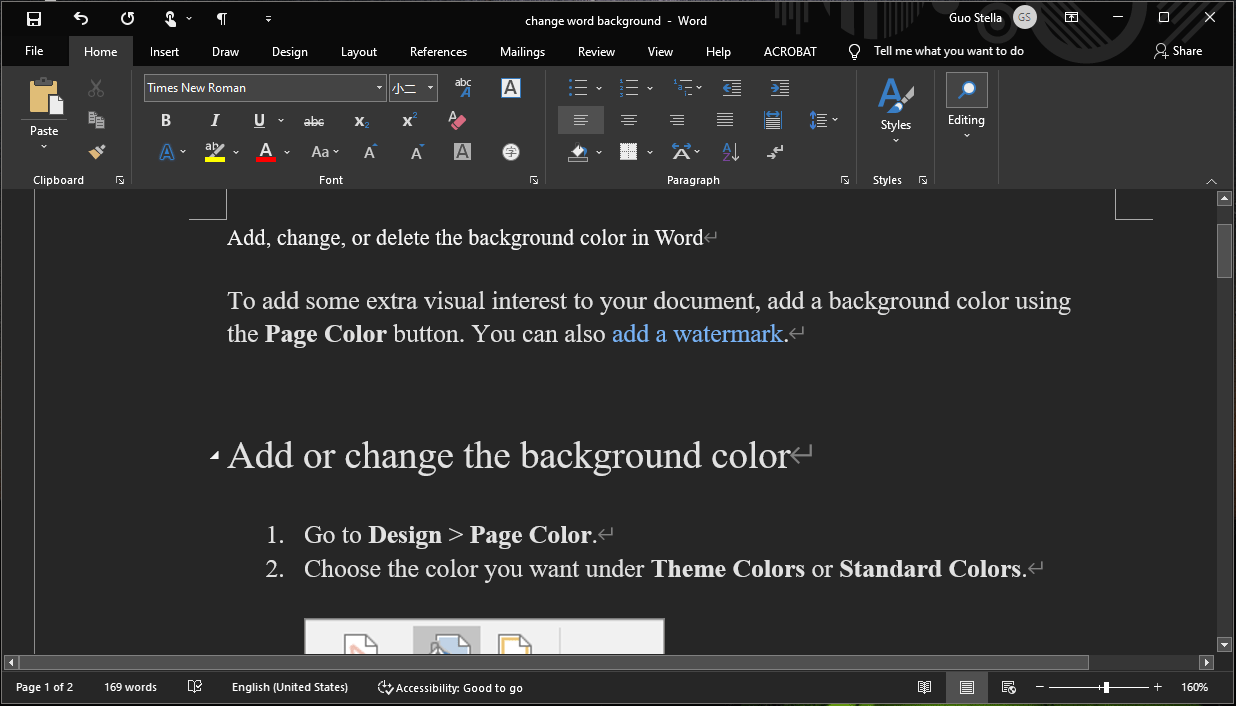 Why is my Microsoft Word black? Is it a bug, or is it caused by a Word issue? Fortunately, it is not a bug or an issue on Word. There are three possible reasons for this situation.
The Dark Mode is enabled on Word.
You are using a high contrast theme.
Hardware graphics acceleration is enabled.
Focusing on these 3 situations, we will introduce 3 things you can try to solve the Microsoft Word black background with white text issue.
My Word Document Is Black! How to Fix It?
Try 1: Disable Dark Mode on Word: Change Office Theme
Microsoft Word supports dark mode and light mode. To be specific, you can change the background color of Word by changing Office theme. If you don't want to use dark mode, you can just disable it on Word.
Here is how to turn off dark mode on Word:
Step 1: Open your Word document.
Step 2: Click File from the top menu. Then, go to Account.
Step 3: Expand Office Theme and select White. You can also select another option as per your needs. Your selection will be saved automatically.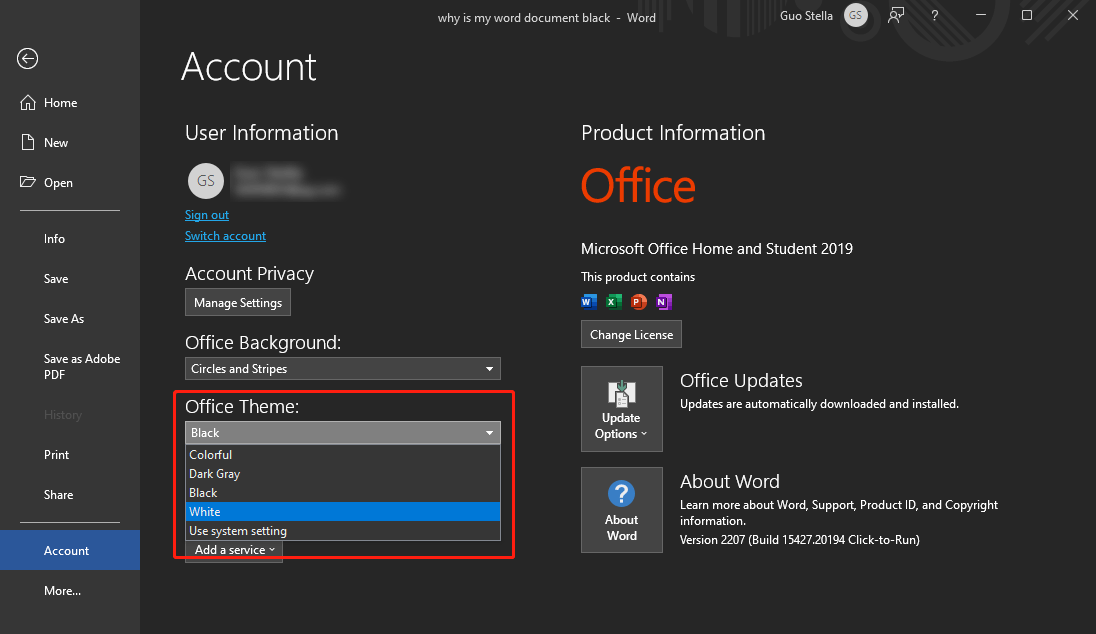 Try 2: Turn off High Contrast Themes on Windows 11
Using high contrast themes on Windows 11 can also cause your Microsoft Word document black. You can turn it off to solve the issue.
Step 1: Press Windows + I to open the Settings app.
Step 2: Click Accessibility and then select Contrast Themes.
Step 3: Click the box to extend the dropdown menu. Then, select None and click the Apply button to save the change.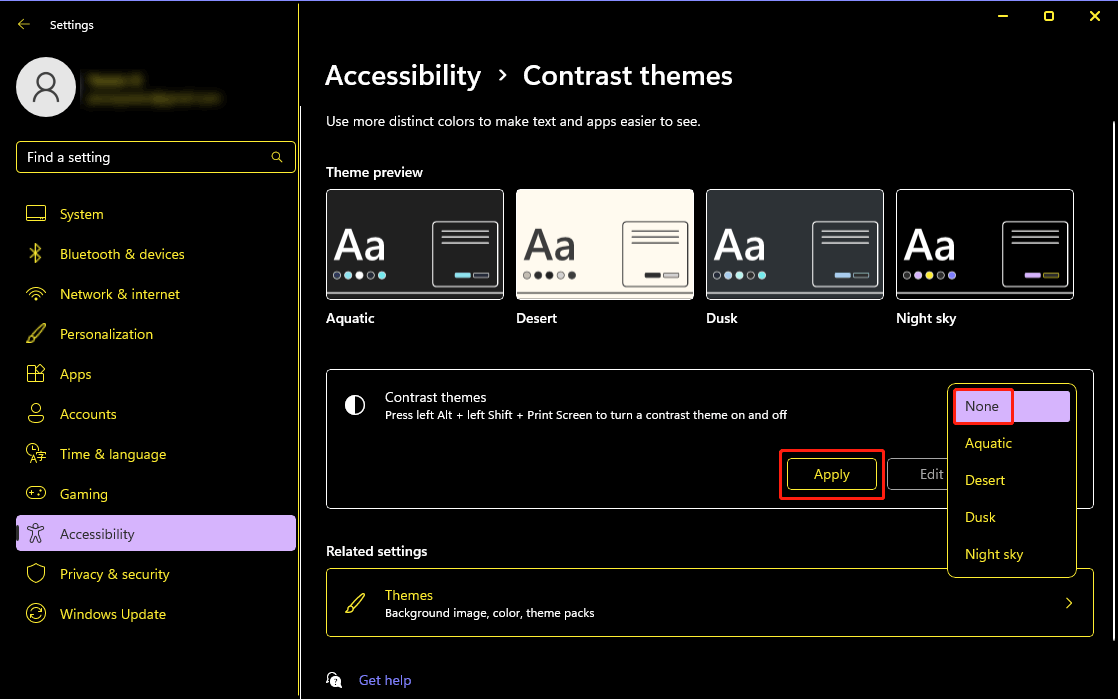 Try 3: Turn off Hardware Graphics Acceleration in Microsoft Office
Your last choice to solve your Word document with white text is to turn off Hardware Graphics Acceleration in Microsoft Office. Many users solve this issue using the method. You can also try it.
Is Word Dark Mode Better for Your Eyes?
The black background is not as harsh as the white one. It may be better than your eyes. However, we don't have evidences. You can adjust the Office theme (background color) according to how your eyes feel.
How to Recover Your Lost and Delete Word Documents?
Word documents are important files for you. If they get lost or deleted by mistake, you can use a free file recovery tool to get them back. You can try MiniTool Power Data Recovery, professional data recovery software.
This MiniTool software can work on Windows versions including the latest Windows 11. With it, you can recover all kinds of files from your computer hard drive, SSD, external hard drive, SD card, memory card, and more.
MiniTool Power Data Recovery TrialClick to Download100%Clean & Safe
Bottom Line
Why is my Word document black? After reading this post, you should know the reason. You can try the methods introduced in this post to solve the issue. Should you have other related issues, you can let us know in the comments.