How to stay safe on public Wifi? If you are surfing the web on your computer using public Wifi, then you should be careful that maybe some people are trying to steal your personal data on the same public Wifi. Try the methods in this post to stay safe on public Wifi, and you can click MiniTool to get more methods to keep your PC safe.
It's very convenient for you to use public Wifi, but there are some malicious users may try to steal your data or attack your computer on the same network that you are using now. Therefore, you should do something to keep the PC safe on a public Wifi network.
So how to stay safe on public Wifi? Now I will introduce some helpful methods to you to keep Windows 10 PC security on public Wifi.
Method 1: Disable Sharing and Network Discovery
Usually, using file sharing is really convenient for you to share files when you are using a local or work network, but it could be a primary security risk in public networks.
Therefore, in order to stay safe on public Wifi, you'd better disable network discovery and file and printer sharing. Here is the tutorial:
Step 1: Open Control Panel and click Network and Internet.
Step 2: Click Network and Sharing Center and then click Change advanced sharing settings.
Step 3: Select Guest or Public since you are using a public network, and check Turn off network discovery and Turn off file and printer sharing.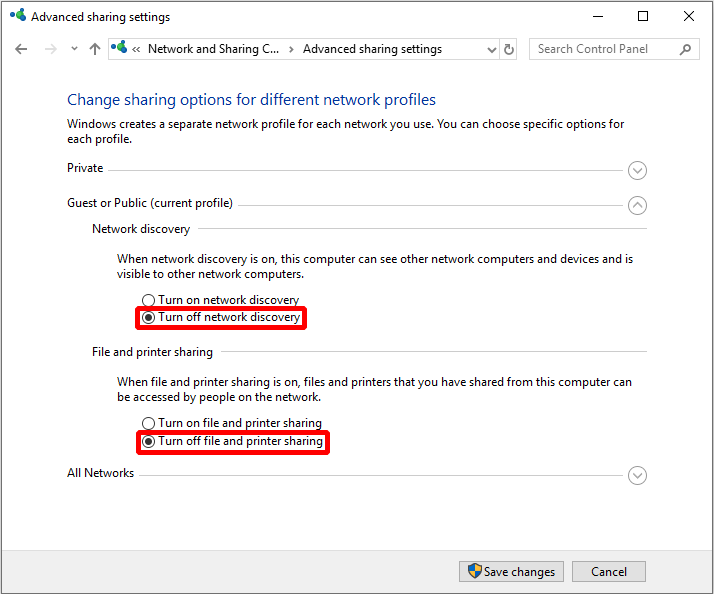 Step 4: Click Save changes.
Method 2: Enable Firewall
It is well known that there is a piece of powerful firewall software built-in Windows 10 – Windows Defender Firewall. So how to stay safe on public Wifi? Enable it.
Here is the way to turn on Windows Defender Firewall.
Step 1: Open Control Panel and click System and Security.
Step 2: Click Windows Defender Firewall and click Turn Windows Defender Firewall on or off.
Step 3: Check Turn on Windows Defender Firewall in both Private network settings and Public network settings section. Then click OK to save changes.
Method 3: Ensure You Are Using a Secure Connection
If you are using an unsafe connection, then your personal data may be stolen by hackers on the same network. Thus, you need to ensure that you are using a safe connection.
Nowadays, a large number of websites adapt a safe connection to protect your data, so you can check its address to judge whether the website is secure.
Websites have https:// preceding their name are securer than those have http:// before their name. So you can stay safe on public Wifi by changing http:// to https:// in your web address bar and press Enter.
This method is not suitable for all websites, but it still works on some of them.
Method 4: Use a VPN
VPN is the abbreviation of Virtual Private Network, which is the safest option when you are using public Wifi. All your data traffic and act will be encrypted by VPN, so hackers cannot access your personal data.
What's more, VPNs use their own IP address from different locations to mask your IP. And some free VPNs are not safer than the paid ones.
Method 5: Make Sure Your Antivirus Up to Date
Viruses and malware will cause data loss in your computer, so malicious users often use them to infect your computer. Therefore, you should always keep your antivirus up to date and never enter any sensitive data.
There are other methods that can also help you stay public Wifi safe:
Turn off the automatic connection to Wifi.
Use two-factor authentication.
Protect your passwords.
Never perform financial transactions.
Turn off Wifi when it's not being used.