If you encounter Hulu black screen with audio, you cannot see any images on your phone, laptop or TV. Luckily, it is not difficult to fix this issue. Follow the fixes of this post on MiniTool Website, all your worries will be gone.
Hulu Screen Black 
Hulu black screen on the smart streaming device is very common and you may receive an error message showing: Sorry, the video player failed to load. (Error Code: 101102). However, there is no one-size-fits-all fix for it because the reasons for this issue are different. In the content below, we will show you the corresponding fixes according to all kinds of conditions for you.
How to Fix Hulu Black Screen?
Preparation: Check Server Status
Since Hulu highly depends on its servers to deliver content and features to the subscribers, you should check the server status before taking any measures. Just hit here to check if the server is under its downtime. If so, you can do nothing but wait for the Hulu support team to deal with the Hulu black screen discord issue. If not, you can try the fixes below.
Fix 1: Power Cycle Your Device
Doing a power cycle will help to solve most temporary glitches including Hulu black screen on your device. To do so, you should:
Step 1. Turn off your TV and remove all the devices connected to your TV.
Step 2. Turn off your router and wait for a quarter.
Step 3. Turn on the router and your TV to see if Hulu works fine.
Fix 2: Check Internet Connection
A slow or spoiled network can also trigger Hulu black screen. For shows or movies from the Hulu library, they need to have an internet speed of at least 3MBPS. For a stream live, the internet speed should be at least 8Mbps. Click here to have a speed test on your device.
Fix 3: Log out and Log into Your Account
Chances are that there are some problems with your account hence causing Hulu black screen. You can switch to another account, create a new account, or log out & log into your account to see if it works.
For Android/iPhone
Step 1. Open Hulu and go to Profile at the right side of your screen.
Step 2. Hit Log out and log into this account/another account after several minutes.
For Browsers
Step 1. Visit Hulu website and locate your Profile.
Step 2. Scroll down to find Log out and hit it.
Step 3. Wait for a while and then log into Hulu again.
Fix 4: Clear the Browser Cache
Although the cookies and caches stored in your browser help to load the webpages faster, they may also get corrupted. Once they are corrupted, they will cause some issues like Hulu black screen. Therefore, it is advisable to clear the browser's cache regularly. Here we take Google Chrome as an example:
Step 1. Launch your browser and hit the three-dot icon.
Step 2. In the drop-down menu, choose More tools > Clear browsing data.
Step 3. Set Time range to All time and mark all the items including caches and cookies.
Step 4. Hit Clear data.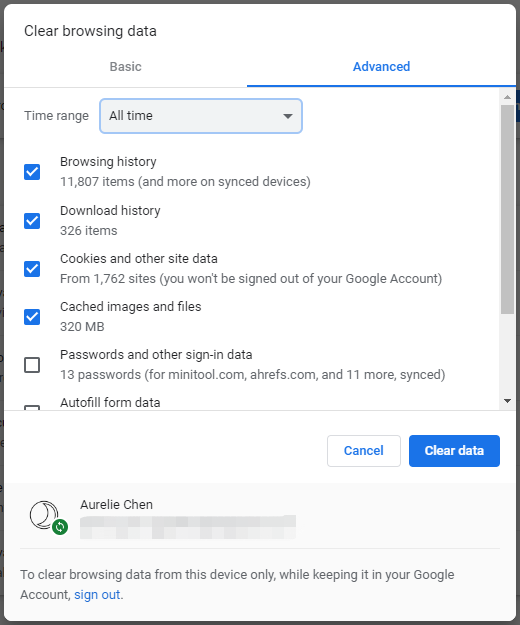 Fix 5: Update Hulu
Like other software or websites, Hulu also releases some updates that can fix some of its bugs. If you are using an outdated Hulu at this moment, follow the instructions above to update it.
For Android
Step 1. Open Google Play Store and go to the menu.
Step 2. In My Apps & Games, you will see a list of outdated apps.
Step 3. Locate Hulu and hit Update.
For iPhone
Step 1. Go to App Store.
Step 2. Hit the profile icon and you will see all the apps that need updating.
Step 3. Hit Hulu and tap on the Update button beside it.