Hulu Error Code 2(-998)
Are you bothered by Hulu error code 2(-998)? This error code may occur due to various reasons like outdated Hulu app, missing app files, unstable internet connection, server issues and more. If you don't know what conditions you are in, you can try the solutions below to get rid of this error code. Now, let's dive right in.
How to Fix Hulu Error Code 2(-998)?
Preparation: Check the Server Status
Before solving this error, you must check if the server is under maintenance or running through downtime. If so, you can do nothing but wait for the developers to fix it.
Fix 1: Check Internet Connection
Since the normal functions of Hulu are closely associated with the internet connection, you must make sure yours is stable and fast. You can try the following steps:
Change a wireless connection into an Ethernet cable connection.
Reboot your router.
Move your device closer to the router.
If none of these steps helps you out, you can troubleshoot your internet connection.
Fix 2: Check the Version of Hulu
If you don't update your Hulu in time, it also may result in error code 2(-998) Hulu. Try the following guidelines to get your Hulu updated:
For PC:
Step 1. Launch Microsoft Store.
Step 2. Go to Library to see if Hulu needs updating.
For Android TV:
Step 1. Go to Settings > Apps > Google Play Store.
Step 2. Click My Apps and find Hulu. If there is an Update option beside Hulu, hit it.
For Android Phone:
Step 1. Open your Google Play Store to find Hulu.
Step 2. Press the Update button and reboot your device after updating.
Reinstalling Hulu can also work the same.
Fix 3: Run SFC Scan
Chances are that your Hulu app files are missing or corrupted and then causing Hulu error code 2-998. You can run an SFC scan to fix that:
Step 1. Type cmd in the search bar to locate Command Prompt and right-click on it to choose Run as administrator.
Step 2. Type sfc /scannow and tap on Enter.
Step 3. Wait for the scan option to complete.
Don't run other processes during the scanning process.
Fix 4: Clear Cache
The accumulated app cache can also trigger Hulu error code 2(-998). Therefore, you can clear it regularly.
Step 1. Go to Settings and choose Application Manager.
Step 2. In the app list, hit Hulu and select Clear Cache > Clear Data.
Fix 5: Close Unnecessary Apps
It is not a good habit to run too many unnecessary programs and applications in the background because that will eat up your bandwidth. On the other hand, backend apps may also conflict with Hulu and then Hulu error code 2(-998) crops up. In this case, you need to terminate them avoid that:
Step 1. Right-click on the taskbar and choose Task Manager in the context menu.
Step 2. In Processes, right-click on the programs you want to terminate and select End Task.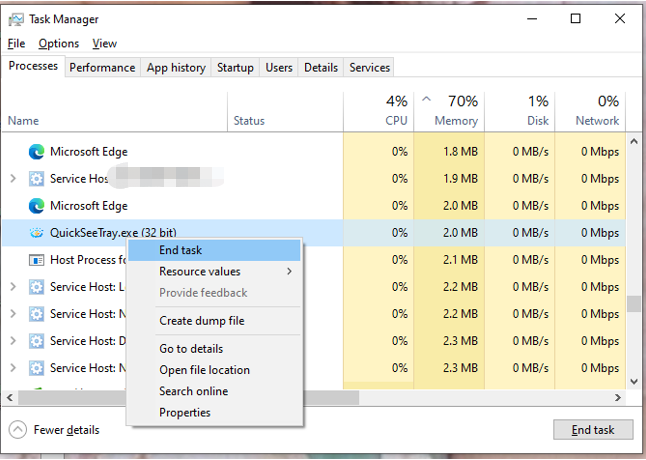 Step 3. Relaunch Hulu to see if Hulu error code 2(-998) is gone.
Fix 6: Change a Browser
If you used to enjoy watching Hulu TV shows through browsers like Microsoft Edge, Google Chrome, Mozilla Firefox and more. The culprit of Hulu error code 2(-998) can be some bugs in your browser. You can switch to another browser to see if it is fixed.