If I2C HID Device driver is not working after installing Windows 11, the PC's touchpad cannot function properly. What should you do if you are bothered by the I2C HID Device driver issue? Go to read this post and you can find some fixes mentioned by MiniTool Solution.
I2C HID Device Driver Not Working Dell
To let your computer hardware run properly, you should make sure all the drivers are working. Driver update can offer new security patches to prevent attacks from damaging your files and enhance the technology of your device. If device drivers go wrong, driver update can be a solution.
If you find I2C HID Device driver doesn't function well after installing Windows 11, the touchpad also fails to run. This issue happens not only in Windows 11 but also in Windows 10. And the Dell machine often encounters it.
What should you do to fix this issue? Performing a driver update is a troubleshooting tip. Of course, some other ways can be tried. Now, let's go to see the solutions from the following part.
Solutions to I2C HID Device Driver Issue
Update I2C HID Device Driver
To update the driver, you can follow the steps below:
Step 1: Press Win + X and choose Device Manager.
Step 2: Expand Human Interface Devices in the pop-up window, right-click on I2C HID Device driver and choose Update driver.
Step 3: Click Search automatically for drivers to continue.
Windows will start to scan the system for the up-to-date driver and install it automatically on your PC. After finishing the installation, check if the issue of I2C HID Device driver has been fixed.
Reinstall I2C HID Device Driver
Besides driver update, you can reinstall this driver to fix your issue to let the touchpad of your computer work properly.
Step 1: Open Device Manager via the Win + X menu.
Step 2: Go to Human Interface Devices, right-click I2C HID Device driver and choose Uninstall device.
Step 3: Click Uninstall to confirm the operation.
Step 4: Reboot your PC and Windows will reinstall this driver.
Run a Disk Check
You can perform a disk check to do a study of the disk and correct any faults that it detects.
Here is what you should do:
Step 1: Launch Command Prompt with admin rights.
Step 2: Type in chkdsk c: /f /r /x and press Enter. If there is something wrong with the hard drive, this command can fix errors.
Update Windows 11
Another solution to fix the I2C HID Device driver issue is to update Windows to the latest version.
Follow the steps below now:
Step 1: Launch the Settings app by right-clicking the Start button and choosing Settings.
Step 2: Under the Windows Update tab, click Check for updates.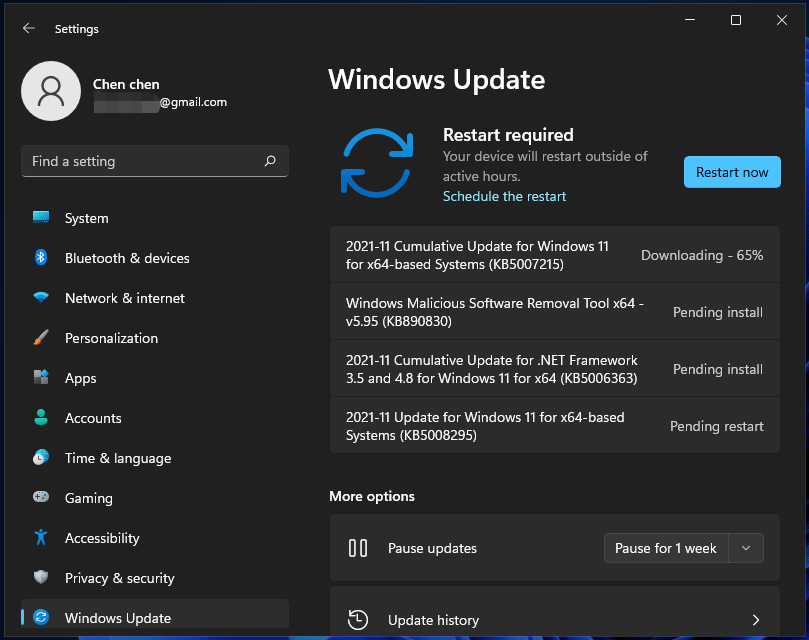 Step 3: If there are some available updates, download and install them on your PC. The update process requires you to restart the machine several times.
After the system update, I2C HID Device driver can work properly.
Final Words
Is I2C HID Device driver not working after upgrading to Windows 11? Take it easy and now you should easily get rid of this situation if you have tried these methods mentioned above. If you have any other fixes, leave a comment below to let us know.