Intel released a new Wi-Fi driver and Bluetooth driver 22.190.0 to help fix Windows 11 and 10 random blue screen of death errors that happen when streaming videos over Wi-Fi. Refer to this post from MiniTool to find more information on this news and know how to get Intel 22.190.0 driver update.
It's safe to say that there is no more terrible error than an annoying random blue screen of death (BSoD) in Windows 10 and 11. These blue screen errors can let you completely stop working on the PC. Although the error restarts the PC and you can use the machine again, sometimes random BSoD appears again.
Recently we have talked about 0xc000021a BSOD after installing Windows 10 KB5021233 and blue screen errors when creating a new network adapter or NIC (network interface card) attached to a virtual machine network.
Today, we talk about another BSoD – when streaming videos over Wi-Fi from your computer, some issues happen. Fortunately, the latest version - Intel Wi-Fi driver 22.190.0 can help to remedy the situation.
Intel 22.190.0 for Windows 11 BSoD Fix
According to Intel, Intel Wi-Fi driver 22.190.0 can help to fix many Wi-Fi-related errors/issues and let's see a list here:
When using a wireless display to project the screen on 802.11ax mode, video glitches appear. This situation is found on Windows 11.
On Windows 11 and 10 PCs, downlink throughput performance may have degraded. This is not a widespread case unlike dead BSoDs but only happens on 160 MHz channels.
A couple of minor bugs can happen on Windows 11 and 10 and these issues could affect the stability, and performance of the PC.
Intel Wi-Fi driver 22.190.0 is available for Windows 10 64-bit and Windows 11. This company won't release drivers for Windows 10 32-bit and Windows 7/8.
Intel Bluetooth Driver 22.190.0
Intel also releases Intel Bluetooth driver 22.190.0. According to Intel, blue screen errors may be triggered if Bluetooth and Wi-Fi connections are active at the same time. Now a BSoD won't appear after a system restart if you install the latest version although there is a simultaneous Bluetooth connection and streaming with Wi-Fi. Intel Wireless Bluetooth 22.190.0 also includes functional updates like performance improvements and bug fixes.
How to Download & Install Intel Wi-Fi Driver 22.190.0 and Bluetooth Driver 22.190.0
You can manually download and install these drivers currently. This company may ship the updates to PC vendors in the coming weeks and you can update them via Windows Update.
Install Intel Driver 22.190.0 via Intel DSA
To download and install Intel Wi-Fi driver 22.190.0 and Bluetooth driver 22.190.0, you can use Intel Driver & Support Assistant (Intel DSA). Just get this tool and use it to check for available updates, then install them on your Windows 10/11 PC.
Or, you can visit the official website of Intel – just search for Intel Wi-Fi driver 22.190.0 or Intel Bluetooth 22.190.0 in Google Chrome to find the website from Intel, as shown below.
Then, click the download button based on your Windows operating system, accept the Intel software license agreement, and then get a .exe file. Next, double-click on this file and install it on your PC by following the on-screen instructions.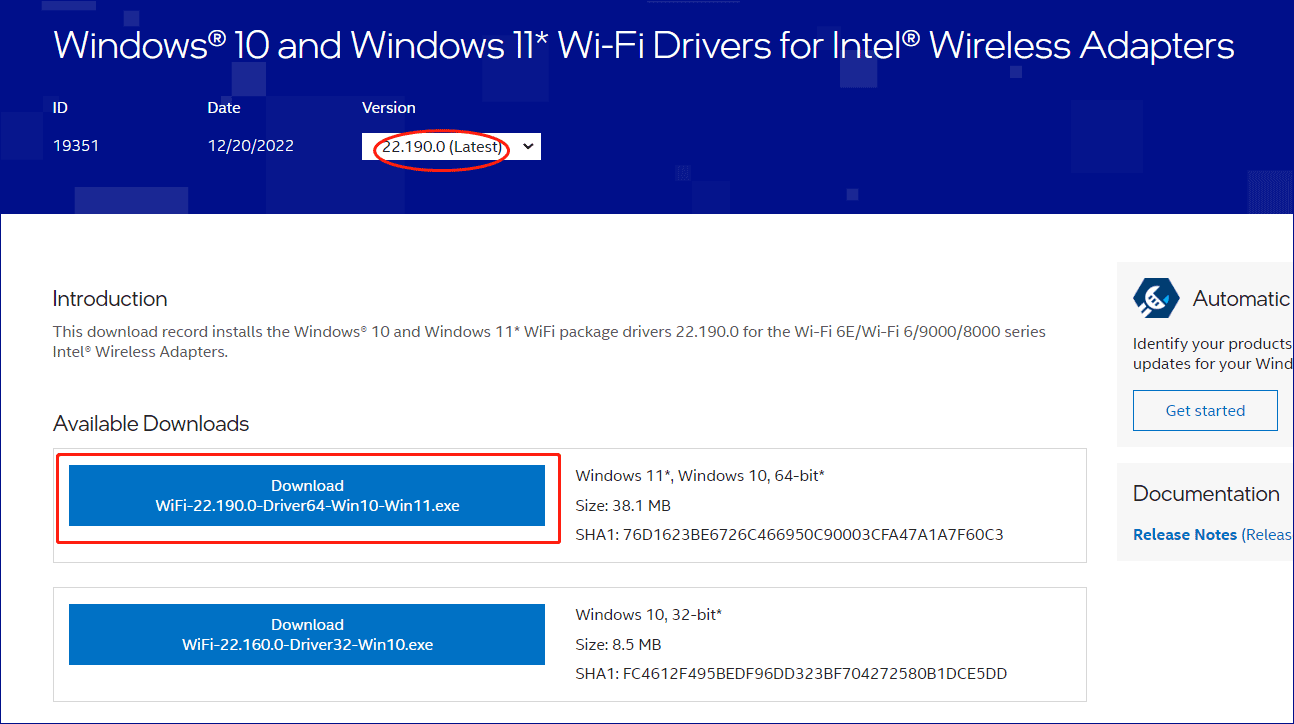 Final Words
Are you meeting BSoD issues on Windows 11 or 10 when streaming videos? Now you can fix them by installing Intel's December driver update – 22.190.0. Just follow the above guide for this task. Hope you can use your PC properly and smoothly.