What is iTunes? How to download iTunes for Windows 11 or 10? How to install iTunes to a PC to manage your entire media collection in one place? After reading the guide on iTunes download Windows 11/10, install and use, you know much information given by MiniTool.
iTunes for Windows 11/10
If you want to bring the iPhone library to your Windows 11/10 PC, iTunes can help you. With it, you can manage the entire media collection, including music, movies, and TV shows. If you subscribe to Apple Music, you can access millions of songs.
iTunes enables you to access iTunes Store to buy or rent movies, music, favorite TV shows, and more. Besides, you can sync content from your PC to your iPhone, iPad, or iPod touch, and vice versa.
iTunes is compatible with Windows 10 version 16299.0 or higher. If you want to use iTunes on your computer, you need to download and install it. Let's see how to do this thing.
iTunes Download Windows 11/10 & Install
iTunes Download Windows 10
In terms of iTunes download Windows 10, the thing is easy and you can directly get iTunes without Microsoft Store from the following link:
After getting the exe file, how to install iTunes on Windows 10?
Double-click on the exe file and it starts preparing the installation.
In the welcome interface, click Next to continue.
Choose installation options and select the folder where iTunes files will be installed.
Click the Install button to start the installation. This process will take some time and wait patiently.
iTunes Download Windows 11
If you want to download iTunes for Windows 11, the Apple website doesn't offer you a direct download link currently but you can still get it - go to the Microsoft Store for the latest version of iTunes.
Here is how to install iTunes on Windows 11.
Open Microsoft Store on your Windows 11 PC.
Type iTunes into the search box and find it.
Then, click the Get button to download this app. After the download is completed, it will start the installation. Then, you can click the Open button to open it.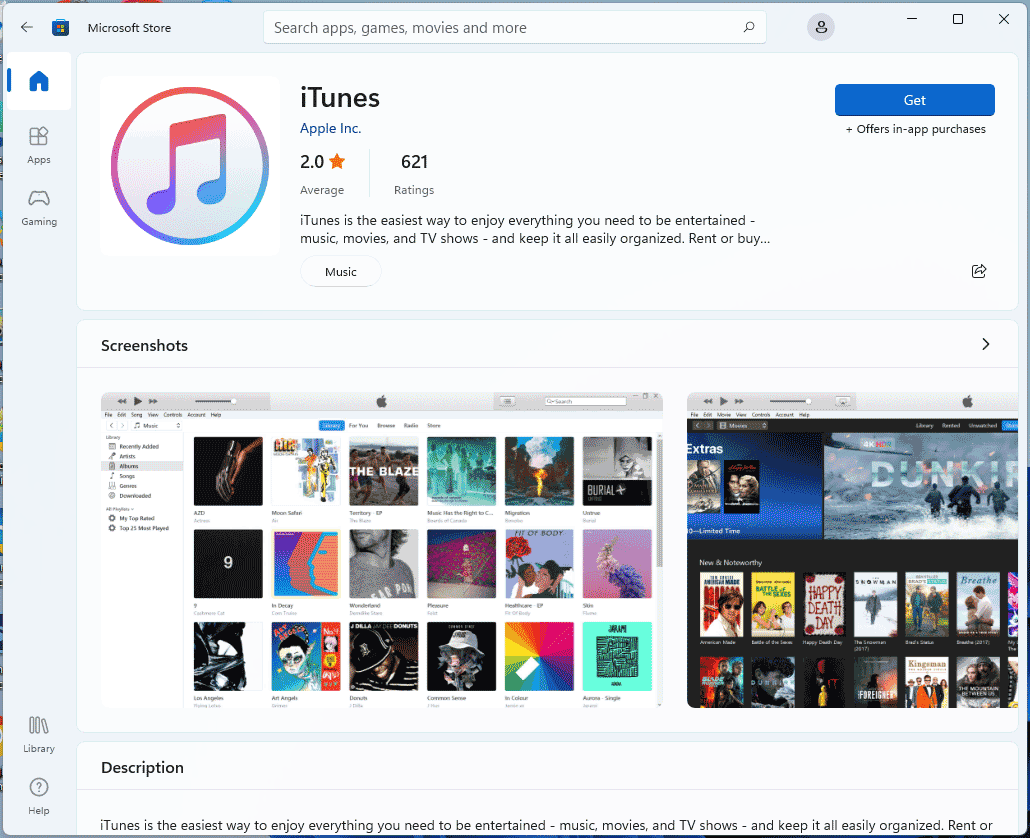 After opening iTunes, the first thing you need to do is to sign in to your Apple account – go to Account and click Sign In. Then, you can use it to listen to music, see Apple podcasts, movies, and TV shows, listen to audiobooks, back up your iPhone/iPad/iPod to your computer with iTunes, etc. To know more information, refer to the page of Download and use iTunes for Windows - Apple Support.
How to Uninstall iTunes on Windows 11/10
Sometimes you cannot detect your iOS device in iTunes due to distorted or modified iTunes components. In this case, you can choose to uninstall the app and reinstall it to fix the issue. How to uninstall iTunes in Windows 11/10? See the following steps.
Go to Control Panel and click Uninstall a program under Programs.
Right-click on iTunes and choose Uninstall. Besides, you should uninstall the apps related to Apple.
Usually, this operation can remove the related iTunes components from your PC. But in some cases, files may be left behind. Verify iTunes and its components are completely deleted in these steps:
Open the Run window, type in %programfiles% and click OK.
Delete these folders – iTunes, Bonjour, and iPod.
In the Common Files folder, open Apple and delete Mobile Device Support, Apple Application Support, and CoreFP.
If you are running a 64-bit Windows version, you also need to go to C:\Program Files (x86) and delete iTunes, Bonjour, and iPod. Then, go to Common Files > Apple and delete Mobile Device Support, Apple Application Support, and CoreFP.
Empty Recycle Bin.
After that, you can download iTunes for Windows 10/11 by following the ways mentioned above and reinstall it on your PC.