Keyboard shortcuts are some key combination to start a task on your computer quickly and directly. People prefer to use the keyboard shortcuts to open certain pages, programs, and processes easily. However, some people said their keyboard shortcuts not working (all shortcuts not working or certain keys not working). MiniTool shows you how to fix the problem effectively.
How to Fix Keyboard Shortcuts not Working on Windows 7/8/10
There are mainly two types of keyboard shortcuts: the Windows-based shortcuts (like Ctrl + C, Ctrl + V, and Ctrl + X) and manufacturer-based hotkeys (the buttons to control volume/wireless connection). It's very convenient to open certain programs and windows by pressing corresponding shortcuts. However, the computer doesn't respond sometimes when you press the keyboard shortcuts.
You may find certain keys not working on Windows 7/8/10:
Control key not working
Window key not working
Alt key not working
Etc.
Please don't worry too much when encountering these problems; several useful ways to troubleshoot keyboard shortcuts not working are introduced one by one. The solutions and steps introduced below are finished in Windows 10 (the troubleshooting process of hotkeys not working in other systems is similar).
Tip: If you don't want to put your precious data in danger, you need to download & install a powerful recovery tool. In this way, you can make up for the unexpected data loss issues in time.
MiniTool Power Data Recovery TrialClick to Download100%Clean & Safe
Things to Do First
One: clean the keyboard keys.
The Windows shortcuts not working may be a result of dirt or other corrosion on keyboard. You should try to fix by shutting down the computer -> unplugging the keyboard (if you're using a desktop) -> clean the buttons with a soft cloth.
Two: change a USB port.
You may as well remove the keyboard of a desktop from current USB port and connect it to another port on the same computer. If this failed, please try to connect the keyboard to another computer.
Three: Run the Keyboard Troubleshooter
Open Windows Settings by pressing Windows + I (there're also other ways available).
Scroll down to the bottom to select Update & Security (Windows Update, recovery, backup).
Select Troubleshoot from the pane on your left side.
Navigate to the Find and fix other problems section on the right pane.
Select Keyboard under this section.
Click on the Run the troubleshooter button appeared just now.
Follow the on-screen instructions to detect and fix problems.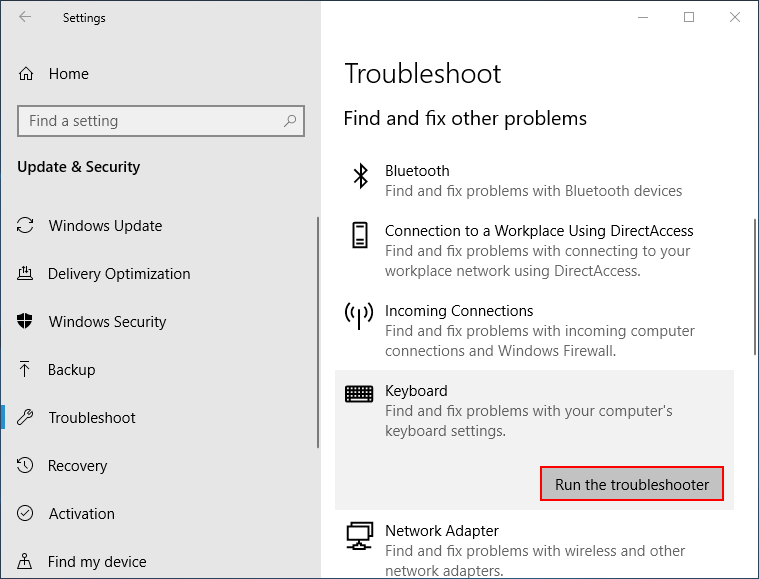 Four: Turn Off Sticky keys
Press Windows + S to open Windows search.
Type control panel and hit Enter.
Click on the Ease of Access link.
Select Change how your keyboard works under Ease of Access Center.
Uncheck Turn on Sticky Keys, Turn on Toggle Keys and Turn on Filter Keys under Make it easier to type.
Click Apply and then OK.
Five: Update Keyboard Driver
Press Windows + X to select Device Manager.
Expand Keyboards.
Right click on the current keyboard.
Select Update driver and follow the instructions to finish updating.
What if the WinX menu not working?
You can also select Uninstall device in step 4 -> follow the instructions to finish uninstallation -> unplug the keyboard -> reconnect the keyboard and wait for the system to reinstall the driver automatically.
Six: Clean Boot System
Open Windows search.
Type System Configuration and hit Enter.
Navigate to Selective startup under the General tab.
Uncheck Load startup items.
Go to the Services tab.
Check Hide all Microsoft services and click Disable all.
Seven: Run DSIM Tool
Open Windows search.
Type cmd.
Right click on Command Prompt.
Choose Run as administrator.
Type Dism /Online /Cleanup-Image /ScanHealth and hit Enter.
Type Dism /Online /Cleanup-Image /RestoreHealth and hit Enter.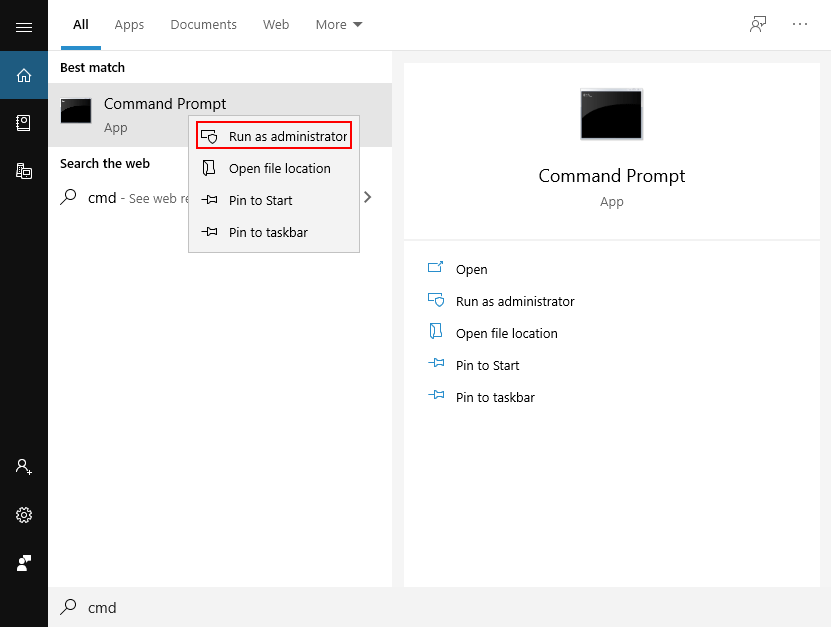 [Solved 2020] DISM Failed On Windows 10/8/7 Computer.
You can also try the following methods to fix keyboard shortcuts not working.
Try System Restore
Reset your OS
Update BIOS to the latest version
Turn to system maintenance
Disable Gaming mode switch
Create a new user account
Enable HID Human Interface Service
Uninstall previously installed keyboard software
Repair install Windows 10