Laptop Keyboard Not Working in Windows 10/11
Windows 10/11 is a great operating system since it brings many highlighted features. However, it is not perfect since many problems appear to exist. Many users have reported that their keyboard is not working in Windows 10/11.
This is a major problem, especially your keyboard stopped working on your laptop since you can't simply replace the keyboard like you could in a desktop. Without a working keyboard, the PC may be useless.
"Why is my keyboard not working" may be frequently asked by you. Simply put, keyboard not working on laptop may be caused by bad hardware driver, wrong regional settings, bad connection, dirt, and dust, etc. In the following part, let's go to see how to fix this issue.
Fixes for Laptop Keyboard Not Working Windows 10/11
The following methods are applied to most of the vendors including HP, Acer, Dell, Lenovo, Asus, etc. When your laptop keyboard doesn't work, try these solutions.
Solution 1: Clean the Keyboard
It is not easy to clean your laptop keyboard since you cannot easily shake and tap the laptop back without damaging to the entire unit. Follow the guide to dislodge dust and debris:
Step 1: Shut down the device.
Step 2: Turn it upside down and tap on the base. When the laptop is upside down, run your fingers through all the keys to remove the residuary dirt.
Solution 2: Update or Reinstall Keyboard Driver
To fix laptop keyboard not working in Windows 10/11, try to update or reinstall your keyboard driver by following these steps:
Step 1: Right-click on the Start button to choose Device Manager.
Step 2: Scroll down to choose Keyboards. Right-click on Standard PS/2 Keyboard, choose Update driver and automatically search for updated driver software to install. Alternatively, you can click Uninstall device to remove the driver. After rebooting, the driver will be reinstalled instantly.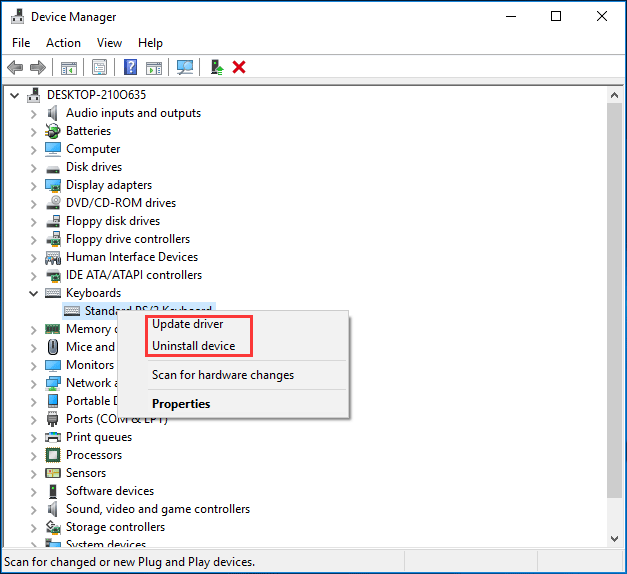 Solution 3: Disable Filter Keys
In Windows 10, there is a feature called Filter keys that is designed to ignore repeated keystrokes to let tying easier. But sometimes it can cause some keyboard issues when it is enabled on your laptop. If your keyboard doesn't work, you can turn it off.
Step 1: In the Control Panel interface (displayed by Category), click Ease of Access and Ease of Access Center.
Step 2: Click the Make the keyboard easier to use link.
Step 3: Scroll down to ensure the checkbox of Turn on Filter Keys isn't ticked. Then, click Apply and OK.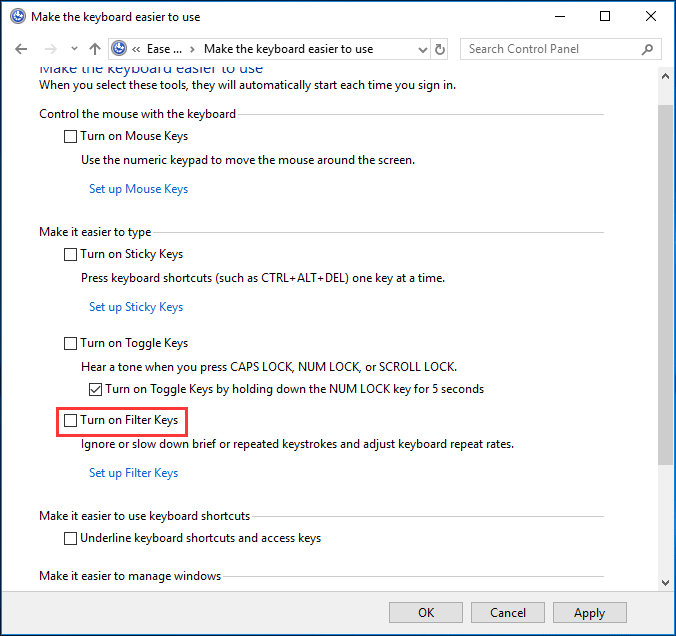 Solution 4: Run the Troubleshooter
When Windows 11/Windows 10 keyboard not working happens on your laptop, you can try to troubleshoot it. In Windows 10/11, the built-in feature – Troubleshoot will be helpful.
Step 1: Go to Start > Settings > Update & Security.
Step 2: In the Troubleshoot page, scroll down to find the Keyboard section, and choose Run the Troubleshooter. Besides, you can run the troubleshooter for Hardware and Devices.
Other Solutions to Fix Laptop Keyboard Not Working
Reconfigure your regional settings to match your keyboard
Perform a Clean Boot and check
Uninstall a secondary keyboard
Use a USB keyboard
…
The End
Now, some useful methods to fix Windows 11/Windows 10 keyboard not working have been introduced here. Just try them one by one to solve your issue. Hope this post could help you out.