What is Logitech SetPoint used for? If you want to customize your mouse, keyboard, touchpad, or pad settings, this software is helpful. Refer to this post from MiniTool and you can find some details about it and Logitech SetPoint download & installation for use.
What Is Logitech SetPoint
Logitech devices like keyboards, mice, headsets, speakers, streaming products, and more are very famous and many users get some to use on a computer. To let the devices work well with your PC, you may need to configure some settings for them via Logitech software like Logitech Gaming Software, Logitech G Hub, Logitech Options or Options+, etc. Just click the corresponding link to know the details about the software.
In addition to these programs, you can use Logitech SetPoint to customize your mouse, keyboard, touchpad, and pad settings in Windows. Today, we will show you details about this app.
Logitech SetPoint is a free app that can only be used in Windows 11/8/7. It can help to create a unique keyboard and mouse system.
With this software, you can customize the mouse buttons, keyboard F-keys, and hot keys to mildly tweak the control of your computer. Besides, you are allowed to adjust the cursor speed, buttons, and settings of the trackball, adjust mouse DPI, check your wireless keyboard/mouse battery status, etc.
To sum up, Logitech SetPoint is friendly for game players. For daily computer usage, it can speed up the use. If you want to have a try, get it. It is free to download and install.
Logitech SetPoint Download & Install Windows 11/10/8/7
Is there a 64-bit version of Logitech SetPoint? Logitech offers various Logitech SetPoint downloads based on different operating systems including 32-bit and 64-bit. Let's see how to download Logitech SetPoint and install it on your PC.
Step 1: Navigate to the official website via a browser like Google Chrome, Opera, Edge, Firefox, etc. - https://support.logi.com/hc/en-nz/articles/360025141274.
Step 2: Choose an operating system like Windows 11, 10, 8, or 7, select the software type - 64bit, 32bit, or smartinstaller and click the Download Now button to get a .exe file of the latest version.
Logitech offers some old versions of Logitech SetPoint and you can click Show all downloads, then select an old one to download.
Step 3: After getting the download file, double-click on it to the welcome interface and click Next to go on. Then, finish the installation by following the on-screen instructions.
How to Use SetPoint?
After installing Logitech SetPoint, how to use it to customize your keyboard or mouse?
Step 1: Launch the Logitech SetPoint software in Windows 11/10/8/7.
Step 2: Click My Mouse or My Keyboard on the top side based on your device and choose the customization options including buttons, function key settings, hot key settings, cursor, and more based on your needs, then configure what you want.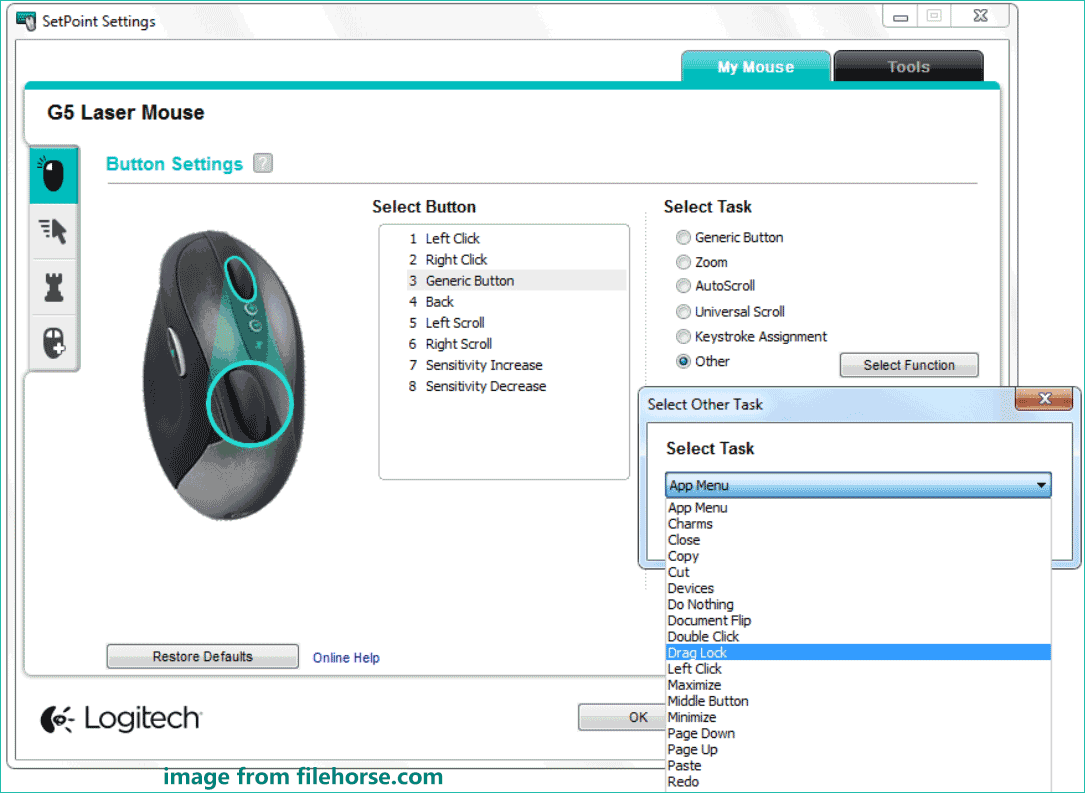 Logitech SetPoint Not Detecting Your Keyboard or Mouse
Sometimes the Logitech SetPoint cannot detect your mouse or keyboard. In this case, you should troubleshoot the issue via some tips:
Restart your PC
Unplug the device and then reconnect it to your computer
Uninstall Logitech SetPoint and then reinstall it
Run Logitech SetPoint as an administrator
Update the keyboard or mouse driver
Final Words
Logitech SetPoint is a good assistant to customize your keyboard or mouse for gaming. Just download it, then install and use it by following the given steps. If this software fails to detect your device, fix it via some tips.