In older Microsoft Office versions, it has a panning hand feature that let users scroll files without using the scroll bar. After Office 2010, this feature is not visible any more. If you like, you can make Microsoft Office panning hand visible again. Below is the detailed guide.
About Microsoft Office Panning Hand
The panning hand feature in some Microsoft Office apps like Word. This feature can change the mouse pointer to a hand icon, and you can hold the left button to drag the file page up and down, left and right. After you enable this feature, you can use it to browse pages instead of using the scroll bars or mouse wheel.
Microsoft Office panning hand feature is especially useful when you need to view long documents or large spreadsheets. The panning hand is available for Word, Outlook, OneNote, and is not available for Excel from Office 2013.
How to Make Microsoft Office Panning Hand Visible
You can add the panning hand to the ribbon or the quick access toolbar. Check the detailed guide below for how to add the panning hand feature to the quick access toolbar. Here we take Word as an example.
Step 1. Open Word application on your computer, click the down-arrow icon at the quick access toolbar in Word app, and select More Commands….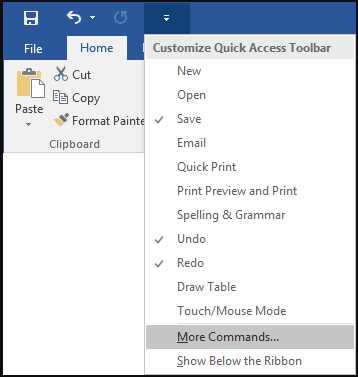 Step 2. Click the down-arrow icon under Choose commands from, and select Commands Not in the Ribbon in the drop-down list.
Step 3. Scroll down to click the Panning Hand command. Click Add >> button and click OK.
You should see a hand symbol at the quick access toolbar of Word application now. If you want to use this feature, you can click the hand icon at the quick access toolbar and the mouse cursor will turn into a hand. You can then hold your left mouse and drag the page up and down, left and right.
To quit the panning hand feature, you can click the hand icon at the toolbar again or press ESC key on the keyboard.
Bottom Line
If you are wondering how to use Microsoft Office panning hand instead of scroll bar, here is the detailed guide for how to make the panning hand visible again in Microsoft Office apps, hope it helps.
If you happen to delete a Word file or lost some important files unexpectedly on your device, you can use the free data recovery software to easily recover deleted/lost files.
MiniTool Power Data Recovery is a professional data recovery program for Windows. You can download and install this 100% clean tool on your Windows computer. And use MiniTool Power Data Recovery to recover any deleted/lost files from Windows 10 PC or laptop, external hard drive, USB flash drives, SD card, memory card, and more. All you need to do is to connect your device, and choose your device, scan the device and save the recovered files to a safe location.
If you use a Mac, you can use the professional Mac data recovery software to recover data from Mac and Mac-related devices with ease.