Is MS Word 2019 free? How can I download Microsoft Word for Windows 10? If you wonder about these two questions, you come to the right place. MiniTool gives a detailed guide on Microsoft Word 2019 free download & installation to deal with documents.
Overview of Microsoft Word 2019
Microsoft Word is a word processor designed by Microsoft that can be used for Windows 7/8/10/11 to help format and edit your files or documents in the best possible way. It was first released in 1983 and is simply called MS Word or Word. Microsoft Word is a part of the suite of Microsoft Office but can be purchased as a standalone product.
Word 2019 is a version of MS Word and it gives you new ways to deal with documents, for example, book-like page navigation, translation, Learning Tools, etc. Besides, you can see others' changes in real time. In general, MS Word 2019 offers tools for easier reading and more natural writing, adds visual impact, makes it easier to find documents, and brings accessibility improvements.
If you are interested in this version, you can download and install it. See how to do this task in the following part.
Microsoft Word 2019 Free Download for Windows 10 64-Bit/32-Bit
As mentioned, Word can be got as a separate product via the official website of Microsoft. But you should know the version is the latest one on Microsoft's website. If you need to download Word 2019, currently, we don't find where to separately download it. Fortunately, you can download the entire suite of Office 2019 to get Word 2019.
Microsoft Word 2019 Download & Installation (via Official MS Office 2019 Free Download)
Step 1: Visit the dashboard of the Microsoft account and sign in to it with a Microsoft account regarding Office 2019.
Step 2: At the top, choose Services and subscriptions and find Office 2019 to install to get Word 2019. If you want to install this suite in a different language or choose a proper version for installation, click Other options, choose what you need, and click Install.
Step 3: Now you are ready to install Word 2019 via the installation of Office 2019. Just click Run in Edge /Internet Explorer, Setup in Chrome, or Save File in Firefox to begin.
Microsoft Word 2019 Free Download 64-Bit/32-bit (via Office 2019 Download from Third-Party Sites)
Some of you want to get a direct ISO file to install Office 2019 to get Microsoft Word 2019. Here, we recommend a safe and reliable download website - archive.org. From this website, you can download software, movies, books, Windows Operating System (ISO), Office suite, etc. Just search for Office 2019 from that website to get Word 2019.
After downloading, mount the ISO file in Windows 10, then go to the virtual drive, and run the .exe file to install this version of Office. Then, you can launch Word 2019 to work with documents.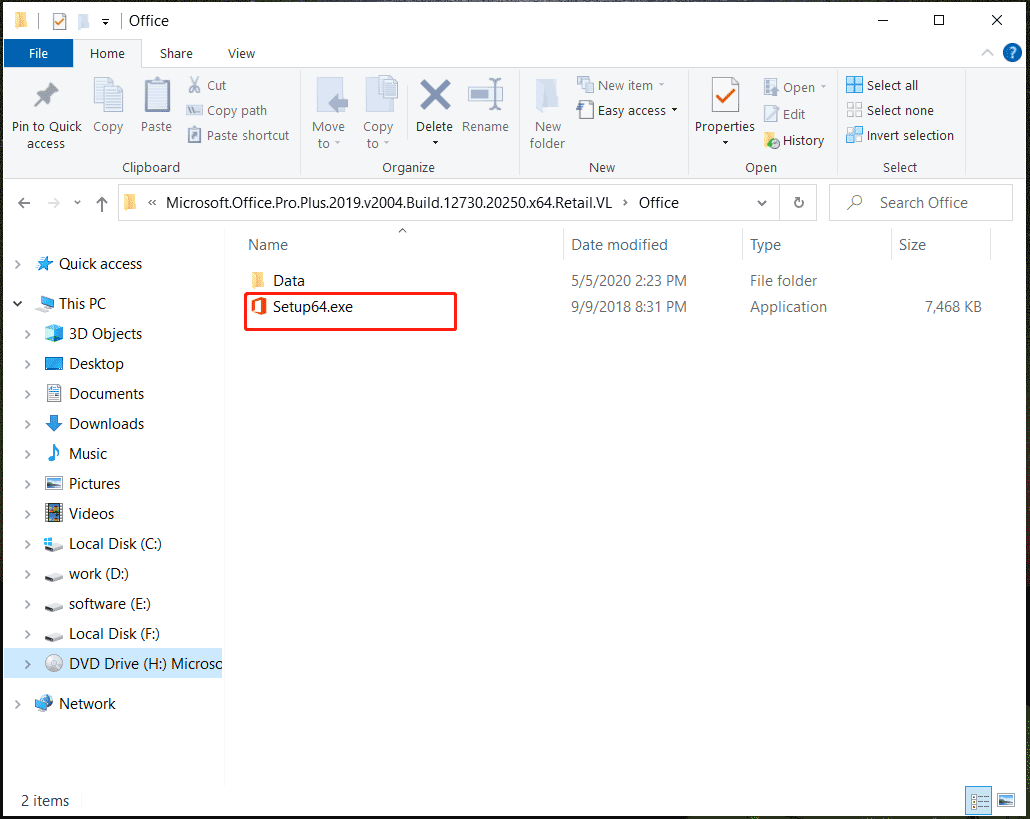 When reading here, you may wonder: is MS Word 2019 free? It is not free although you can free download and install it. After opening Word, 2019, you need to go to File > Account and use a license of Office 2019 to activate the word processor. Similarly, use this license to activate your other tools in the suite like Excel 2019, PowerPoint, etc. if they are not activated.
Final Words
That's the information about Microsoft Word 2019 download & installation (via downloading & installing Office 2019). Just follow the above instructions for a try. If you have any other ideas, let us know in the comment below.