What Is Outlook 2019
Microsoft Outlook is an email client that is designed to send and receive emails and it offers an accessible inbox. Besides, it also can be used to manage your calendar, track your tasks, and store contacts, and some other features like note-taking, journal logging, and web browsing are included.
Outlook is safe to use and Microsoft won't target ads to you using your email, calendar, or other personal content. Your data in your mailbox is encrypted.
Outlook has multiple versions including Outlook 2021, 2019, 2016, 2013, etc. Outlook is available as part of the Microsoft Office suite. Well then, if you want to install Outlook 2019, how to do it? Follow the guide below to download Outlook 2019 and install it on your Windows 10/11 PC.
Outlook 2019 Download for Windows 10/11 (32/64-Bit) via Office 2019 Download
As mentioned above, Outlook is integrated into the Office suite. Now Outlook 2019 is not available as a standalone application for Windows PC. In terms of Microsoft Outlook 2019 free download, you can download Office 2019 to install Outlook 2019.
To download MS Outlook 2019 for Windows 10/11 64-bit & 32-bit and install it, you can go to use an ISO file of Office 2019 to install the suite including Outlook 2019, Word 2019, Excel 2019, PowerPoint 2019, etc.
To do this task, we recommend using this site: https://archive.org/. It is safe and offers many downloads including Office, Windows operating system, other software, books, and more. If you want to download Outlook 2016 and install it, you can also use an ISO image from archive.org to get Office 2016 to install Outlook 2016. 
After getting the ISO file, right-click on it and choose Mount in Windows 10/11. Then, a virtual drive will be created in File Explorer. Open this drive and click the setup file to start the installation of Office 2019 including Outlook 2019, Excel 2019, Word 2019, and more.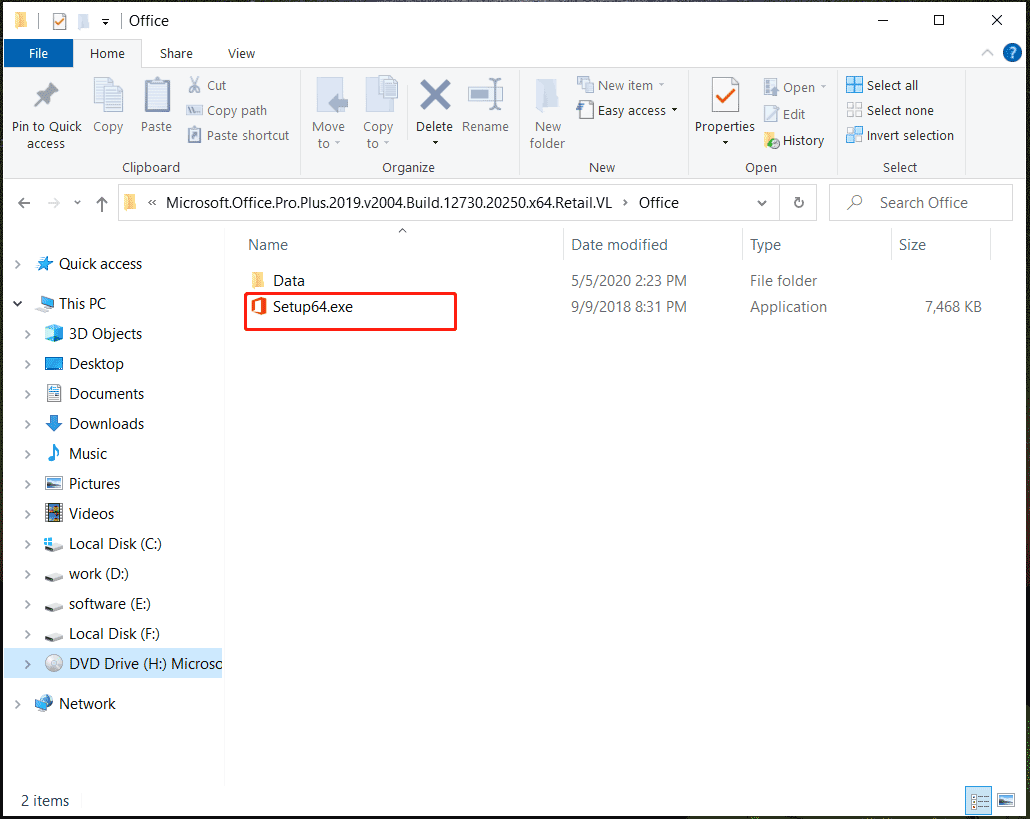 After installation, you can type Outlook in the search box of Windows 11/10 and open it. Then, finish the account setup. Then, you can use it to send emails, master your contacts and calendar, etc.
Download Outlook for Android/iOS
From the above part, you know how to download Outlook for Windows 10/11. Besides, Outlook can also be used on your mobile devices including Android & iOS. It is free download as an app.
For Android, visit Google Play to download and install it. For iOS, go to Apple App Store for installation. Or, you can visit the official website https://www.microsoft.com/en-us/microsoft-365/outlook-mobile-for-android-and-ios to download.
Bottom Line
If you wonder about Outlook 2019 download, this post gives you a detailed guide. Since it is not available to download as a standalone app, get Office 2019 to install Outlook 2019. Besides, some information about Outlook 2016 download is also introduced.