Paramount Plus provides you with hundreds of brilliant TV shows, movies, soap operas and more while it also has some flaws. Paramount Plus black screen is one of the major issues that occurs frequently. If you are finding solutions on that, you have come to the right spot. This post on MiniTool Website will offer you satisfying solutions.
Paramount Plus Black Screen
Paramount Plus is one of the hottest streaming services by ViacomCBS and you can enjoy lots of TV shows via your smart phone, computer, and smart TV. However, like other streaming services such as Hulu or Netflix, it also has some glitches. For example, you may experience Paramount Plus black screen when enjoying watching videos. If so, don't fret! You can fix it easily with the solutions below.
How to Fix Paramount Plus Black Screen?
Fix 1: Restart Your Device and Launch the App again
The fix easy fix that you can try is to restart your device. Follow the steps below:
Step 1. Exit Paramount Plus.
Step 2. Press the Power icon to choose to restart your device.
Step 3. After the device is restarted, relaunch the app again to see if Paramount Plus black screen is fixed.
Fix 2: Check Server Status
Make sure that the Paramount Plus server works properly. It is advisable to go to DownDetector to check if other users complain about the same issue. If so, you can do nothing but wait for the developers to fix it.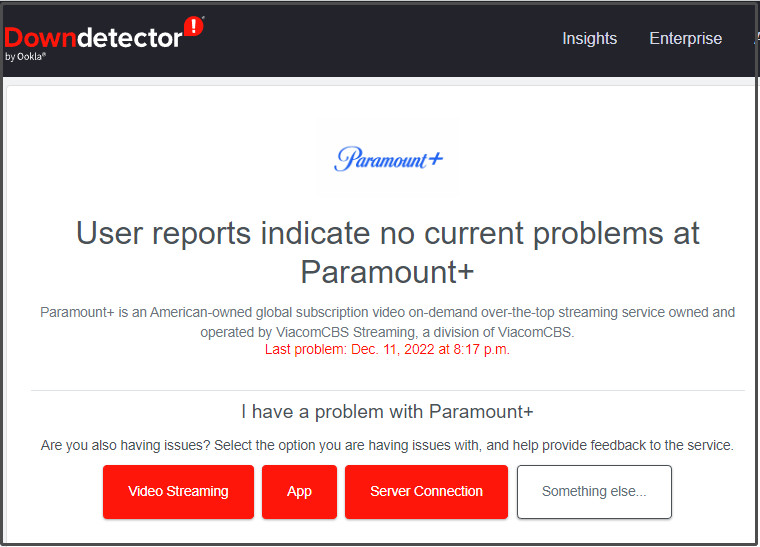 Fix 3: Power Cycle the Router
There is a chance that your internet connection is unstable and low hence causing Paramount Plus black screen Samsung TV/Roku. To test your internet speed, you can click here to go to SpeedTest and hit GO to get the results.
If your internet is slow (less than 4Mbps), you can try powering cycle your router and modem. Here's how to do it:
Step 1. Turn off your device and plug out all the cords from your router and modem.
Step 2. Wait for about a minute, plug in all the cables to the appropriate place and then hit the Power icon to turn on all the devices.
Fix 4: Clear Cache on Your Browser
If you stream Paramount Plus on a browser, you can clear the cache and data on your browser to see if it helps you out. Here. we take clear cache & data on Google Chrome as an example:
Step 1. Launch your browser and click the three-dot icon to select Settings in the drop-down menu.
Step 2. Under the Privacy and security tab, hit Clear browsing data.
Step 3. Then, select the time range & the items you want to delete and press Clear data.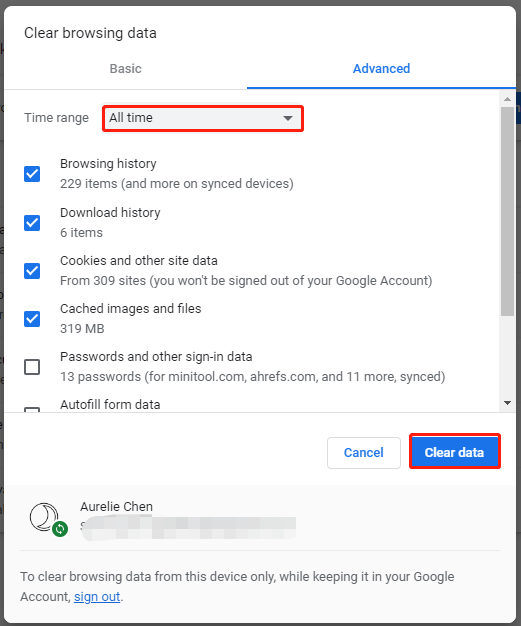 It is a good option to try opening Paramount Plus on another browser.
Fix 5: Reinstall Paramount Plus
If the methods above don't help you to solve Paramount Plus Samsung TV black screen, Paramount Plus discord black screen, or Paramount Plus black screen on other platforms, reinstalling the app on your device deserves a shot.
The installation files of paramount plus may be corrupted without your knowledge and this will also lead to Paramount Plus black screen. Reinstalling the app can help you to fix those corrupted files. Before reinstalling the app from the app store, please uninstall it first.