What Is Realtek Stereo Mix?
Stereo Mix comes with most computer sound cards. It is also called "What You Hear" and mixes all the audio channels in your Windows 10 computer.
Realtek Stereo Mix is a sound tool that can record the output audio streams in your Windows 10 computer including speaker or microphone outputs, live streaming audio, broadcast radio, etc. You can use it as audio recording software to record all audio outputs from your computer.
How to Enable Realtek Stereo Mix in Windows 10
The Stereo Mix feature of Realtek High Definition Audio is disabled by default in Windows 10. You can follow the steps below to enable Realtek Stereo Mix in your Windows 10 computer.
Right-click the Sound icon at the right corner of Windows taskbar and click Sounds option.
Click Recording tab and you can see Stereo Mix of Realtek Audio.
Right-click Stereo Mix and select Enable. Click Apply and click OK to enable Realtek Stereo Mix in Windows 10.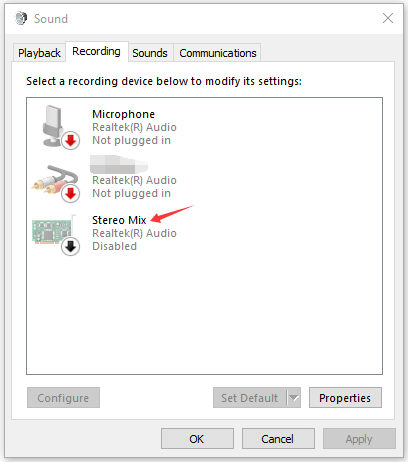 Fix Realtek Stereo Mix Not Showing or Missing in Windows 10
If you don't see Stereo Mix under Recording tab in Sound window, it might be hidden in your sound card. Check how to make Realtek HD Audio Stereo Mix feature visible.
Right-click Sound icon at the taskbar and select Sounds.
In Sound window, click Recording tab.
Right-click the blank area in the window and check Show Disabled Devices. After this, the Stereo Mix device should appear in the list of recording devices. You can then follow the guide above to enable it.
If you still don't see Stereo Mix in your Windows 10 computer, it might because your sound card drivers are outdated or the new sound card driver doesn't support Stereo Mix feature. You can update audio drivers to see if it can fix Stereo Mix not showing in Windows 10 issue.
Press Windows + X and select Device Manager to open Device Manager in Windows 10.
Expand Sound, video and game controllers category, and right-click Realtek High Definition Audio to choose Update driver.
Click Search automatically for drivers option to search and install the latest version of the Realtek audio driver. You can follow the same operation to update the audio drivers of your computer default sound card.
How to Use Realtek Stereo Mix in Windows 10
You can open the audio recording program on your PC and find the option for microphone input of the program. Select Realtek Stereo Mix as the sound input in the recording software.
If you don't want to record audio from other devices, you can mute other audio recording devices like your microphone or headset before clicking Record or unplug your microphone, and set Stereo Mix as the default recording device in Sound window.
Realtek Stereo Mix Windows 10 Download
If your computer doesn't have Realtek Stereo Mix device, you can go to Realtek official website to download and install Realtek High Definition Audio Codecs Software for your Windows 10 computer and get Stereo Mix.
Stereo Mix Alternative Windows 10
If Realtek Stereo Mix is not working and has no sound in Windows 10, you may try some Stereo Mix alternatives for audio recording.
Top free sound recording software for PC include Audacity, WavePad, Adobe Audition, FL Studio, MixPad, Audio Highjack, etc.
Tip: If you want a free tool to record screen and audio at the same time on your Windows computer, MiniTool Video Converter is top recommended.
MiniTool Video Converter is a 100% clean and free PC software and it has three main functions: screen record, video/audio convert, and video download. Extremely easy-to-use and intuitive interface.