A blue screen tends to occur on your computer when users try to start it or after they have installed new programs/updates on the device. Usually, a brief introduction to the error will be given. In some cases, the stop code will also be provided for user to get more information. In this page, I'll talk about the blue screen error - REGISTRY_ERROR.
REGISTRY_ERROR Blue Screen
What is BSOD?
Blue screen appears now and then on users' storage devices, mainly computer. You may be confronted with a blue-colored screen during computer restart or after you have made changes to the system. The blue screen of death (abbreviated as BSOD) refers to an unexpected shutdown of your PC. According to users' feedback, the BSOD can be caused by a wide variety of different reasons. You could figure out what happens by looking at the error messages and descriptions. If not enough information is provided, you can search online for the stop code it gives.
Don't worry! MiniTool Solution can help you get access to the internal hard drive without a system; it can also help you with some boot failures.
Windows 10 REGISTRY_ERROR
People reported they see REGISTRY_ERROR on a blue screen, and it is followed by the stop code 0x00000051 sometimes. Obviously, this registry error is occurred due to a registry problem found in your system.
Tip: According to Wikipedia, Windows Registry is a hierarchical database that stores low-level settings for the Microsoft Windows operating system and for applications that opt to use the registry.
The exact error message may be:
Your PC ran into a problem and needs to restart. We're just collecting some error info, and then we'll restart for you (*% complete).
If you'd like to know more, you can search online later for this error: REGISTRY_ERROR.
What about the registry error BSOD error you meet?
If you only see the Windows 10 REGISTRY_ERROR once, it's not a big deal.
However, if you run into the blue screen registry error each time you leave your PC for over 4 minutes or use the Security and Maintenance feature, it's a serious issue.
How to Fix Registry Error
This part mainly focuses on fixing registry error Windows 10.
Solution 1: disable System Maintenance.
If you see the Windows 10 registry error every time when you try to launch maintenance, please follow the steps below to fix the error.
Open Windows search.
Type Run into the textbox and press Enter.
Type regedit and hit Enter/click OK to open Windows Registry Editor.
Click Yes if you see a User Account Control window.
Copy & paste this to the address bar: Computer\HKEY_LOCAL_MACHINE\SOFTWARE\Microsoft\Windows NT\CurrentVersion\Schedule\Maintenance. Then, press Enter.
Look for the MaintenanceDisabled in the right pane.
Select this DWORD value. However, you need to create this key if you can't find it.
Right click on the blank area and choose New > DWORD (32-bit) Value.
Name it as MaintenanceDisabled and hit Enter.
Double click on this key and change the value data from 0 to 1.
Click on the OK button and close Registry Editor to reboot your PC.
Solution 2: disable the .NET Framework tasks triggered when your PC is idle.
Open Windows search.
Type task scheduler and hit Enter.
Expand Task Scheduler Library in the left pane.
Then, expand Microsoft and Windows in order.
Select .NET Framework.
Right click on a task which says When computer is idle under Triggers.
Choose Disable.
Repeat step 6 & 7 to disable another task in the list. (This can be skipped if there's only one such task.)
Solution 3: Run Windows Memory Diagnostic.
Type diagnostic into Windows search & choose Windows Memory Diagnostic.
Click Restart now and check for problems (recommended).
Wait for the action to finish and restart your computer.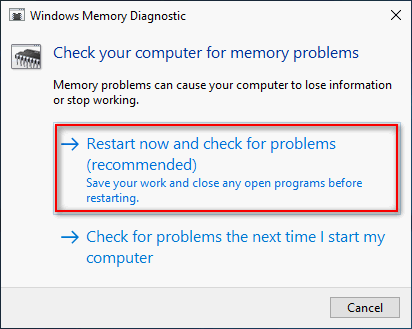 Solution 4: reset Windows 10.
Open Settings by pressing Windows + I.
Choose Update & Security.
Select Recovery in the left pane.
Click on the Get started button under Reset this PC.
Choose from Keep my files and Remove everything (please backup files before this).
Click Next and then Reset.
How to recover files after factory reset computer?
Other methods that can be used to solve registry error: