If you want to restart Chrome browser but don't want to lose the open tabs, you can type chrome://restart in address bar and press Enter to easily do it. Also learn how to create a bookmark to quickly restart Google Chrome in one click when needed. Check the details in this post from MiniTool.
We don't need to often restart Chrome, but if you need to, you can learn below for how to restart Google Chrome without losing currently opened tabs, and create a bookmark to use this bookmark to restart the Chrome browser in one click next time.
How to Restart Chrome without Losing Tabs
In the address bar of Chrome, you can type chrome://restart and press Enter to restart Chrome browser and reopen the tabs that you open previously.
How to Restart Chrome with a Bookmark
You can create a bookmark for the URL chrome://restart to quickly restart Google Chrome in one click and without losing tabs. Learn the detailed steps below.
Step 1. Open Chrome and open any web page in browser. Next press Ctrl + D shortcut to bookmark this page. In the Edit bookmark window, click More… button to open the Edit bookmark dialog.
Step 2. In the Edit Bookmark window, you can type a name for the bookmark, here we name it Restart Chrome. And type the URL chrome://restart in the box. Click Save button to save the bookmark for the Chrome restart link.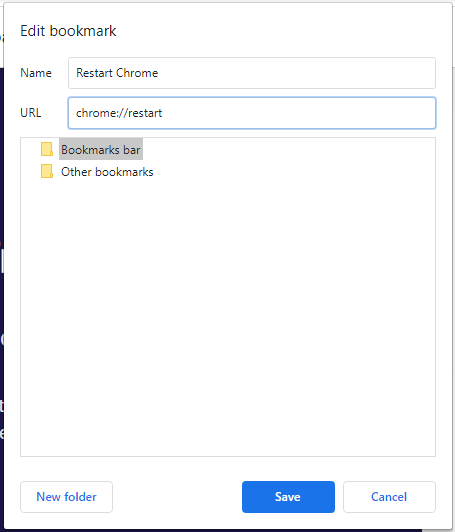 Step 3. Move the Chrome restart bookmark to the first position of Bookmarks bar. You can locate Restart Chrome bookmark, click it and hold your mouse to drag it to the first place at the Bookmarks bar.
Tip: If you don't see the Bookmarks bar in your Chrome browser, you can press Ctrl + Shift + B keyboard shortcut to show Bookmarks bar in Google Chrome.
That's it. Next time you want to restart Chrome without losing open tabs, you can click the Restart Chrome bookmark to quickly do it in one click. It will restart and reopen your previously opened tabs.
If you mistakenly close your browser, you can press Ctrl + Shift + T to reopen closed tabs in Chrome.
Some Other Chrome Tips and Tutorials
To install Chrome on PC, you can check: Download Google Chrome for Windows 10.
Unable to uninstall Chrome browser, read this post: Can't Uninstall Google Chrome Windows 10? Fixed with 4 Ways.
To update Chrome to experience new features and fix bugs, check: How to Update Google Chrome.
For common useful Chrome shortcut: 30 Useful Google Chrome Keyboard Shortcuts You Should Know.
To browse without leaving any trails in Chrome: Turn on Incognito Mode in Chrome.
About MiniTool Software
MiniTool Software is a top software company. It has releases some popular programs like MiniTool Power Data Recovery, MiniTool Partition Wizard, MiniTool ShadowMaker, MiniTool MovieMaker, MiniTool Video Converter, etc.
MiniTool Power Data Recovery helps you recover any deleted/lost files from Windows computer and some external devices like memory card, SD card, USB drive, external hard drive, SSD, etc.
MiniTool Partition Wizard allows you to easily manage disk partitions, e.g. create/delete/resize/format/wipe partition, convert partition format, clone disk, migrate OS, check and fix disk errors, etc.
MiniTool ShadowMaker lets you back up Windows OS, partitions and files with ease.
MiniTool MovieMaker allows you to edit and convert videos for free.
MiniTool Video Converter can convert any video or audio format to desired format for free.