A new product of Samsung comes out recently and this draws much people's attention. It is called Samsung Portable SSD T5, which enjoys high performance and fast speed. With the price drops a little bit, you should get one now if you are in need of portable SSD. To know more details of Samsung T5, you should look here.
Samsung Portable SSD T5
Are you looking for a fast portable drive? If yes, a SSD (Solid-State Drive) should be your choice. Recently, the new Samsung Portable SSD T5 is out to meet your needs for fast speed; the speed is said to be 4.9 times faster than external HDDs. It will offer users a new experience in external storage.
Attention: what if your external HDD is not working? Go to this page to know how to troubleshoot it.
Main Features
It enjoys high performance and has the following features:
Fast speed: you can expect a speed of up to 540 MB/s, all thanks to the USB 3.1 Gen 2 (10Gbps) support.
Unique color: though the Samsung T5 also adopts the metal enclosure, it comes in blue color, making it different from other SSDs.
Drop resistance: even if it drops from as high as 2 meters (6.6 feet), it won't be damaged, thanks to the shock-resistant internal frame.
High security: it bundles with AES 256-bit security software, allowing you to lock the entire drive with strong password.
Good compatibility: with a USB C-to-C cable and a Type-C to regular USB (Type-A) cable, you can connect it to your PC, phone, tablet, or other common devices.
Quality insurance: it comes with a three-year warranty, so you can use it without worrying.
Samsung T5 Review
Interface & Speed
Interface:
The T5 comes with a USB 3.1 (Gen 2, 10Gbps) backwards-compatible interface, so it can be used on both Windows computers and Mac OS.
Besides, it has two connection cables: dual-headed USB-C and USB-C to A.
Speed:
The interface, together with the Samsung MGX controller & 3-bit 3D V-NAND MLC flash technology, contribute a lot to the fast speed (read: 540 MB/s, write: 440 MB/s).
Attention: the maximum read speed of 540 MB/s can only be reached when:
The UASP mode is enabled.
The host device and connection cables could give support to USB 3.1 Gen 2.
Capacity
In order to satisfy people's different demands for storage, Samsung offers you four choices in terms of capacity: 250GB, 500GB, 1TB, and 2TB.
Attention: the 250GB and 500GB models are built in a bright Alluring Blue finish while the 1TB and 2TB models come in Deep Black.
Size & Weight
The size and weight of this new Samsung portable drive are the same as its predecessor T3.
The Samsung T5 is provided with a small size: 3 x 2.3 x 0.4 inches (it is smaller than the average business card).
The new T5 is slightly thinner than T3, but it weighs the same.
With a small size & light weight, you can carry the T5 with you easily and use it whenever you want.
Security
You should stay worry-free due to the following reasons:
Shock resistance: it as a solid metal body with no moving parts, so it can withstand drops of up to 2 meters.
Password protection: you can enable password protection with AES 256-bit hardware encryption. This helps to secure your personal, private, and business data.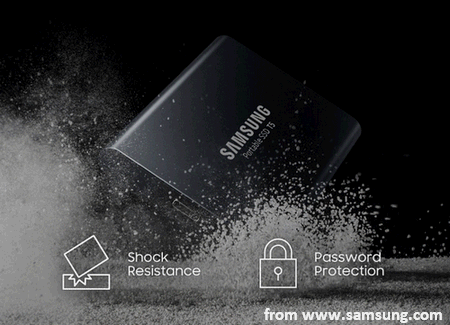 Attention:
You should make a backup of your T5 with MiniTool ShadowMaker to ensure data security.
You can make it easy to finish data recovery from a BitLocker encrypted drive.
Verdict
It's no wonder that the Samsun Portable SSD T5 has a relatively high price after knowing that it has so many advantages.
Yet, the Blue models are still worth buying for ordinary users.
As for photographers and professional video editors (who have higher demand), they should get a Black model.
At present, the price of the Samsung T5 Portable SSD 1TB model drops a bit. Thus, you should jump at the chance to buy one with visible discount.