Summary
SanDisk SSD Plus is a good choice to speed up your old laptop and other devices. This SATA 3 SSD is fast in boot-up, shutdown, app loading, and other process. Besides, SanDisk SSD Plus has durable design: shock proof, vibration proof, and temperature resistance. The exciting news is SanDisk SATA 3 SSD Plus is on sale now.
SanDisk SSD Plus Offers Better Computing Experience
One of the biggest reasons that people choose solid state drive over traditional hard disk drive is that the former offers a better computing experience. Main advantages of solid state drives are:
The speed of SSD is faster.
The battery life of SSD is longer.
The energy consumption of SSD is lower.
The reliability of SSD is greater has no moving parts.
SSD is quieter, making less noise.
You can benefit from these aspects after getting SanDisk SSD Plus, a new SanDisk solid state drive. Equipped with SATA 3 interface, the speed of SanDisk SATA 3 SSD Plus is said to be up to 20 times faster than a typical HDD. You can keep your data safe by saving them on the SanDisk SSD Plus.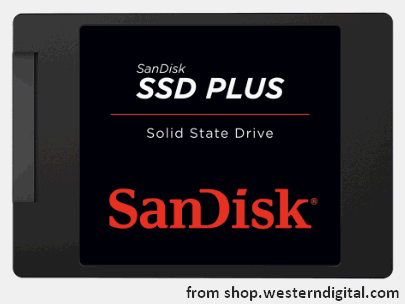 PCIe SSD Or SATA SSD, Which Is The Best One For You?
Capacity
The capacity of SanDisk SSD Plus can be up to 1TB. There are 5 choices for you in terms of capacity: 1TB, 960GB, 480GB, 240GB, and 120GB.
There are slight differences in speed between different capacity models.
SanDisk SSD Plus 1TB: read speed is up to 535 MB/s and write speed is up to 450 MB/s.
SanDisk SSD Plus 960GB: the read speed and write speed are the same with that of the 1TB model.
SanDisk SSD Plus 480GB: read speed - up to 535 MB/s, write speed - up to 445 MB/s.
SanDisk SSD Plus 240GB: read speed - up to 530 MB/s, write speed - up to 440 MB/s.
SanDisk SSD Plus 120GB: read speed - up to 530 MB/s, write speed - up to 310 MB/s.
Merits
Improved speed and performance: as the leading company in solid state storage technology field, SanDisk released SanDisk SSD Plus to offer improved speed and performance. You'll be able to enjoy faster data transfers, startups, shutdowns, and less response time.
Longer service life: if you upgrade your laptop or desktop with the SATA 3 SSD from SanDisk, you'll find the computer behaves like a new one. This helps a lot to extend the service life of your computer.
Durable design: the SanDisk SSD Plus is designed to be resistant to shock, vibration, and extreme temperature. This is helpful to keep your data safe.
SLC caching: the SLC caching added to SanDisk SSD Plus is able to improve the SanDisk SSD Plus. This makes it the ideal choice for typical PC workloads (web browsing, audio/video entertainment, email receiving/sending).
Easy configuration: you can configure your SanDisk SSD Plus easily by looking at the instructions.
Longer battery life: compare to the HDD, this SanDisk solid state drive is cooler, quieter and more efficient. The battery of your computer can last longer than before by using the SATA 3 SSD.
Related reading:
Your Affordable SanDisk SSD Portable
The exciting news that attracts many people's attention is the price of SanDisk SATA 3 SSD Plus (480GB model) is falling. You can get it for just £49.98 now!!! In fact, the SanDisk SSD Plus is sold at £130 generally, which means the price is cut down by 62 percent. Please hurry up, it is really a good chance to get this high quality SanDisk SSD.