If you are encountering the Security Error 0x00759B, don't trust it and don't call the number for support. It is a social engineering scam that cheats your money. What you need to do is to safely remove it. Refer to this post from MiniTool Solution to get 2 useful methods to do that.
Have you ever met the fake Security Error 0x00759B? It is a social engineering scam of recurring adware pop-ups intended to trick you into thinking your computer has been infected with a virus. The idea is to scare you into calling one of the listed numbers for support.
Actually, the scammers will try to sell you unwanted support contracts and services instead of offering actual support.
You may wonder "What's causing the Security Error 0x00759B"? Here are 2 possible reasons: the default browser has been hijacked or adware was bundled with another software.
Method 1: Run a Full Scan with Windows Security
If the Security Error 0x00759B appears because of a malware infection that got there through a browser hijacking, you can try to run a full scan with a Windows built-in tool – Windows Security. Usually, third-party security suites will not detect this malware infection because these third-party security scanners aren't investigating .htm files.
Hence, you can run a full scan with Windows Security and it will help investigate .htm file. In general, the Security Error 0x00759B can be removed automatically in this way.
Here's a quick guide on how to run Windows Security to remove this adware infection.
Step 1: Press the Win key + R key to open the Run dialog box. Next, type ms-settings:windowsdefender and press Enter to open the Windows Security tab of the Settings app.
Step 2: Click the Open Windows Security button to open up the built-in security solution.
Step 3: Click Virus & threat protection from the right side.
Step 4: Click Scan options under the Current threats section. Next, check Full Scan and click Scan now.
Step 5: After the operation is complete, follow the instructions to delete all quarantined items that were responsible for the infection.
Step 6: Restart your computer.
Now, check if the Security Error 0x00759B popup is removed at the next system startup.
Method 2: Run the Microsoft Safety Scanner
If you can't identify and remove the virus infection with the first method or if you are looking for an alternative, you can try to run the Microsoft Safety Scanner from Safe Mode.
In this way, you can run the most powerful virus-removal tool developed by Microsoft without worrying about third-party interference that might affect this operation.
Here's a quick guide on how to run the Microsoft Safety Scanner from Safe Mode.
Step 1: Restart your computer if it's already on. Once the initial login screen shows up, click the power icon.
Step 2: Once the power contact menu appears, hold the Shift key while clicking Restart to prompt your computer to boot in Safe Mode.
Step 3: Now, your computer will arrive inside the Troubleshooting menu. Click Troubleshoot > Startup Settings.
Step 4: Press F5 to boot up your computer in Safe Mode with Networking.
Step 5: Once your PC has successfully booted in Safe Mode with Networking, click this link to download the latest version of the Microsoft Safety Scanner according to your Windows bit version.
Step 6: Double-click the MSERT.exe file to open Microsoft Safety Scanner. Click Yes when User Account Control prompt.
Step 7: Follow the prompts to initiate a scan with the Microsoft Safety scanner and then wait until the process is complete.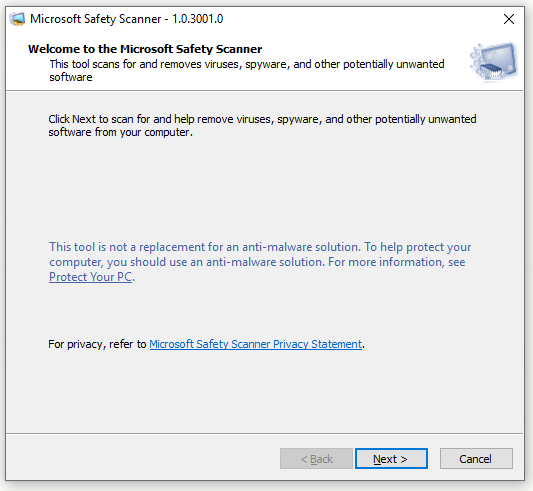 After that, restart your computer to boot it in normal mode and check if you have removed the Security Error 0x00759B.
Bottom Line
Right now, you should clearly know how to remove the Security Error 0x00759B after reading this post. It has offered you 2 workable methods to fix this issue. If you are still experiencing this issue, try these methods.