Errors are common when browsing the webpage. Error code: STATUS_BREAKPOINT is one of the most frequent errors that Chrome and Edge users might meet. To get rid of it, let's move forward to the effective workarounds in this post on MiniTool Website right away.
Error Code STATUS BREAKPOINT Edge Windows 10/11
When you randomly scroll the web pages on Google Chrome or Microsoft Edge, you might encounter STATUS BREAKPOINT Windows 11/10. The exact reason for this issue is untraceable but luckily, it is not so hard to fix. Here, we come up with several workable methods for you and each of them deserves a shot.
How to Fix Error Code STATUS BREAKPOINT?
Fix 1: Check Internet Connection
When something goes wrong with your browser, the first thing you should do is to check your internet connection. To troubleshoot your internet connection, you can:
Step 1. Press Win + I to open Windows Settings.
Step 2. Scroll down in the settings menu and choose Update & Security.
Step 3. Click on Troubleshoot > Additional troubleshooters > Internet Connection > Run the troubleshooter.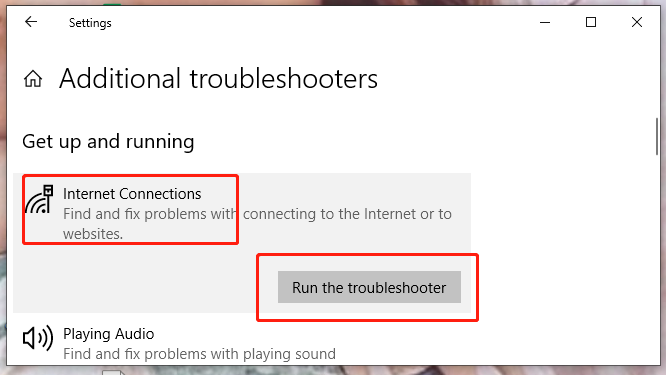 ALT=troubleshoot the internet connection
Step 4. If the error code STATUS BREAKPOINT is still there after the system troubleshoots automatically for you, you can try the following methods.
Fix 2: Update Your Browser
Updating your browser also helps you to solve some errors such as the error code STATUS BREAKPOINT.
For Chrome:
Step 1. Launch Google Chrome and click on the three-dot icon to choose Settings.
Step 2. Click About Chrome at the bottom of the left pane and click Update Google Chrome. If you cannot find the button, it means that you're on the latest version.
For Edge:
Step 1. Open Microsoft Edge and press the three-dot icon to click Setting.
Step 2. Click About Microsoft Edge and it will check for updates, download and install the latest version of updates for you automatically.
Fix 3: Disable or Remove Extensions
Extensions on the browser can increase your work efficiency but using the extensions that are from unreliable sources will cause some issues. You can fix them by disabling or removing them.
Step 1. Open your browser.
Step 2. Type chrome://extensions/ for Google Chrome, edge://extensions/ for Microsoft Edge and hit Enter to show your extensions.
Step 3. Click on the toggle button to remove or disable them.
Fix 4: Clear Browser Data
Another culprit of error code STATUS BREAKPOINT might be the corrupted caches which are from a virus attack or a forced system shutdown. Therefore, it is a good option to clear all the browser cache.
Step 1. Open your browser and go to Settings.
Step 2. For Chrome, hit Privacy and security > Clear browsing data > choose All time for Time range > Clear data.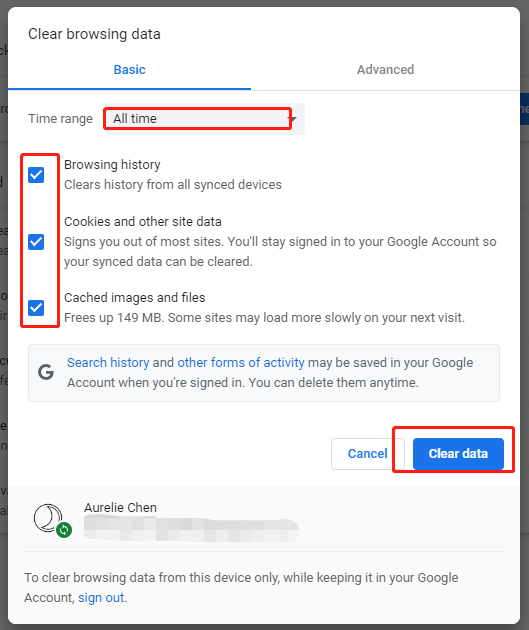 For Edge, click Privacy, search, and services > Choose what to clear under Clearing browsing data > select All time for Time range > Clear now.
Fix 5: Disable Overclocking
Enabling overclocking may boost your computer performance to make it run faster. However, this function is a double-edged sword. Sometimes, your device will become unstable due to overclocking. So, in order to solve problems like STATUS_BREAKPOINT, you can choose to disable overclocking.