If you want to play Ubisoft Connect games, you can choose to download this app and install it on your device. This post from MiniTool guides on Ubisoft Connect download and install for PC, Android, and iOS. Besides, if you run into Ubisoft Connect download not working, do some fixes.
Ubisoft Connect is a free service that can be used on many devices including a PC, a mobile, or a console. This ecosystem of players' services for Ubisoft games allows enjoying games in the best environment. Only a Ubisoft account is required.
Besides, all the game progression is kept on the account and any step won't lose when switching to a PC or changing consoles.
If you are interested in it, you can download Ubisoft Connect and install it on your device to have a try. So, how to do this work? Find methods from the guide below.
Ubisoft Connect PC Download & Install
Ubisoft Connect Download PC
It is easy to get this app and see the steps:
Visit the official page of Ubisoft Connect.
To get the app for your PC, click the Download for PC button from the Navigation Bar. Or, scroll down to the following part, as shown below, and then click the marked button to get the Ubisoft Connect downloaded file.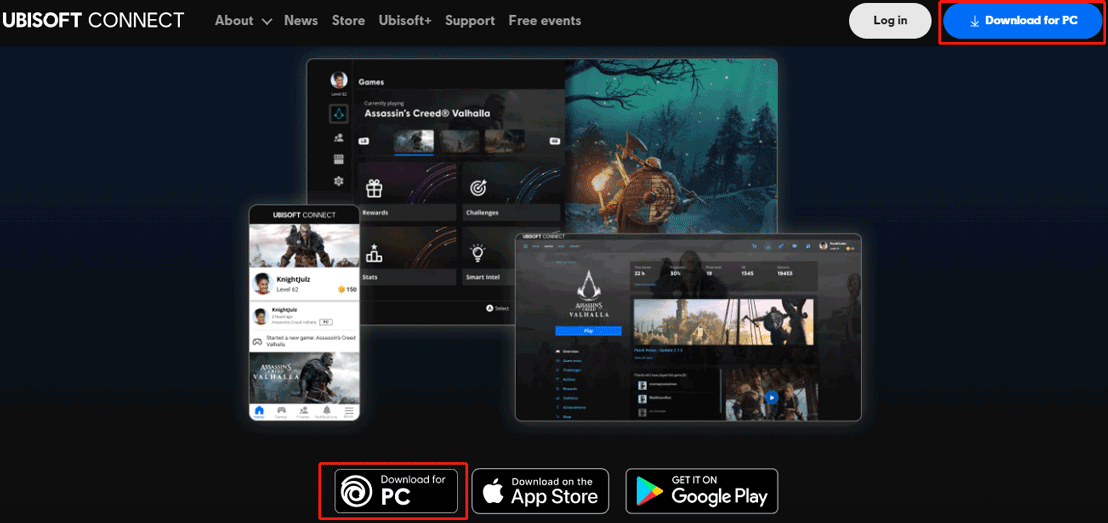 Tips:
If you want to use this service on your Android device, get Ubisoft Connect from Google Play. If you are an iOS user, you need to download and install it from App Store on your device.
Ubisoft Connect Install
After you download Ubisoft Connect for your PC, then how to install it?
Double-click on the UbisoftConnectInstaller.exe file and click Yes to continue.
Choose a language like English and go on.
After accepting the license agreement, specify an installation path (default path: C:\Program Files (x86)\Ubisoft\Ubisoft Game Launcher) and click the Install After a while, the process finishes.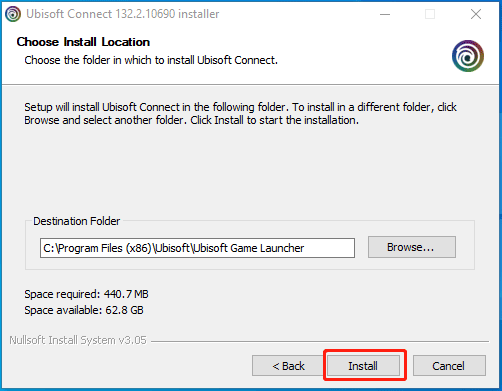 After downloading & installing Ubisoft Connect, sign in to this app with your account and then you can use it to play games. However, sometimes, this service is not working properly. But don't worry if you encounter the issue since you can easily fix it after trying some methods mentioned in this post – How to Fix Ubisoft Connect Not Working on Windows 11/10 PC.
Ubisoft Connect Download Not Working/Slow Speed
According to users, when downloading a game via Ubisoft Connect, download issues can happen, for example, Ubisoft Connect download stopped, Ubisoft Connect download slow, etc. To fix the download issues, try these fixes that are given by the official website. They help with most situations you encounter.
Launch Ubisoft Connect as an administrator by righting-clicking the app, choosing Properties, and checking the box of Run this program as an administrator from the Compatibility tab.
Check if Ubisoft Connect is in offline mode.
Do a check for the bandwidth usage in Ubisoft Connect.
If the download speed is slow, you can follow the steps below:
Go to Settings in Ubisoft Connect and choose the Downloads section.
Change the speed limit to the value that is closest to your connection speed via the slider.
Save the change.
If you want to uninstall Ubisoft Connect from your PC, go to Control Panel > Uninstall a program, right-click on the app and select Uninstall.
Final Words
That's all the information about Ubisoft Connect download & install. Follow the steps to do this work. Besides, if you meet some download issues, try the given fixes.