Valorant error code 43 is among many error codes that you may encounter. What should you do to remove this error from your Windows 11/10 PC? It is easy to fix and you can read this post on the MiniTool website to look for some useful solutions.
Error Code 43 Valorant or Val 43
Valorant, a free and first-person shooter title, enjoys a high reputation since its release. But Valorant players often face some errors and they cannot play this game. Among many errors, error code 43 is a common error.
If you are a Valoran gamer and play this game, you can get the error. On the screen, a message says "There was an error connecting to the platform. Please restart your game client" with error code 43 or VAL 43.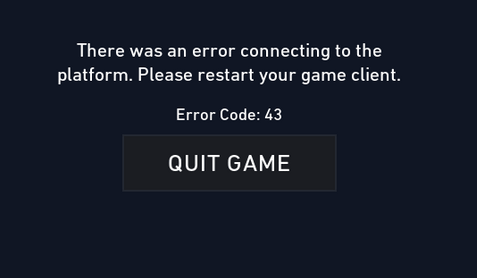 This issue is annoying and it is usually related to connectivity issues. Besides, it is possible that there is an issue with Riot Client settings, the Valorant servers are unreachable, the Vanguard service is disabled, etc. Luckily, you can fix this issue by trying the solutions below and now let's go to see them.
How to Fix Valorant Error 43
Restart Your PC
The first thing you should do is to reboot your computer when you run into error code VAL 43. But before PC reboot, try to restart the game client as the error message states to check if it works. Then, restart the machine. If a reboot is not a useful method, try other fixes below.
Delete Riot Client Settings File
One of the common solutions to Valorant error code 43 is to delete the Riot client settings files. As mentioned above, VAL 43 may be caused by Riot client settings.
Here is how to do this task:
Step 1: Press Win + R to open the Run dialogue.
Step 2: Type %AppData% and press Enter to open the Roaming folder inside the AppData directory.
Step 3: Go back to the AppData folder and navigate to Local > Riot Games > Riot Client > Data.
Step 4: Locate the RiotClientPrivateSettings.yaml, right-click on it and choose Delete.
Step 5: After deletion, restart Valorant as an administrator to see if the error is solved.
Reinstall Riot Client
According to Reddit users, it is useful to fix VAL 43 by uninstalling and reinstalling your game. Go to Control Panel in Windows 11/10, click Uninstall a program, and right-click Valorant to uninstall. After that, install the game again on your PC to see if your issue is fixed.
Make Sure VGC Service Is Running
Riot uses its own game security software – Vanguard to make sure the highest integrity of the game. When installing Valorant, it will be installed alongside. And the service that makes sure the software is running is called VGC. If this service is not running, Valorant error code 43 or VAL 43 may appear. To fix this issue, ensure the VGC service is running.
Step 1: Close Valorant and Riot Client.
Step 2: Open the Services window via the Windows search box.
Step 3: Locate the vgc service, double-click on it, and change the startup type to Automatic. Besides, click Start to run this service.
Step 4: Click Apply and OK to save changes.
In addition to these solutions, you can try other ways, for example, restart your router, flush DNS, or contact Support for help. Take action to remove Valorant error code 43 now.