If the antivirus software warns you of a piece of virus software - Win32:BogEnt, you need to determine whether you are dealing with Steam false positive or real virus infection. This post will teach you how to judge and how to deal with different situations. You can get details from MiniTool.
Some Windows users are taking extra security measures after antivirus software warned them of a piece of virus software – Win32:BogEnt, which has been removed from the machines or moved to a quarantine folder successfully. 
The virus prompt occurs with third-party antivirus suite, and AVG and McAfee are most commonly reported. The issue doesn't just occur in a certain Windows version. It also appears in Windows 7, Windows 8.1, and Windows 10.
Is Win32:BogEnt a Virus?
The Win32:BogEnt virus is always related to false-positives triggered by third-party antivirus suites. However, this does not mean that the security threat is not real and does not put your system at risk. 
So you should take some time to thoroughly investigate the problem before you flag the prompt as a false positive. 
The following part will show you a couple of different scenarios that could cause this security warning. 
1.Steam False Positive
If you receive this error message when you try to open or update your Steam client, you are most likely dealing with a false-positive. 
2.Real Virus Infection
If you are sure that the security threat is real, you need to eliminate the infected files completely. Under this situation, a Malwarebytes scan can help you fix this issue completely. 
Method 1: Repeat the Scan with a Different AV
If you meet this issue when you update or open Steam, chances are you're dealing with a false-positive. If you are using AVG or Avast as the active security suite, this is almost a given fact. 
There is no official explanation as to why this is happening, but over the years AVG has been experiencing false positives related to Steam. A representative of Avast has confirmed that Steam may show false positives due to their heuristic analysis of the hotlading way of working. 
To ensure you are not handling false positives, it is recommended that you get rid of the current third-party AV and repeat the scan with Windows Defender. To ensure that the current third-party AV suite and any remaining files are completely deleted, follow the steps below. 
After uninstalling and deleting any remaining files from third-party AV, restart the computer and initiate a scan with Windows Defender as follows. 
Step 1: Press Windows key + R key to open the Run dialog box. Type ms-settings:windowsdefender and click OK to open the Windows Security tab of the Settings menu. 
Step 2: Inside the Windows Security window, click the Open Windows Security button at the top of the screen.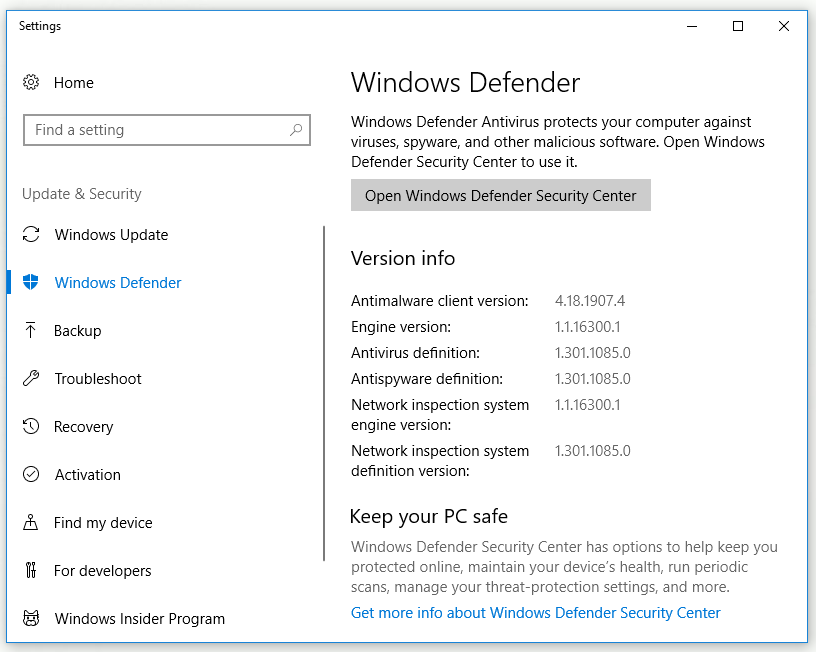 Step 3: Click Virus & threat protection from the pane. 
Step 4: Click Scan options under Current threats. 
Step 5: Select the Full scan option and click Scan now.
After the process is complete, you can check to see if you still receive the same virus alert. If you do, that means you weren't dealing with a false-positive. 
Tip: If Windows Defender finds the same security threat, you can continue to use the next method to make sure the virus infection is completely cleared.
If this process does not indicate a security threat or the scenario does not apply to your current situation, try the next method below.
Method 2: Use Malwarebytes to Remove the Infection
If you can eliminate the possibility of a false positive with Method 1, right now you should take some necessary steps to remove the malware threat from your computer. If the threat proves to be real, Win32:BogEnt is a volatile form of malware known to wreak havoc on infected computers. 
The virus comes in different varieties. The least dangerous version will just send you annoying adware, while the most serious version may bring your computer down entirely. 
Malwarebytes is one of the security scanners you can use to identify and eliminate such security threats. You can use the Malwarebytes security scanner to initiate deep virus scanning. 
Once the scan is complete, you can see if any security threats have been identified. If there are security threats on your computer, you can remove them following the on-screen prompts, and then restart the computer manually, if you are not automatically prompted to do so
Bottom Line
In conclusion, this post has shown you some information about Win32:BogEnt. It also shows you what should do if you encounter the Steam false positive, and real virus infection.