Windows 10 Pro
Windows 10 Pro is designed for businesses and it includes all the features of Windows 10 Home, as well brings additional powerful features. Windows Information Protection, BitLocker, Remote Desktop, Active Directory, a suite of tools for business use, and more are supported.
Windows 10 Pro offers simple, flexible management and simple, secure multifactor authentication, supports hardware-based defense against startup attacks, stops data leaks before they happen, etc. To sum up, it is worth using.
To use Pro, you can choose to download its ISO file and install it on your PC from the ISO. Follow the instructions below.
Windows 10 Pro ISO Download with Media Creation Tool
Microsoft offers a utility called Media Creation Tool that enables you to download Windows 10 ISO. This ISO can be used to install multiple editions of Windows 10, including Home, Home N, Home Single Language, Education, Education N, Pro, and Pro N.
To download Windows 10 Pro ISO, get Windows 10 Media Creation Tool from the Download Windows 10 page and run it.
Step 1: Double-click the exe file to run Windows 10 Media Creation Tool.
Step 2: Accept the applicable notices and license terms by clicking the Accept button.
Step 3: After a few things get ready, check the box of Create installation media (USB flash drive, DVD, or ISO file) for another PC, and click Next.
Step 4: Select a language, architecture, and edition (Windows 10).
Step 5: Choose ISO file to get the Windows 10 ISO for installation.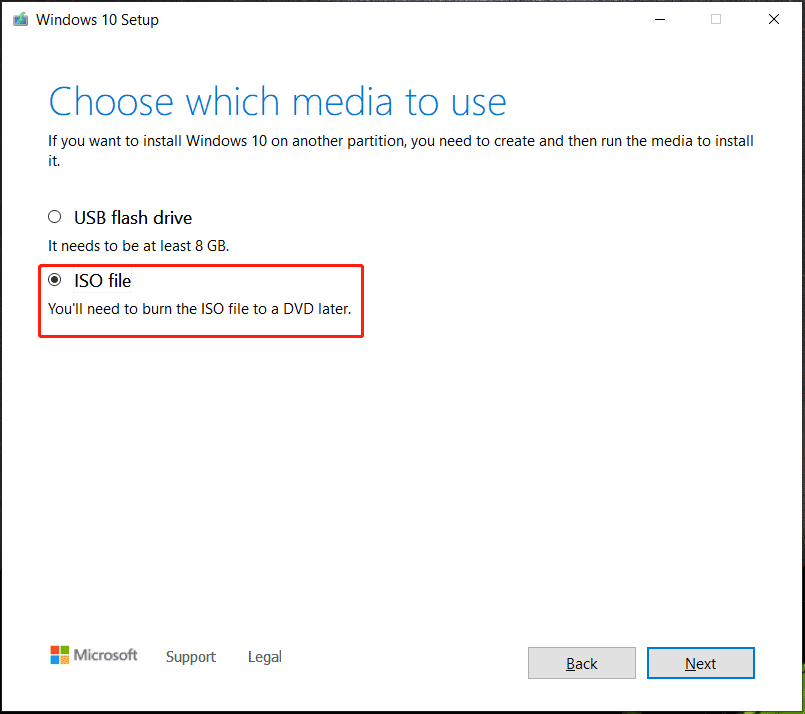 Step 6: Now this tool is downloading Windows 10. This process will take a few minutes and wait patiently. During the process, you can use the computer.
Windows 10 Pro ISO Direct Download
Some of you are looking for some direct download links to get the Windows 10 Pro ISO file. This is easy to realize. Just search for "Windows 10 Pro ISO download 64-bit direct link" in Google Chrome and you can find some useful web pages.
Install Windows 10 Pro
After you download Windows 10 Pro ISO, now it is time to install it from the ISO file on your PC. You can use Rufus to create a bootable USB drive and boot the PC from that drive to start the setup.
1. Choose a language, keyboard method, and time format.
2. Click Install now.
3. Click I don't have a product key.
4. Choose the Windows edition – Windows 10 Pro.
5. Accept notices and license terms.
6. Click the second section to install Windows only.
7. Decide where you want to install Windows 10 Pro.
8. The setup tool is installing Windows 10 Pro now.
Final Words
That's all the information about Windows 10 Pro ISO download and install. Follow the instructions to get the Microsoft Windows 10 Pro ISO download 64-bit file and install this system on your PC.